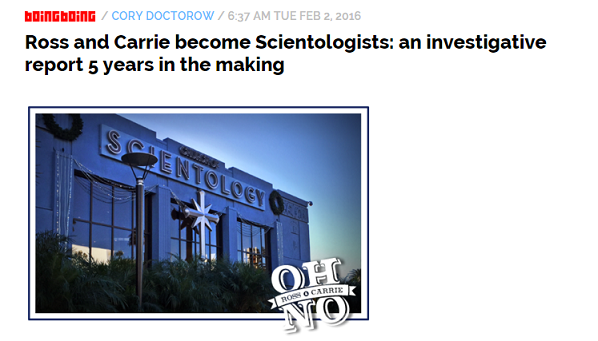 Some of you may have seen mention of this podcast pop up on Google News or whatever news feed you watch.
I spent a little time to listen to it out of curiosity.
If anyone in scientology really cared, they would listen to it too. Because these two make a lot of interesting observations about what the experience is like walking into the "model ideal LA org" and subjecting themselves to the OCA/Test line and then routing onto an introductory service. It is pretty creepy and they note specific things that happened to them that really are off-putting. These two, while quite funny and light, make some very pointed observations about the way "wogs" are treated and how strange it is. They acknowledge positives when they see them, but there are not many.
But for the interested scientology watcher, the insight into the current state of affairs inside LA Org is revelatory. Remember, this is the MODEL ideal org where executives from all other ideal orgs are sent to learn "how to do it the right way." It is staffed with 200 Sea Org Members. And if you listen to the hype from scientology, they start 700 new people on services every week. It is rocketing. It is epic. Milestone. Unprecedented. Straight up and vertical. And they just about have LA cleared….
And then there is reality: Ross was the ONLY person on the intro course he did. The Supervisor worked with ONLY him. The Supervisor came into the courseroom for him alone.
That is what it is REALLY like inside LA Org. It doesn't look this way when Gold shoots their videos — they round up everyone in the PAC area and do call in for days to get some "bodies in the shop." The same drill happens when a media tour is scheduled (though they no longer do these it seems — they don't have spokespeople any longer).  They describe in some detail what this "model ideal org" is doing.
This is the link to the story and this is the link to the podcast.