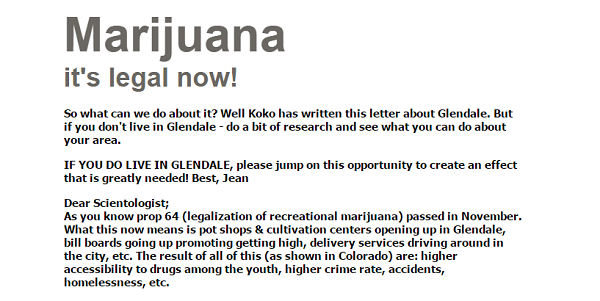 Koko's gone kookoo over the "legalization of marijuana" in California and is on some sort of crusade to get her little corner (Glendale) to somehow secede from the rest of the state when it comes to the notorious loco weed.
Don't they know what Ron wrote about marijuana in Dianetics The Modern Science of Mental Health?
He railed against alcohol being legal, while marijuana is less physically harmful and "better in the action of keeping a neurotic producing."
Why aren't these women going after legalized alcohol? Why are they so upset about marijuana? They don't believe Ron?
Here is the paragraph from DMSMH addressing the subject (boldface is mine):
Alcohol is rarely an assist to the auditor. In fact, alcohol is rarely an assist to anyone. A depressant, classifiable at best as a poison, alcohol has the single virtue of being highly taxable. All alcoholics are alcoholic because of their engrams. All alcoholics, unless they have injured their brains — which case is cited only because it is possible, not because research in dianetics demonstrated any real evidence of it — can be released. Alcoholism is engramic. It has become, in some very understandable way, a class of contagious aberration whereby the reactive mind confuses alcohol and "being a good sport" or "having fun" or "forget your troubles." Some of these things can also be obtained by strychnine and cyanide. Alcohol has its uses: one can put specimens of frogs and such in it: one can clean the germs off needles with it: it burns well in rockets. But one would not consider preserving his stomach in a glass jar and, unless insane, does not think of himself as a needle. While some drunks think they act like rockets, few have been observed to reach an altitude of more than the floor. It is not only a poor stimulant-depressant, it is also an hypnotic in the finest sense: what is done to a drunk becomes an engram. The chronic alcoholic is physically and mentally ill. Dianetics can clear him or even merely release him without too much trouble for alcohol is apparently not physiological in its addictive effect. With the whole range of chemistry to choose stimulants and depressants from, why the government chooses a superiorly aberrative and inferiorly stimulative compound to legalize is a problem for the better mathematicians, possibly these who deal exclusively in tax income problems. Opium is less harmful, marijuana is not only less physically harmful but also better in the action of keeping a neurotic producing, phenobarbital does not dull the senses nearly as much and produces less after effect, ammonium chloride and a host of other stimulants are more productive of results and hardly less severe on the anatomy: but no, the engrams, contaging unpleasantly along from the first crude brew which made one of our ancestors drunk, decree that alcohol is the only thing which is to be drunk if a person wants to "forget it all" and "have a good time." There is really nothing wrong with alcohol save that it depends mainly on engrams and other advertising for its effect and is otherwise remarkably inferior in performance: that it makes such aberrative engrams is probably its main claim to fame and infame. Making one drug immoral and another one taxable is a sample of the alcohol engram in society. However, although it is immensely legal, it is doubtful if the auditor will find any use for it in therapy.
Of course, Narconon and the "Say No To Drugs" campaign also rail against marijuana, so apparently scientologists just fall into line like good sheeple because "they must know what they are talking about because they are backed by the church." But the truth is that if they were following Hubbard, they would have more attention on alcohol than marijuana. But of course, they do not oppose alcohol.
These guys are mixed up. And they are fighting a losing battle. Scientologists seem to love fighting losing battles. Being the "underdogs," standing on righteous pedestals while everyone walks by and ignores them completely.
One would think they would focus on things that really are important. Serious drugs.
Or how about something closer to home — human trafficking? Or child abuse?