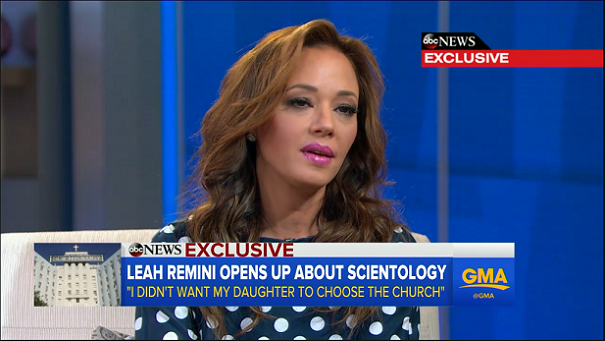 A few random thoughts about the Leah Remini media storm that is growing by the hour.
♦ The response from Katie Holmes was all class. Back during the frenzy that surrounded her split from TC and subsequent divorce I commented that she had handled the whole thing with skill and aplomb. Now you can add grace to that list. Some have criticized her for not saying enough. I applaud her for saying anything at all. She had no need. Her few carefully chosen words communicated an enormous amount — and clearly had the intended effect on the one person audience she was addressing them to. Leah's reaction on GMA this morning was genuine, heartfelt and very touching.
Back to being human indeed.
And don't forget, as part of her divorce Katie (by her silence) appears to have agreed to some sort of gag order (apparently mutual). Katie seems to have felt strongly enough about this that she broke her self-imposed silence about anything related to scientology in order to deliver this message. I am sure Dave and Tom were absolutely batshit about it and she was called every name under the sun. It was probably the blow that hurt most, because they were not expecting it. In many ways, she completely destroyed the attempt to paint Leah as a liar and a "whining victim."
Bravo Katie. Bravo.
♦ The general interest in scientology has ramped up to epic and milestone (to use the scientology vernacular) heights.  Leah's book is building on the foundation of interest generated by Going Clear. 
So much so that I was happy to see Marc Headley post this on Facebook yesterday: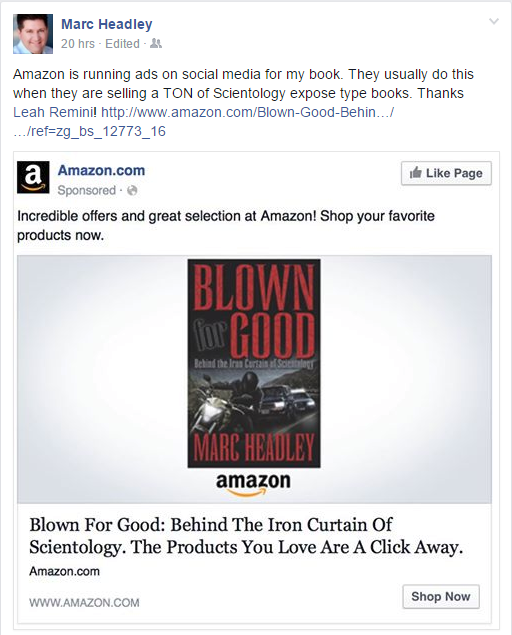 ♦ The interest in what Leah has to say resulted in this arriving in my inbox today.   Vanity Fair is promoting their latest story with a teaser at the top and a republication of an earlier story below: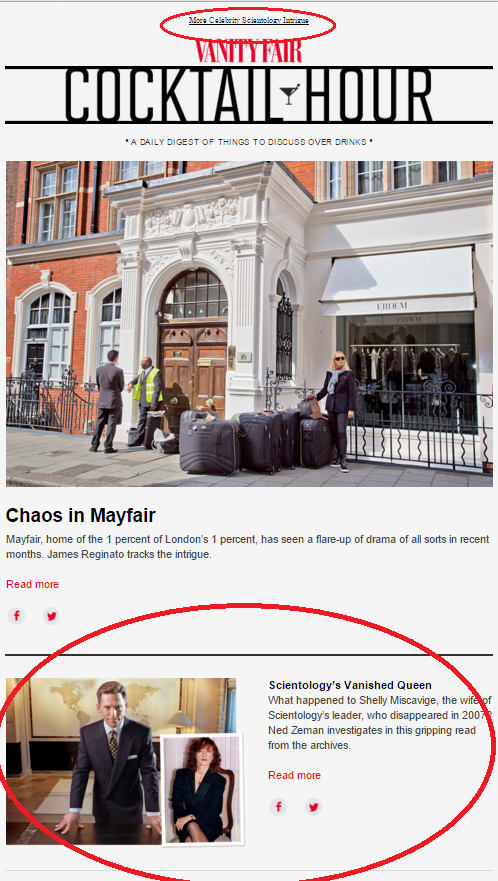 I had forgotten all about this article by Ned Zeman published in March 2014. I commend it to you as an interesting read.
It came out pretty much concurrent to the story I had written about Shelly that I published on my blog on 7 Feb 2014:  Shelly Miscavige Guarded By Armed PI's
Tony Ortega had more follow up on this.
It is good to see Shelly Miscavige being brought back to everyone's attention once more thanks to Leah.
♦ And on the subject of trying to remain relevant. While scientology pretends Leah is speaking out about the abuses she has witnessed in scientology for "publicity" and to "try to remain relevant", there is an elephant sitting in their room they are ignoring.
If one were to look for a way-past-their-"sell-by"-date celebrity that nobody pays attention to any more seeking publicity in the "attacks on scientology" space, there is one name writ large: Kirstie Alley. Somehow she pops up on twitter or the Howard Stern Show offering bizarre statements about her "enemies."  Scientology, if you are so concerned about celebrities trying to remain relevant you can ill afford to ignore the elephant parked in CC Int's lobby.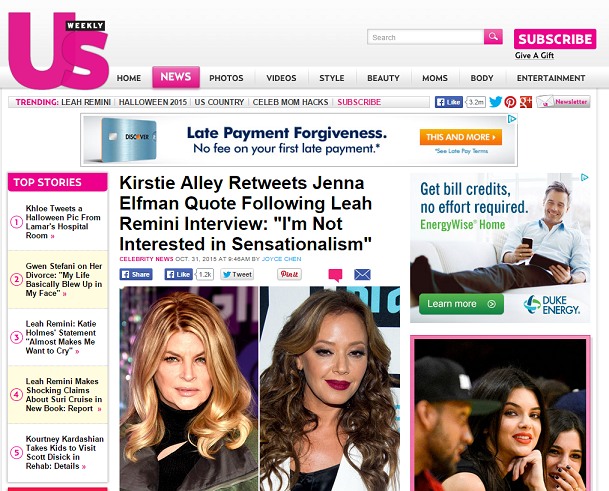 Apparently she was so wanting to be part of the "action," but with nothing to say herself, she felt compelled to retweet for this round…. Really sad.
♦ My final thought: the spell scientology had cast over the media for so many years is well and truly broken.
The abuses and lies they have dished out with apparent disdain for so long have become fair game. From national networks and the leading magazines and newspapers around the world, to blogs, internet media and comedy shows, David Miscavige and Tom Cruise have nowhere to hide.
They are being put under the microscope, and no matter how hard they try, they are no longer able to scramble back into the dark corners as they have so many times in the past.
The light of truth shines bright. You shouldn't be needing your tanning bed for a while.