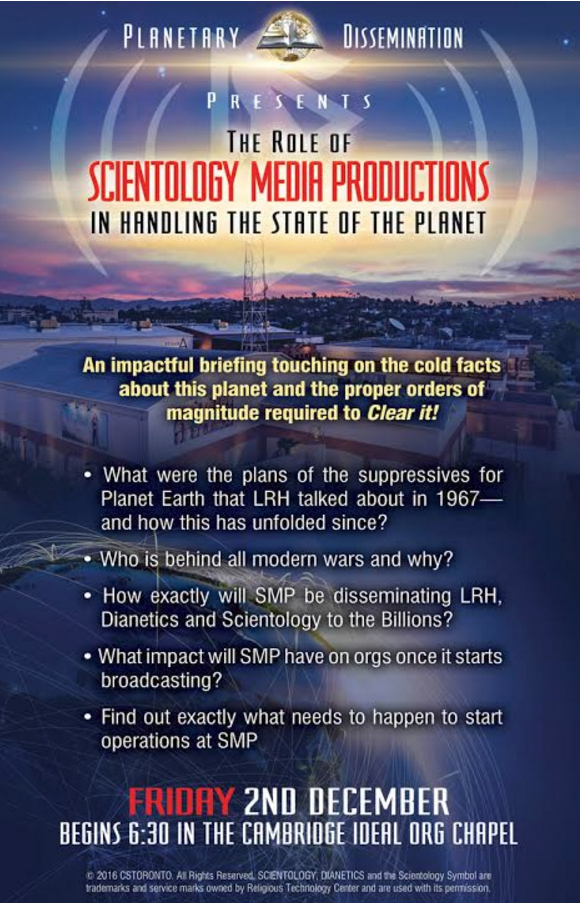 The never ending promise of "how we are going to Clear the Planet."
"Find out exactly what needs to happen to start operations at SuMP"
Seriously? Dear Leader yanked a ribbon on a facility that was not ready to start operations? But he told everyone this was now rolling? That was not true? How could that be? The most ethical man in the universe is not being ethical?
Just when IS this SuMP going to start broadcasting? And what is holding them up? Hell, they have a $100 million (at least) studio decked out with more state-of-the-art equipment than Diseny Studios. And they have the "technology" of PR and dissemination. They have free labor that works 16 hours a day 7 days a week. They've got unlimited money available. I guarantee you they have collected at least $10 million in donations to "make planetary dissemination a reality". What the hell could be wrong?
Only one answer to that question. As soon as it starts "broadcasting" they can no longer be telling people they have to give money. That is ALL this event is about. It's another "fundraiser." Lay it all out — "what do we need for planetary clearing, what does LRH say about the SPs on earth, how are we going to reach the billions, what impact is this going to have once we get rolling, and finally 'what needs to happen for this to start so we can begin to salvage this planet'" – and the answer is simple. Bend over and spread your wallets yet again.
Final thought. If they actually DID brief everyone on the proper orders of magnitude required to clear planet earth they would all just crumple up and expire. They always talk about "planet earth" — they cannot even contemplate "clearing" Cambridge. This "ideal" org has made zero, literally ZERO impact on Cambridge, I guarantee you the vast majority of citizens there don't even know they have a scientology org out in one of their industrial zones — let alone "clearing" anyone.  While scientology claims to teach people how to confront – on the whole they have the confront of blind fleas. They will NOT look, while telling themselves they are the masters of looking, and worse yet, they try to convince others this is true.