They hawk a lot of really dubious stuff in the scientology world — from $5,000 Easy Bake Mark VIII Sooper Dooper meters to "state-of-the-art" "Clearsound"CD players (?) to worthless "limited edition" prints of Hubbard sci-fi art.
But there is perhaps nothing quite as useless as the "Hubbard Administrative Tech."
For the "cheap", special holiday price of only $1300 you can get 12 volumes of secularized Hubbard drivel all for yourself. And for the very reasonable starting price of only $195 per year, you as an individual can buy the right to actually USE the "technology."
And if you shell out $1300 for this mini version of the OEC (for example, the first "volume" of this reference set is "How to Study" — something that is a free course in the VM Handbook) you earn the right to buy Hubbard's wisdom on "selling" at 35% off the list price of $150. What a bargain!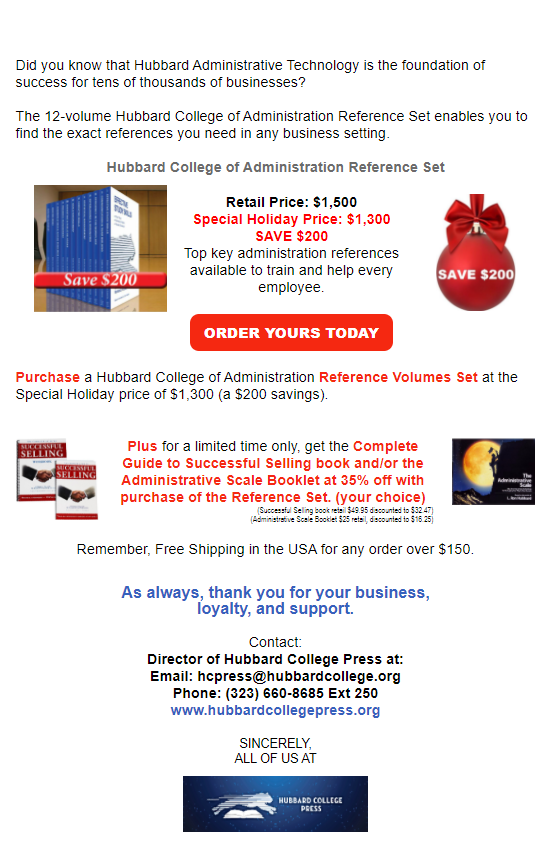 Why in the constellation of scientology rip-offs is this noteworthy?
Because it's not just a VERY mini version of the OEC — it contains information that provably DOES NOT WORK. At least with an e-meter you get a physical object that looks interesting, and a CD player WILL play CD's if you have them and the tacky sci-fi prints CAN be hung on a wall.
What proof exists that these words are useless? Scientology has been dedicatedly using the "only workable management technology on earth" for 70 years. It has SHRUNK over the last 3 decades. Meanwhile, organizations that didn't exist at all when Hubbard was around have grown into multi-national behemoths and they know NOTHING of this "only workable technology."