Pasadena and Inglewood have been avoiding the heat. All the attention and effort has been on LA Org and Valley (apparently Orange County doesn't qualify for anything….)
So it's being turned up. Suddenly, out of the blue, they are going to be "St Hill Size."
Anyone want to bet that the plan is to send Sea Org teams into these orgs? I don't have the report from the briefings over the weekend yet, but this is the "pilot" that was done in LA Org. I can imagine Miscavige railing about the "useless, unutilized Sea Org members" at Int and at the HGB and in CLO WUS and so they are going to be "put to work" and be forced to "boom the ideal orgs in LA" (not Orange County though….). Pretty soon we will be seeing the no-scale graphs about how these orgs are "booming" as the SO members threaten people to show up in the org or get onto an Extension Course.
Why the announcement? Why not just DO IT? After all, you have been saying this is what you are doing since the SH Size game was launched in 1982….
The ideal orgs are a fail, so a "new" program is being rolled out to try and do something about the empty ideal morgues. Because they ARE all empty. Some cannot even afford their utilities bills.
The Sea Org is "taking over." It's the "next big thing" — LA Org portended as much.
Wonder what happens when they run out of Sea Org Members? Hire actors?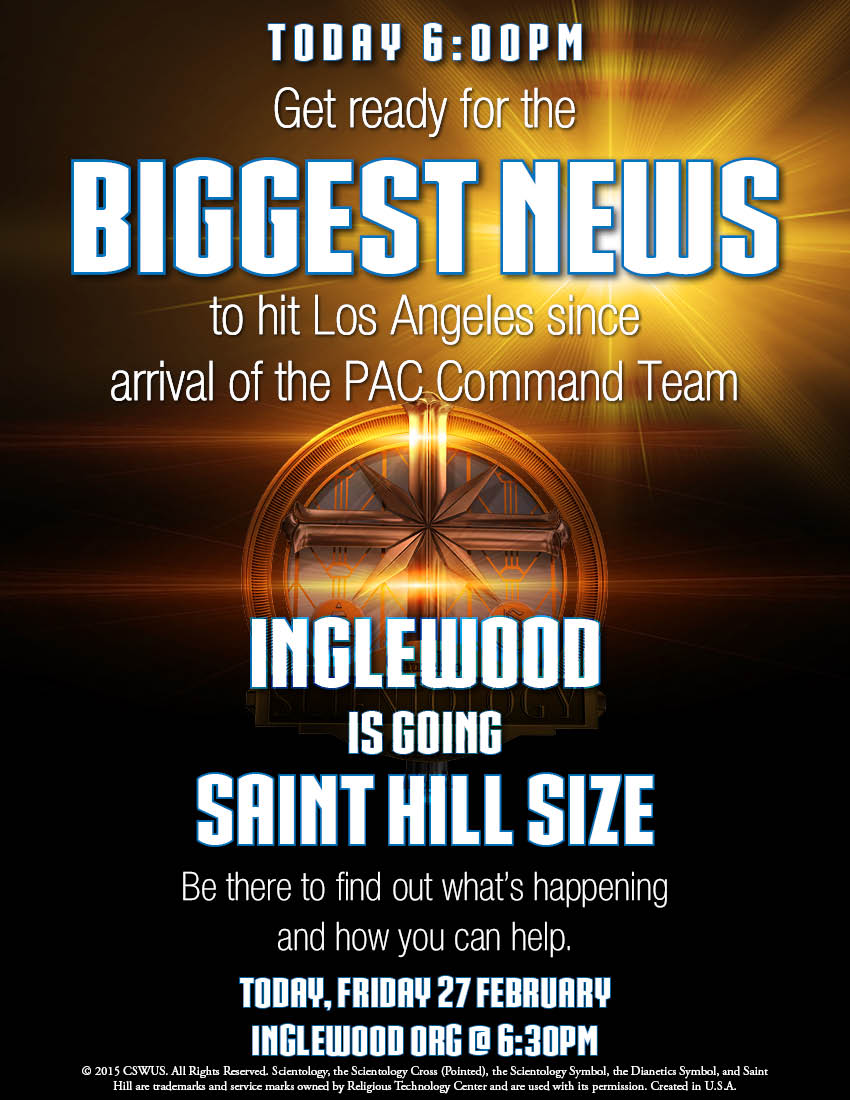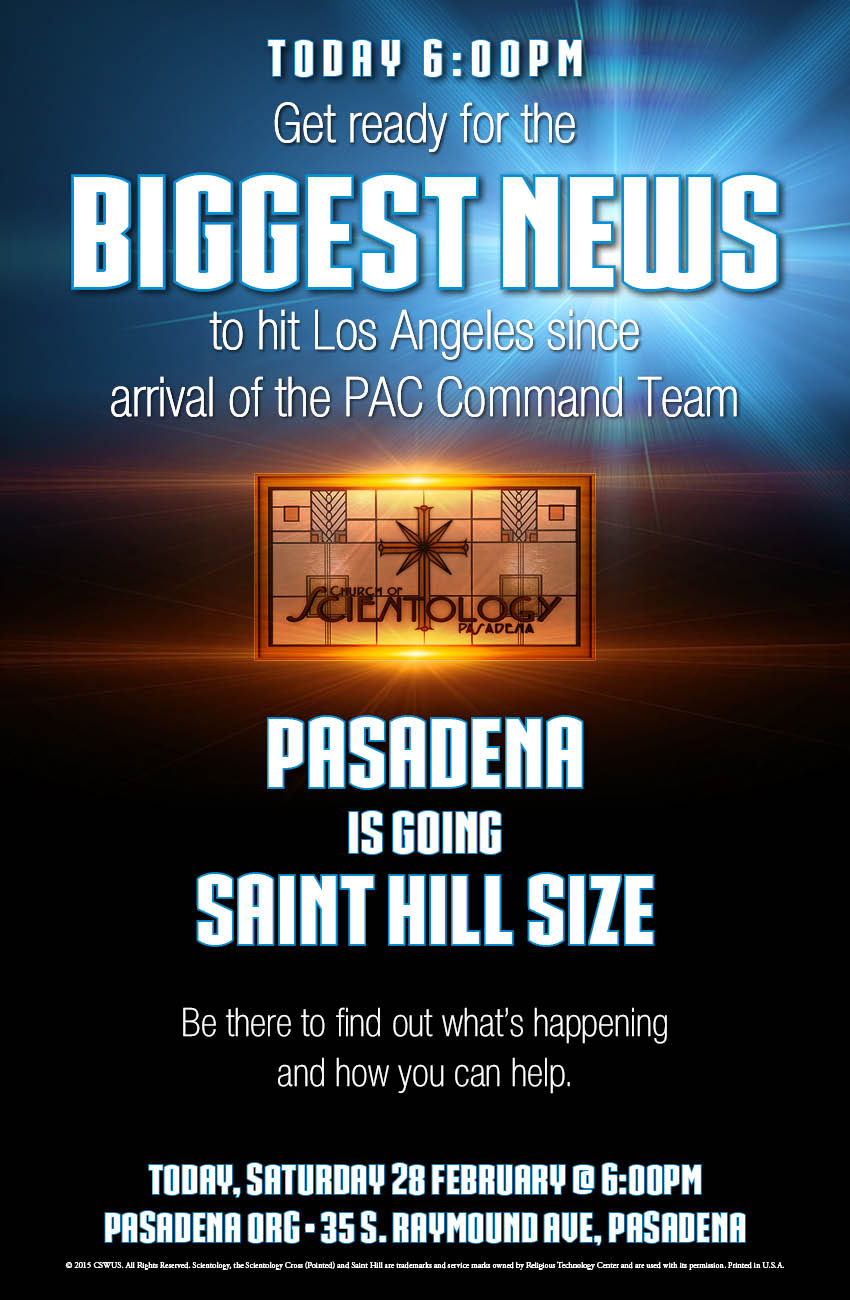 PS: Things will likely be sporadic on the blog this week as I am heading to NY and DC this morning for the next screenings of Going Clear and a series of media interviews. I will try and include some information about what happens, but I am sure at least for the NY leg, Tony will be keeping everyone apprised of events.
PPS: This email just came in as I was pushing the button to post this and walking out the door to the airport. The Sea Org has arrived to save the day, just as predicted above.
Dear Scientologists, 
It is HAPPENING at Pasadena Org!!!   Having just arrived to Pasadena Staff to help the ED's, Rona Bowles and Sara Jonic my sister Chel Stith, OT VIII and I are delighted to be posted as the D/ED D&E's of this absolutely beautiful Church.  
Flanking us, is a 12 man Sea Org Mission to make Pasadena a SAINT HILL SIZE ORG!  THAT'S RIGHT ST HILL SIZE! 
It has already added 30 staff, and we will be recruiting a lot more!!
Mainly what we need most are ACTIVE FSMs, bringing in their family and friends and getting anyone not on lines here to do service. 
Both Day and Foundation have added several Registrars to sign up the entire field.  We have doubled our delivery capability and the org today was a HAPPENING PLACE!!   The OTC has been in the org helping out and working on events here and call in.
We have just issued a two month calendar of events, we need you to bring people in for these!
I wanted you to know so you were briefed and could help us!
There is nothing more important than getting the public in and moving up the Bridge. We really need and want your help.
Please come see me and we can get you names, drill you up, whatever you need!!

Much Love,
Melanie Lekas
OT VI, FEBC

I wonder if Melanie Lekas is wondering whether Pasadena is going to go "full LA Org" and she will be out of a job in Pasadena after having been "replaced" by SO members as ED LA Org?
A 12 man Mission? Oh my. More signs of desperation in the bubble.
I guess Dear Leader doesn't like people making fun of the failing ideal orgs in the home of the "largest concentration of scientologists on earth."