In March 1982, with great fanfare, L. Ron Hubbard issued a "game" to all scientology orgs. They were to 5.4X their stats and "achieve the size of old St Hill." When this was accomplished, Hubbard promised the staff would not only be well paid, "International Management" would send them a "Universe Corps" team so all staff could "go OT" in their local org. This was a really big deal — these were the "buttons" of staff. It was impossible to live as a staff member without additional income and it was even more impossible to save enough money to travel to an AO and partake in OT levels. Life as a staff member in a scientology organization was a bleak proposition. Poverty and no hope of going up the Bridge. Here was a solution, all they had to do (according to Hubbard) was to get "on purpose" and "think big" and all would be well.
Management (it still existed at the time) pored through old files and determined "the size of old St Hill." It was initially issued as 200 full time students in the Academy, 1000 WDAHs per week and Gross Income of $100,000 (and other stats considered to be commensurate with achieving those quotas). There were other versions of the quotas at different times, but this is generally the range considered to be "SH Size."
Very few orgs ever came even close. Some managed to stat push their way to achieving these quotas for a week or two and were quickly declared SH Size to "prove" to all the other orgs it "could be done." They quickly collapsed again after the camera crews left and the applause died down at the event where they were announced.
This went on for 20 years with little progress.
But apart from the staff disenchantment, the lack of SH size orgs presented another problem. In the late 80's David Miscavige announced that the requirement for the release of the non-existent OT IX and X would be all orgs achieving the size of old St. Hill. As time wore on, people became discouraged that this would never happen. And these were people that mattered. Not staff, but whales.
So, Miscavige came up with a "Why" for orgs not making it to SH Size. He presented it in one of his elaborately staged events and explained that the problem he had so brilliantly discovered was that the orgs were "trying to do too little." After landing that bomb he pitched his solution: "ideal orgs." The "ideal org" was supposed to resolve the reason orgs were not capable of achieving St Hill size ("because they didn't have all the requisite pieces in place, like trying to deliver an auditing session without a meter…") And with this masterstroke he basically put the ball in the whales' court — he told them THEY were responsible for raising the funds needed to make all the orgs "ideal". They could now only blame themselves if they didn't have OT IX and X.
That was in 2004.
I received this promotional piece in the last few days that reminded me how false Miscavige's ideal org "solution" was and is.
Sacramento opened as an "ideal org" in January 2013. It was an org that actually raised enough funds from its parishioners to do it themselves. They have some big hitters in their field.
But it was 3 YEARS AGO. Why aren't they SH Size yet? They are "ideal" and they haven't even made it to the "make-break" point where staff can afford to live on their weekly pay? Let's not also forget that Hubbard also proclaims in his "Birthday Game" issue that it only takes "a matter of weeks" to expand to SH Size…
And of course, Sacramento is not the only one — I don't know of a single "ideal org" that has newly been declared "SH Size." Not one. And there are dozens of them stagnating in all their marble glory – going all the way back to the FIRST ones: Buffalo, Madrid, SFO, and NY. And since then there have been Malmo,  Melbourne and Madrid, Berlin and Brussels, Dallas and DC and too many more to mention.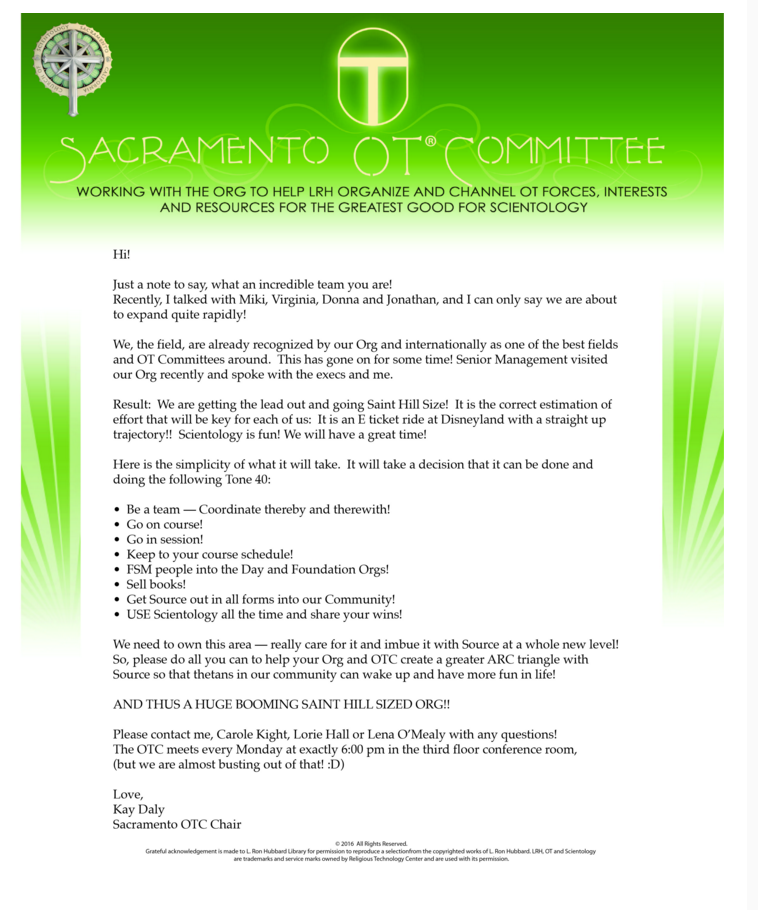 Now Sacramento is "going to get the lead out" and go St Hill Size. It's going to be an "E ticket ride." Yet for the last few years, the "OL's" from Sacramento (notably Dennis McKenna) have been going around to other orgs to "tell them how it's done"…
Everything in scientology is a facade.
If what she is saying is actually true, why haven't they done it in the last 3 years?
Because everything is the promise of the future. Something that is going to happen. Unless of course you don't do your part, in which case, if it doesn't happen, it's your fault. Another specialty of scientology — blaming all failures on YOU.