John Mappin is at it again…
Now THIS is a true OT 7 success. The sign on his building is rusting and a letter fell off. How "OT" — now it spells "CAME OT". Amazing cause over MEST. And 580 people "like" it.
Just Plain Weird
I don't think everyone on OT 7 is stark staring crazy, but I do think the percentage is increasing as the smarter ones depart…
This IS an actual post.

Hello! I'm ready to create on the 2nd Dynamic. I am posting my ideal scene. If you know someone who matches up, great awesome — feel free to connect. But just your reading it is an awesome flow!

Ideal Scene – 2nd Dynamic

I am looking for a terminal. A partner. Creating continuous best-friendship! I want to create with someone who can grant beingness while, at the same time, expect greatness, encourage greatness, supports being great and can flow power to greatness.

He's a big being, but doesn't consider himself big or not big — he's just who he is. He would never feel the need to say that he's a "big" thetan. Big is relative anyway. But he's comfortable commanding spaces and doesn't introvert too easily.

Another aspect I don't find attractive (as well as it's an outpoint) is past-life talk and a lot of significance placed on as such. This is not to say that something of the sort could NEVER come up… I'm just saying it's not in his nature or even his "thinking" to talk about it.

My 2D is in games. He freely moves up and down the tone scale, but really likes creating in whatever area he's drawn to. This includes the second dynamic — always new ideal scenes (as a couple) to reach.

He is competent and successful and enjoys what he does in life.

He's financially secure, stable and expanding.

Regardless of his profession, he appreciates and contributes to art. Whatever field he's in, he sees the ART in it. — I tend to be attractive to engineers. Engineers and Artists are both creators. Whatever his occupation is, it's part of his livingness and he enjoys it.

He likes looking good, but does not have a stuck point on the body — of himself or of me.

I do like chivalry and I love the way I feel when a man is taking charge and I know he's taking charge and, boy, am I his woman, and he knows it, I know it, and everyone who sees us knows it. I'm confident and comfortable in his lead.

In each other's absence, we continue to flow power to our 2D create by not engaging in any suspect flirtatious flows or comm that could be construed as such. But if some "outflow" does occur — it's no big deal to discuss with each other — we're best friends! No one is interested in punishing the other.

He can have comfortable silence as well as conversation.

Ideally we have the same sense of humor, but as long as he can laugh, we're good. But I also don't want the "joker" who's always on. My humor is a bit dry and amusingly non-sequitor — I think so. I can laugh for hours over the most inane comment, look or gesture.

He is someone I admire and I am someone he admires.

He is my biggest fan in terms of my creative endeavors and I his.

We inspire each other to be better.

We have FUN working out strategy and battle plans together and both really support each other, and help in all ways possible, for the other person to make their target. AND — NOT THAT BIG OF A DEAL IF TARGET'S NOT MET!!! We just brush it off and make new targets. Again — BEST FRIENDS!

We are both very attracted to each other as thetans and bodies. I LOVE to be pretty for him. But it's light and just a little frosting on the cake. It's the cake that is the substance between us that we both find very attractive.

We're both very affectionate — not clingy. We both have no problem with PDA. Not too heavy.

I'm 44 and am married to the right man in 2015. I would like to have children, at least 1 — but it is not the end of the world if I do not. Pre-existing children are more than welcome — desired. I really like family.

My ideal scene 2D is a Scientologist. I prefer Clear or above, where he is on the Bridge is less important than where he is with his expectations and plans to be at the top of the Bridge. So whether training or processing, he is moving. Bridge is priority.

He contributes and supports groups that create greater expansion for Scientology.

I don't have a lot on age if these other points are in but the ideal range is between 10 years younger and 10 years older — 34-54. Now if the BOMB guy for me is 27 or 57… still awesome.

I'm 5'9″. I sometimes like to wear heels which puts me at 5'11-6′. More important than height is he can't have any insecurity or button regarding height. If he can own me, he can own me. Ideally he's between 5'11 & 6'4" but if the BOMB guy for me is 5'8″… still awesome.

He likes to travel. He likes to see the world. And when we travel, we're pretty much on the same page — sometimes we want to be tourist, sometimes we want to chill at the hotel, sometimes we want to hang out with the local guy we just met who has cafe every day in the square. But there's never any heavy pressure. We may have to sometimes sell the other on what to do, but if either doesn't want to do it, neither would be ARC X if they did that thing on their own. Although ideally it is experienced together.

Ideally, he lives in Clearwater. But for the right man, I would consider moving. Next ideal locations would be LA, NY or London. But again, if the BOMB guy for me lives in Kansas… still awesome. If we did live elsewhere, we may consider having a place in CW since we are here so often.

His comm cycle is in and it's easy and relaxed.

He likes going to graduation and international events.

He's good with money — energy — flows. Although I am pretty conservative with my spending — I haven't been that great at managing it and could use some help. Funny, I can manage other people's money flows very well. I could manage his or ours together. But some little aberrative thing has been on my own personal money management.

I love to dance. If he loves/likes/willing to dance, that would be great.

Musical tastes. Wow — I'm just going to list out who I listen to:
Sia, Muse, Nina Simone, Vivaldi, Black Eyed Peas, Rammstein, The Black Keys, Queen, Brian Ferry, TV on the Radio, Radio Head, Jay-Z, T.I., Chris Cornel, Moby, Sade, Johnny Cash, Tom Petty, Beyonce, Rachmaninoff, Damien Rice, INXS, Chili Peppers, Rodrigo Y Gabriella, Royskopp, Roy Orbison, soundtracks like from Jackie Brown or Vanilla Sky.
….I'm sure I'm missing some, but that's an overall pic.

He's is NOT a social drinker. I don't mind if occasionally he has a beer or glass or wine. I'm not a drinker (maybe I'll have a glass of Champagne at a special occasion or a glass of wine with my family over the holidays).

He likes to eat healthy, and we do as much as possible, but we can also chow down on some greasy delicious pizza, hamburgers, french fries, ice cream. I can be a bit of a low carb queen at times, but I do like to engage.

On a scale of cool/hip factor, he's between a 6 and a 10. I view myself around an 8.

More than anything, he is superlatively impressed with my ability to juggle torches!

…..a bit of my cheeky humor — BUT I CAN JUGGLE TORCHES!

Kyera Keenne
Currently on OT 7
Cause Resurgence & Super Power Completion
Creative Director at Measurable Solutions (WISE company)
Composer/songwriter/singer
Scriptwriter/Copywriter
5'9″
44 years old
Shameless Disaster Capitalism
A few people have sent me messages about the situation in St. Louis, reminding me that the church had claimed they were handling the area with distribution of special copies of WTH (providing you gave them enough money). Seems like that didnt work out, and nobody wants to miss an opportunity to rake in some cash, so now the solution is to give money for an ideal org. When this org is done 5 or 10 years from now, I doubt anyone will remember anything that happened in Ferguson in the fall of 2014.
As naive as it may have been, at least distributing WTH had a theoretical direct cause and effect relationship with the problem at hand.
This is not really funny. It is sick. But I have too many things accumulated for individual postings, so it takes its place here among the goofy, silly and pathetic (the typos/proofreading live up to everything we have come to expect).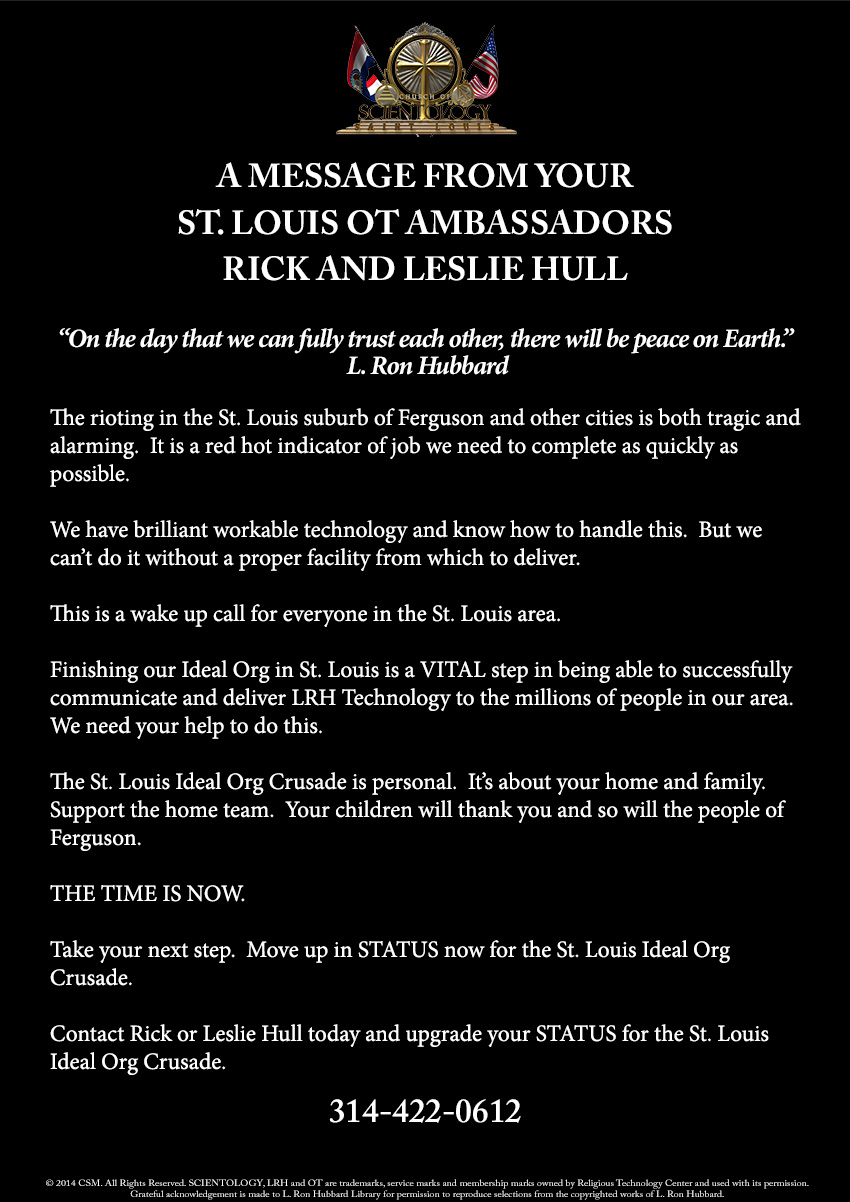 They hope sex still sells
What else you going to do?  This magnificent ideal org in Pasadena is completely empty.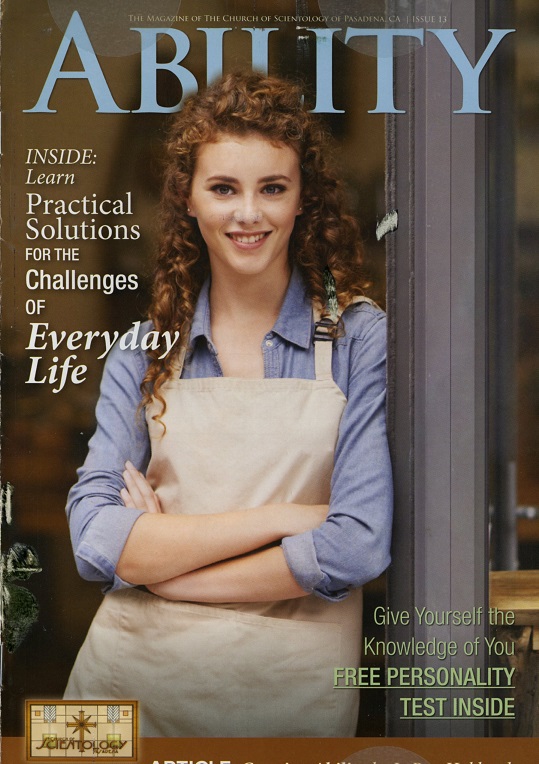 But if you turn the pages, there are a couple of other things of note: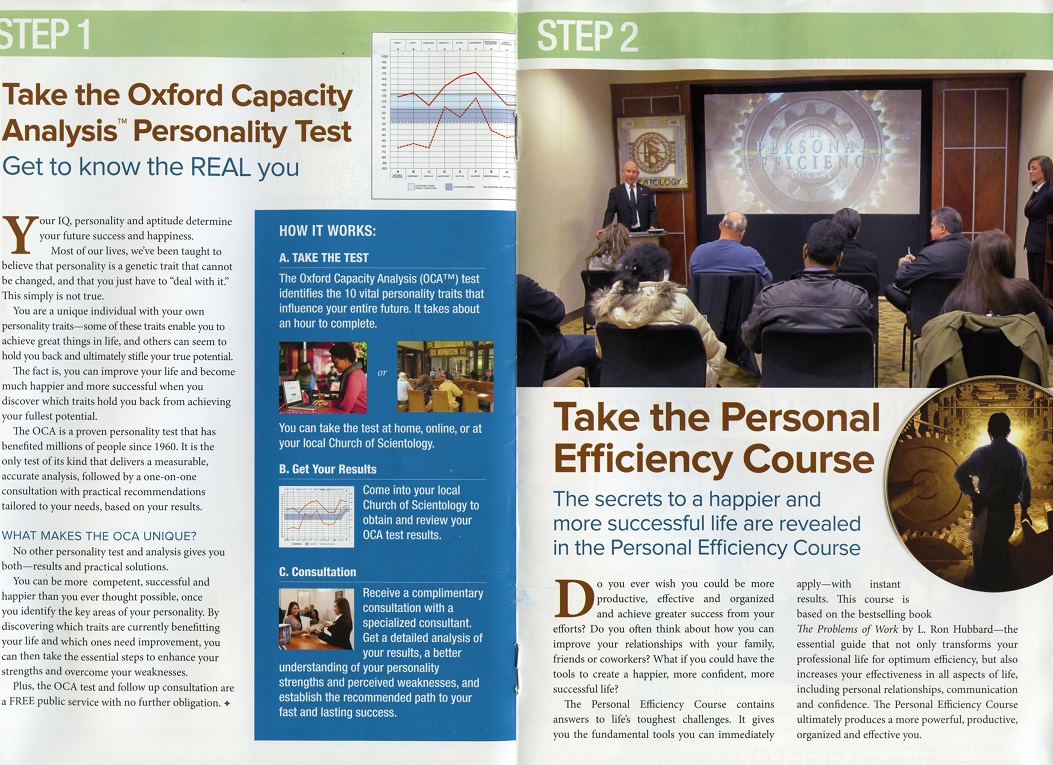 As the Special Correspondent who sent this to me commented: I noticed the creepiness factor of this bystander lady monitoring the "group" for any BI's. 🙂 They no longer seem to notice how cultish they come across.
But then you turn the page and see this. Does anything here communicate "religion" or "humanitarian"? Even a single word?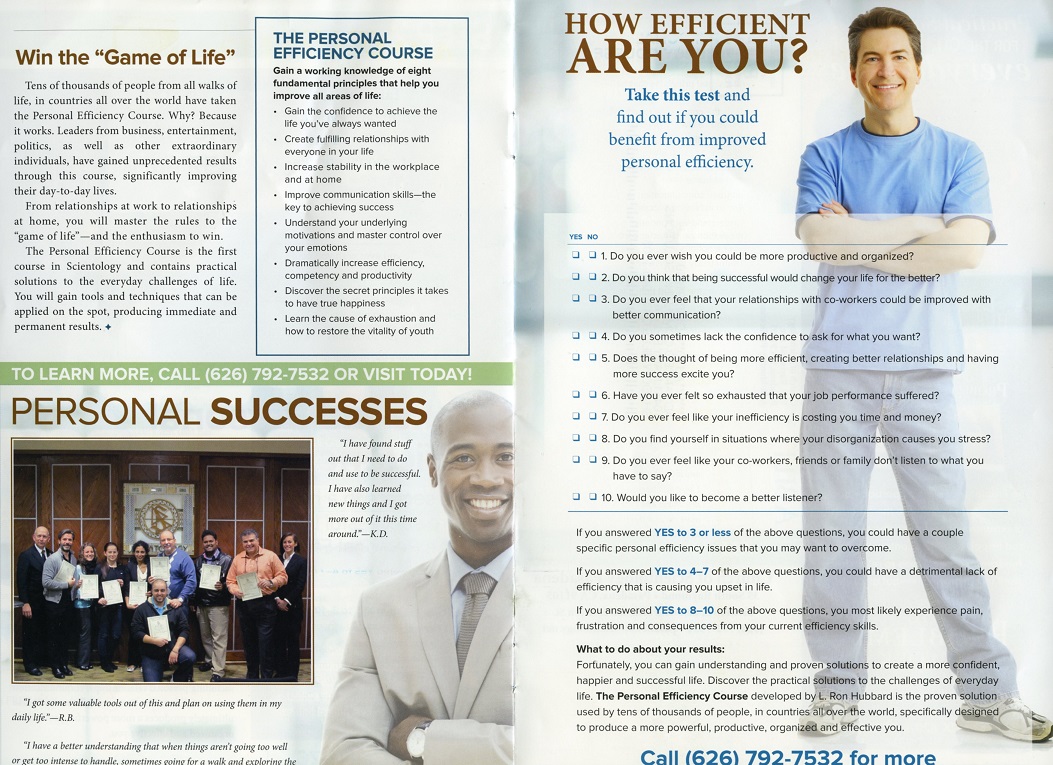 Looking for Heroes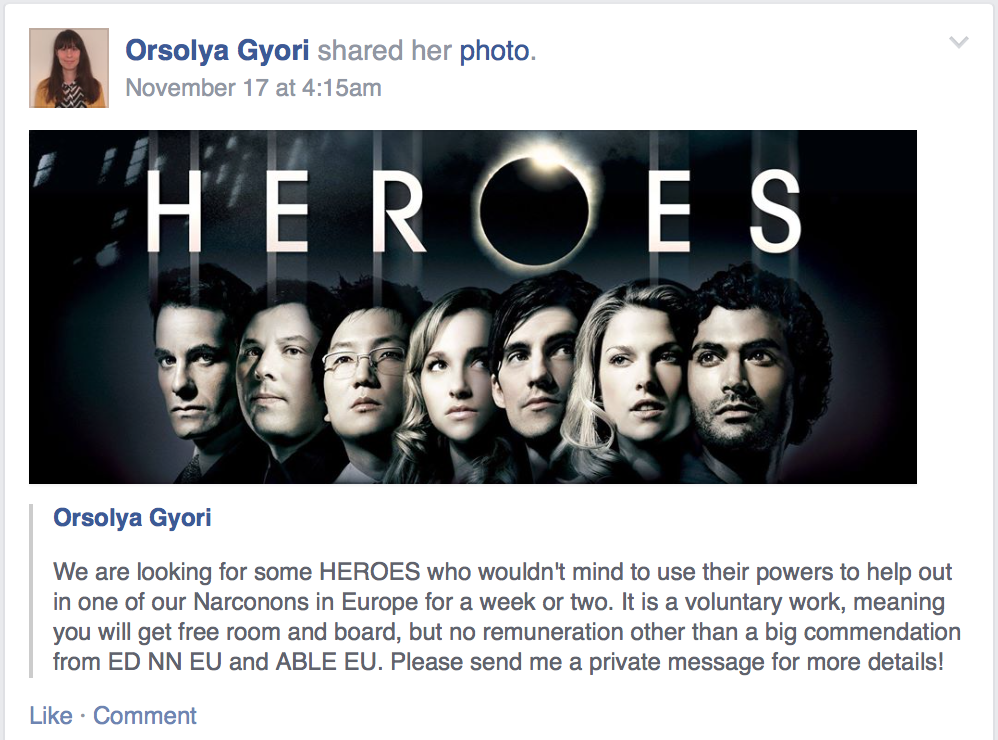 I found some!
Take your pick…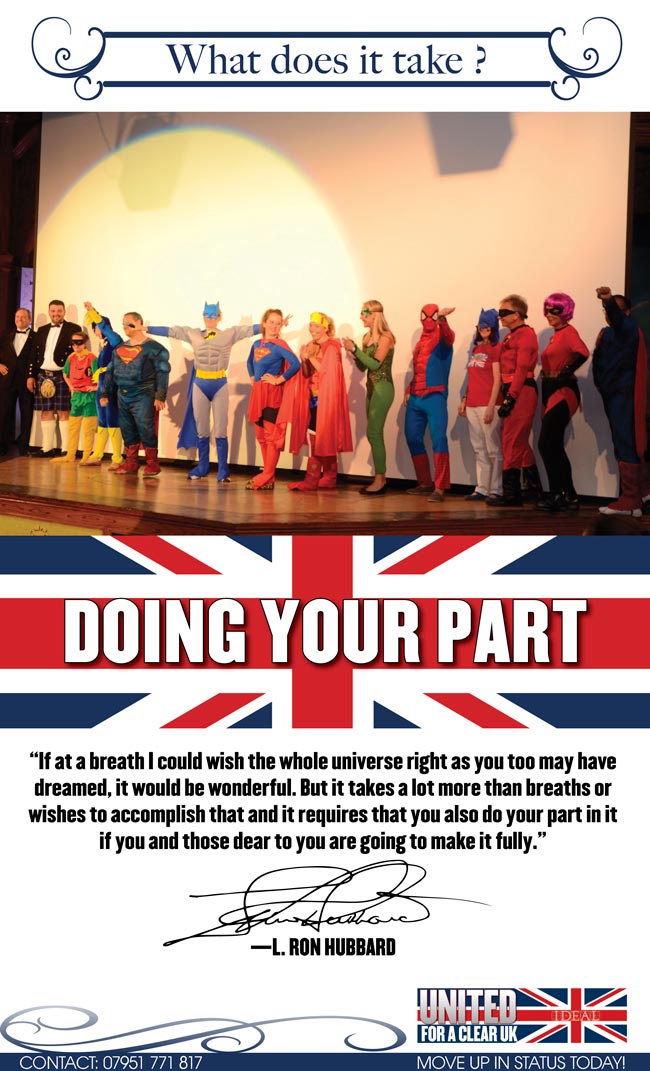 No wonder they are all wearing masks….
Boston Has Moved
They are now officially a hobbytown.  Works well if your hobby is extracting blood from stones.
But they didn't set up their sauna before they moved…. Now that is scientology precision planning!
Three year old's "Success" after auditing
My 2.5 year old does this without auditing…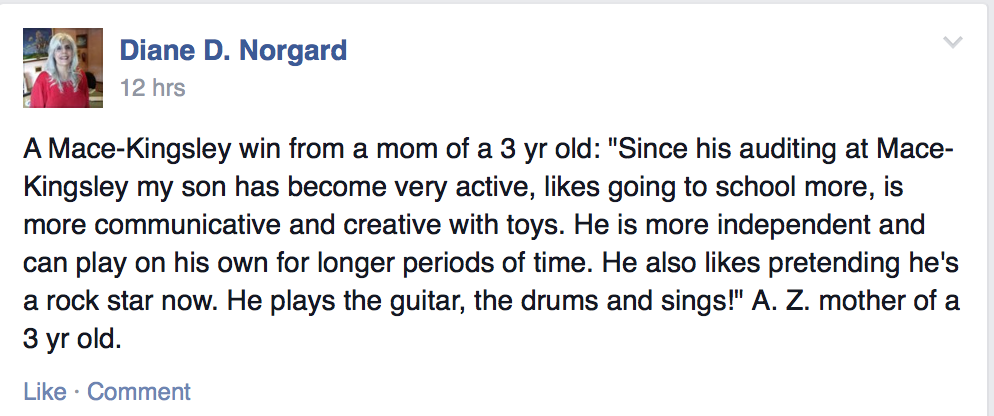 The Dianetics volcano billboards are back!
Right on Melrose Ave in LA where the mission used to be.  They even got the uptrending graph in the background.
Imitation is the sincerest form of flattery? Or did someone do this as a deliberate "positioning" with something hated when their plan to used nazi symbology was veto'd?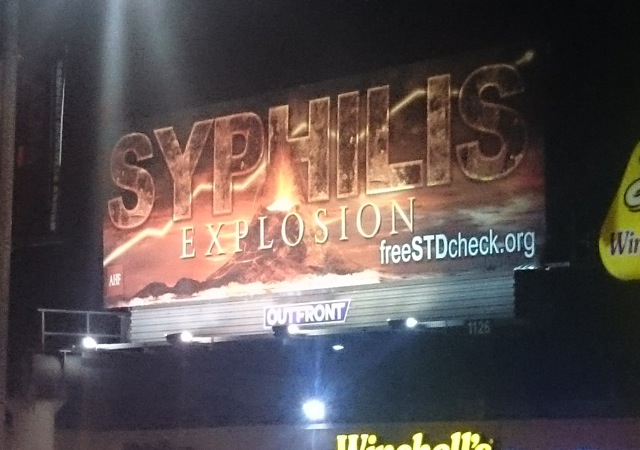 No Comment
Regraded Being