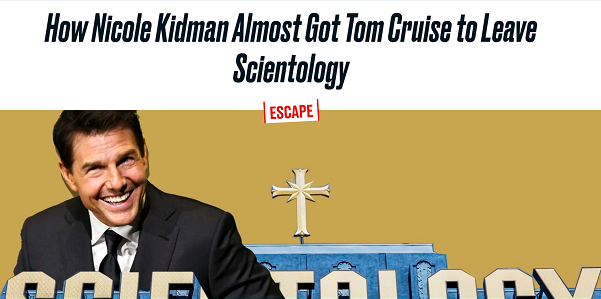 Marlow Stern has written an excellent piece in the Daily Beast concerning the relationship between David Miscavige, Tom Cruise and Nicole Kidman: How Nicole Kidman Almost Got Tom Cruise to Leave Scientology.
It is the 20 year anniversary of Eyes Wide Shut, the Stanley Kubrick film that was the catalyst for them nearly breaking away from scientology.
There is little to add to Marlow's excellent reporting other than to reiterate that this piece highlights the inhumane practice of disconnection in scientology.
Scientology claims disconnection is a "personal choice" — but in reality the "choice" is either remain in scientology and disconnect from the person who has been deemed a Suppressive, or refuse to disconnect, be declared yourself and have friends, family, employers and employees disconnect from you. It's a literal Sophie's Choice and some (like Sara Goldberg) have had to choose between their children. When someone else is dictating your "choice" it is not a "personal choice." (Here is an earlier article I wrote on this subject: Disconnection — Scientology's Spin).
Scientology policy is clear.
These are listed as "High Crimes (Suppressive Acts)" that will cause you to be declared a Suppressive Person according to L. Ron Hubbard's policy:
Continued adherence to a person or group pronounced Suppressive by HCO
Failure to handle or disavow and disconnect from a person demonstrably guilty of Suppressive Acts
Nicole was asked to choose between her parents and her husband/children.
The best statement on this matter is from Nicole — who has maintained tight-lips on the subject of the end of her relationship with Tom and departure from scientology: "Motherhood is about the journey. There are going to be incredible peaks and valleys, whether you are an adopting mother or a birth mother. What a child needs is love. They have made choices to be Scientologists. It's our job as a parent to always offer unconditional love."
Unconditional love is a concept not found in scientology. It speaks volumes as to why she is no longer a scientologist. Her attitude just isn't compatible with the cult mindset.