On Wednesday November 30th I am doing an event at the University of Pennsylvania with Professor Marci Hamilton.
This is causing great consternation in the hallways of OSA/Stand League.
They tweeted about it using my daughter's account and even created a new video where she whines how she just got a "copy and paste" reply to her form-letter complaint to UPenn.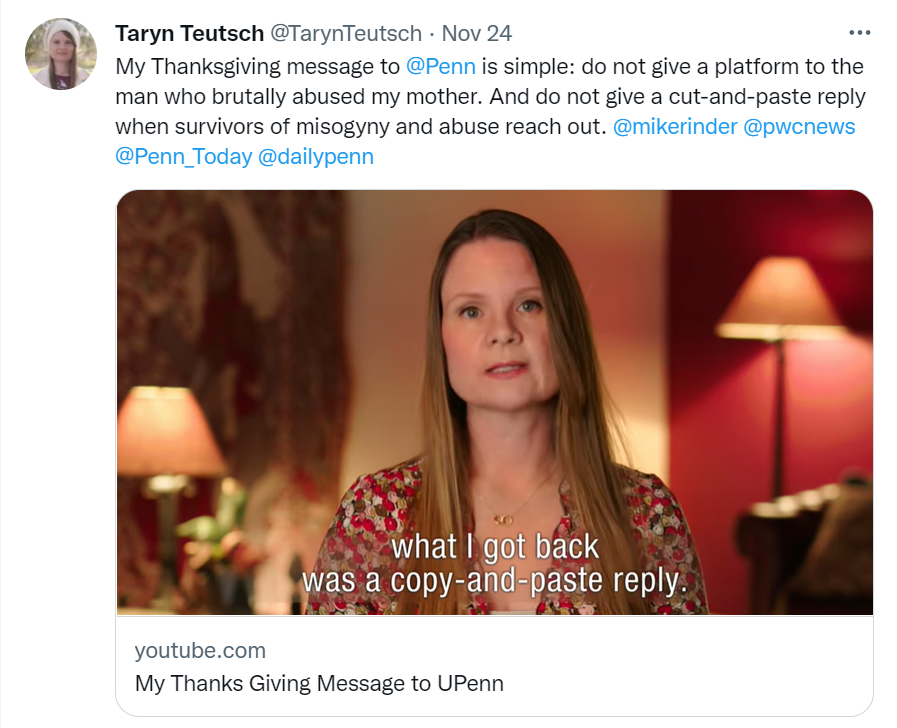 Seriously, only scientology could come up with something like this — a whineTweet for Thanksgiving. I thought Thanksgiving was supposed to be a day when you remember what you are thankful for, not an excuse to circulate the same, tired, whining lies they have been telling since 2017… If by any chance you are unfamiliar with the lies, this is a thoroughly documented article from Jeffrey Augustine's excellent blog.
Somehow, the self-proclaimed champions of free speech don't like anyone speaking that doesn't say what they want people to hear. They don't even want me seeing what they post. Note that she (and various of the other STAND League trolls) includes my Twitter address (@mikerinder) yet has me blocked so I cannot see the tweets…
The guardians of religious freedom and human rights for everyone don't seem so enthusiastic about anyone who thinks that perhaps all is not as it should be in the bubble of scientology.
These great supporters of the "#MeToo" movement have remained dead silent about Danny Masterson…
They go to great lengths to try to convince the world they are tolerant, kind and have never even heard of Fair Game, let alone practice it. But their actions and utterances continue to prove the opposite. Instead of hurling invective and demanding the appearance be "cancelled" as their "Thanksgiving wish," why doesn't Taryn come to Philadelphia and join us on stage and she can tell her side of the story? She can bring her mother and Benjamin too. They can be 3 on 1.
In fact, as we have always said — we welcome ANY scientologist to appear and speak. No need to snipe from the weeds. Come on out and make your case in public. You have an open invitation.
Meanwhile, if you want to really piss them off, take a couple of hours on Wednesday evening and join us at UPenn Perelman Center at 7pm. Will be happy to see you and sign a copy of the book.
If you are in the area and want to attend, you can register here.