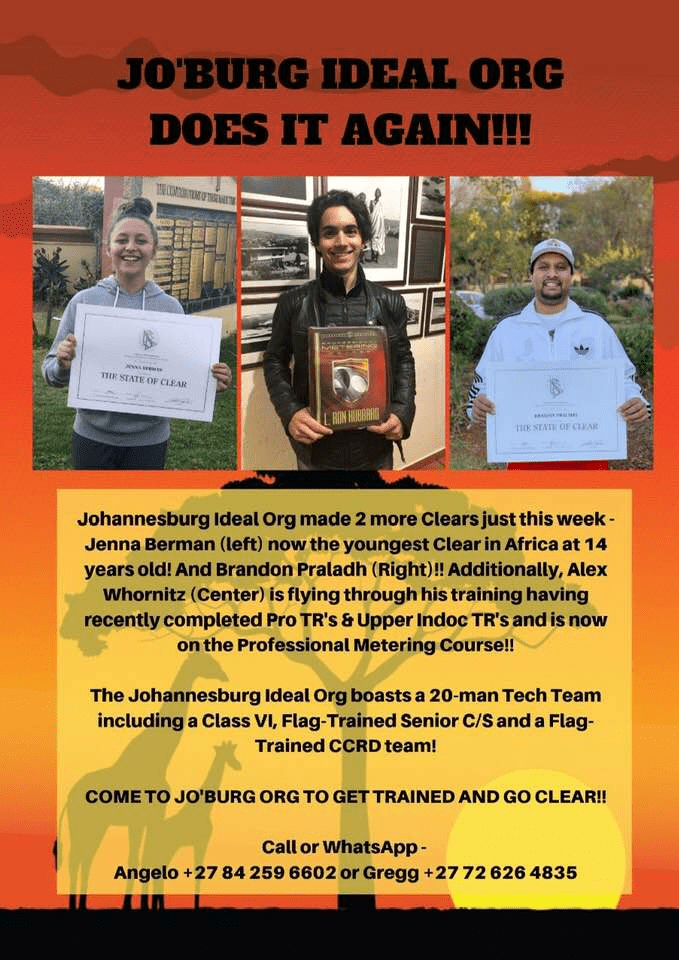 Presented personally by Mr. David Miscavige with both "Ideal Org'" AND "St Hill Size" status, Joburg org epitomizes the pinnacle of scientology organizations on earth (not counting the artificially inflated Tampa Org that is home to the many Flag rejects and people trying to avoid Flag registrars).
And here we see what they are so proud of:  2 Clears in one week and one person "flying through his training" — apparently they didn't have a single course completion to announce in the same week as the 2 Clears.
This is the best. of the best. And compared to other scientology orgs, it is.  Most orgs don't make 2 Clears in a year.
But even at this worldbeating rate they are not going to Clear Joburg EVER. Let alone all of the African Continent (which they are also responsible for).
The new "St Hill Size" "ideal" Advanced Org Africa is only going to be able to get customers from other parts of the world as even if Joburg actually did 2 every week (they don't…) it would support a massive Advance Org. The only thing the new AO can do is try to steal the dwindling number of Clears in other parts of the world by offering discounts due to exchange rates on the Rand. Or they will begin cannibalizing the local orgs, delivering bottom of the bridge services.
Miscavige had a moment of glory that allowed him to shoot a video to show at a ribbon yanking event and try to pretend this proves scientology is expanding.  Of course it's a facade. He cannot do anything to get scientology out of the long slump into oblivion it has descended into — so he buys buildings, holds ribbon yanking ceremonies in front of the clubbed seals who clap and cheer him and tells the bubble dwellers how great they are doing.
It's a bizarre charade that only those inside the bubble buy into. They are so out of touch with reality that they repeatedly put out these sort of promotional items to prove it.
Scientology would be completely irrelevant to the world at this point if it didn't have 3 billion dollars to implement its toxic policies to destroy enemies, break up families, abuse the elderly, bankrupt donors and cover up abuses.