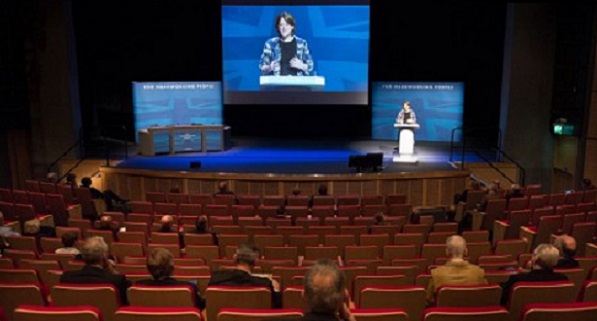 Try to ignore the typos, spellos and grammatical hash in this email if you can.
The milestone news is that they are going to hold the biggest and "most impacting" [sic] WISE convention ever (of course).
They are going to have 1000 people there (not an ice cream's chance in hell of that happening).
But here is the REALLY big news. Because demand is so high, they are "reducing the prices".  Now that makes sense. So much demand we are reducing prices.
Really, they are using "scientology math" or "scientology speak" where reducing the prices actually means, as explained in the next sentence: "they are not really reducing the prices." Got it?
This must be the only event of this sort in history that apparently didn't offer a group discount from the outset.
The masters of marketing and organization apparently just realized that they should give a better rate for a "table of 5" or a "table of 10" (for a "convention"?). Apparently this is a new concept, probably because L. Ron Hubbard never said anything about it in policy. Oh right, the only thing he DID say in policy was "banning" "congresses."  Oops.
The models of admin know-how seem to be a little off the rails…
Subject: New Rates for WISE Convention Tickets!
Date: May 25, 2015 
To:
Dear Robert,
This year's American WISE Convention & Consultant's Conference is going to be the biggest and most impacting in our 36-year history.
We are putting on this convention to get all vectors aligned, and so that you are armed with sufficient and tech and policy to reach out and be decisive in your actions as a businessperson—right at the forefront of our planetary salvage efforts.
This convention will align all forces to the honest-to-God introduction of our administrative solutions to every business and organization in each geographic zone of America. Each member will leave with certainty that they can create their business into a refuge from the raging insanity of our current society, as well as make it an emanation point for sanity and survival. And what we have planned for the Consultant's Conference will assist that endeavor tremendously.
In light of the releases planned—and in commemoration of the fact that this year has proven to the world that America is indeed at the vanguard of all our expansion efforts—I am announcing a new WISE convention ticket special!
The price for the convention ticket is still $400 per ticket. This is not changing. However, for anyone who purchases a "table", or group of 5 convention tickets, the price will be a total of $1,300. This is $260 per ticket and is a savings of 35%.
For anyone who purchases a table of 10 tickets, the price is $2,200. This is a savings of 45% from the normal ticket price!
This special is being offered to increase the attendance at this convention. We will have 1,000 people there.
The objective is to have WISE flourishing and prospering, new people introduced to the tech, and all of us working together to build the New Civilization. This convention is a part of that strategy and we need all to participate.
We in WISE are standing by to answer any questions and to help you obtain your table.
You can reach us by email at [email protected], or by phone at +1 (323) 953-3310.
You can also register online here, and a staff member will contact you for your payment.
Contact us right now!
Sincerely,
Sakhi Guma
Executive Director
WISE Western United States
323-953-3310
By the way, it would probably help ticket sales if you said WHEN and WHERE this milestone convention is going to be held.
Come on WISE guys, that IS contained in "LRH policy."
Hold the phones! Late breaking news….
From: WISE West U.S. <[email protected]>
Subject: Brandon Marion – Just Confirmed to Speak at the American WISE Convention!
Date: May 28, 2015 
To: 
Leadi
ng WISE member Mr. Brandon Marion has just confirmed to speak at the American WISE Convention–August 7 – 10 in Burbank, California.
The Founder and Managing Partner of Aspen Private Capital, Mr. Marion has an extremely diverse background in both the private and public markets. Over the past 25 years he has worked internationally with hundreds of companies and individuals. He has managed billions of dollars worth of assets for his clients.
He will be speaking on how you can raise your level of prosperity so that you can realize your purposes in all areas of your life.
Register today for this groundbreaking convention by clicking here, or by calling +1 (323) 953-3310.
Sincerely,
Sakhi Guma
Executive Director
WISE Western United States
OMG, nobody could possibly want to miss this event now. Brandon Marion has confirmed!
Is it really possible they didn't have their speakers lined up beforehand?