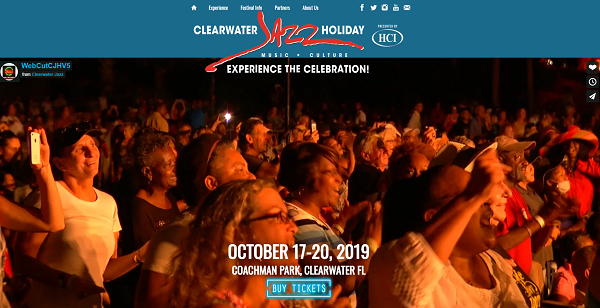 Generally, scientology does not proselytize for new members in downtown Clearwater.
They don't try to recruit new members — "Flag" is for existing scientologists who make the pilgrimage to hand over cash and participate in advanced scientology courses and auditing. In fact, scientology would prefer there were NO "wogs" (non-scientologists) in the downtown area at all. They want it to be 100% scientologists.
But there is a local "mission" in Belleair that is for "new people" who may be introduced in some fashion by scientologists in the local area (it is also where those who don't "qualify" to participate at Flag are sent).
Generally, non-scientologists avoid the downtown area as much as possible. So it is not a fertile recruitment ground anyway.
But when there is a large event — one of the few being the Jazz Festival coming up this weekend — people are willing to travel downtown because they know for a few hours they won't be outnumbered by scientologists.
And because of this influx of "raw meat" (the scientology term for those who have not yet had the realization that scientology holds the answers to all of life) this event is seen as an opportunity for the scientology Belleair Mission to try to attract the unwary: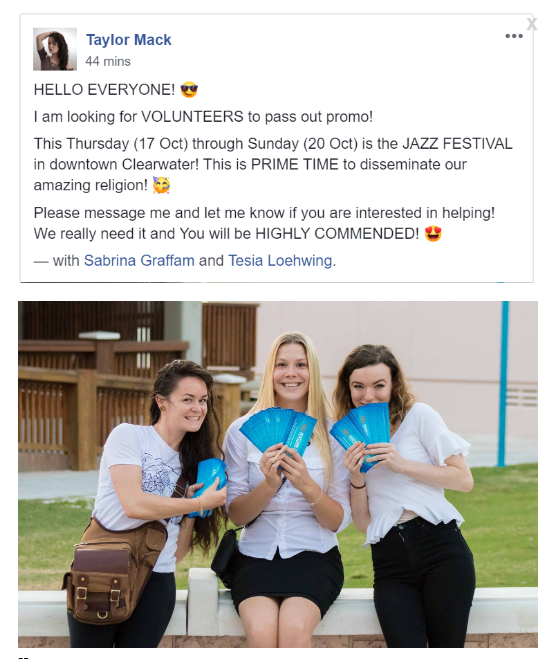 You can also bet the front groups from the Potemkin Village on N. Ft Harrison (Way To Happiness, Volunteer Ministers, Drug Free World, Citizen's Commission on Human Rights, Literacy Campaign etc) will be trying to get people to take their literature and come in to their empty storefronts to find out what great "charitable" and "humanitarian" work they are doing… But don't dare set foot on the parking lots of their empty WestCoast Building, Lee Arnold Building, Sandcastle Hotel or Osceola hotel that adjoin Coachman Park — the reception will NOT be so welcoming. No doubt these buildings and their parking lots will be roped off and patrolled by Security Guards. This is where the "real" scientology happens and outsiders are decidedly not welcome — not the front group activities designed to convince the world they are doing good works.
The idea of being accosted by scientologists is what people fear most about visiting downtown Clearwater.
Of course, the scientologists cannot be prevented from proselytizing — they certainly have free speech rights like everyone else.
But everyone who fears them should know they are very easy to scare off if they do try to approach you. It's simply a matter of asking, without hostility, "Where is Shelly Miscavige" or "Do you watch Leah Remini: Scientology and the Aftermath?" or "I read Mike Rinder's blog, do you?" and they will quickly abandon any conversation and try to get as far away from you as possible.
I am pretty certain anyone who does read this blog knows this already — but perhaps there are some new readers and if I can make anyone feel comfortable about attending the Clearwater Jazz Fest, safe in the knowledge they don't have to be worried about the scientologists, then this blog post has done its job.
Pass the word. A simple question works like garlic on a vampire.