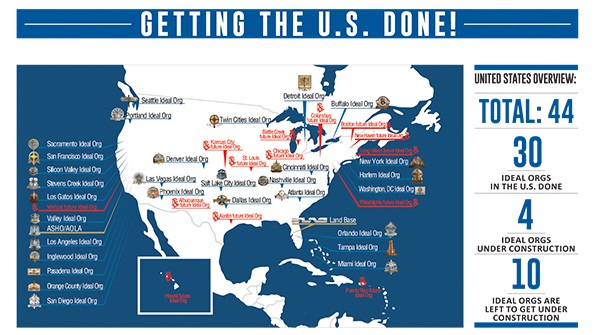 Scientology routinely claims "massive expansion" and "we are the fastest growing religion on earth" and other ludicrous claims. To "prove" it they always talk about "Opening new churches at an unprecedented rate" and show pictures of Miscavige yanking his ribbon in front of adoring crowds as balloons waft into the air in celebration…
This large lie seems to work with the sheeple, and even some less than diligent media. After all, they have held grandiose ceremonies for 4 or 5 "new churches" each year. In fact these are not new "churches" they are simply new premises for old and failing scientology outposts.
And here is a new promo piece that puts a spotlight on the true picture of the Alice in Wonderland world of scientology.
It is limited to the United States, but the US is the BEST case scenario for scientology. It is the home of scientology and the location of its headquarters and most important organizations and people. This will be the last place on earth where scientology organizations survive. The US is the BEST scientology has got to show for itself.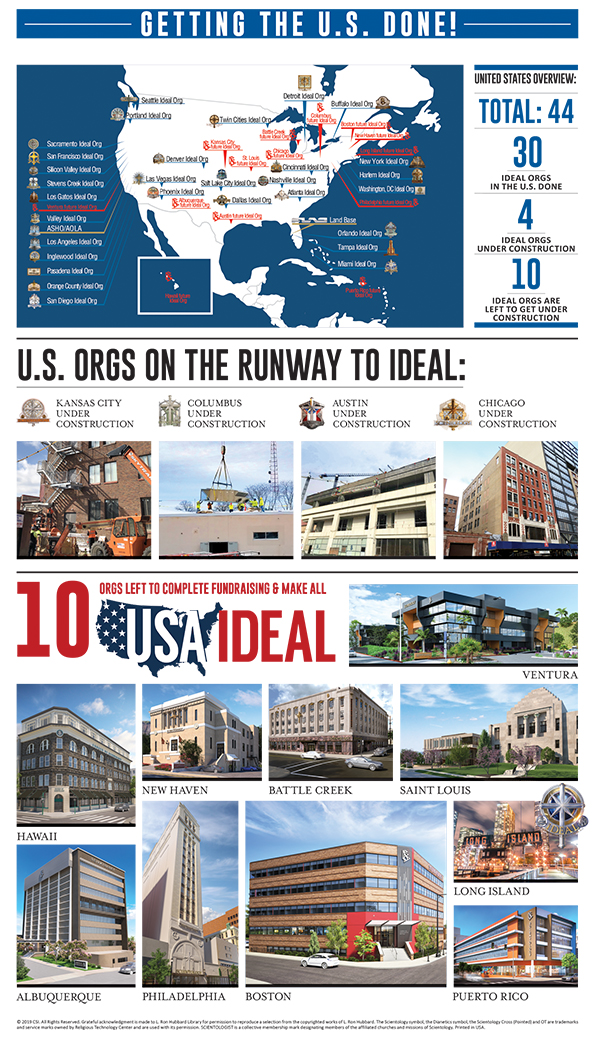 It is true scientology has renovated and opened 30 new buildings in the US in the last 15 years…
But in that time they have opened only TWO new scientology organizations – Harlem and Inglewood. But in that same time they CLOSED FOUR by combining them into the other org in the city – CC Dallas, CC LAs Vegas, CC Portland and CC DC.
A net LOSS of TWO scientology orgs ("churches") over the last 15+ years.
The following states still don't have a single scientology "church" — nothing in over the 60+ years of scientology's existence:
Alabama
Alaska
Arkansas
Delaware
Indiana
Idaho
Iowa
Louisiana
Maine
Maryland
Mississippi
Montana
Nebraska
New Hampshire
New Jersey
North Carolina
North Dakota
Oklahoma
Rhode Island
South Carolina
South Dakota
Vermont
Virginia
West Virginia
Wisconsin
Wyoming
I guarantee you the Church of Latter Day Saints and Jehovah's Witnesses have their version of "churches" all over these states. In every city in the US where there IS a "church" of scientology they are outnumbered 20 or more to one by the other "new religions" and 2,000 to one by traditional churches.
The truth is that scientology is not just insignificant, it is contracting. The buildings and the grand events are just for show. They are all empty. It's like the boxes Theranos was pitching (if you haven't seen it, Alex Gibney's new film The Inventor is an amazing look into how you can convince people you have the greatest thing ever, and it is simply an empty box).
Hey scientology, if there are so many people "curious" about scientology and it is in such enormous demand, why are there NO NEW CHURCHES OF SCIENTOLOGY?
And why is EVERY ONE OF THEM EMPTY?