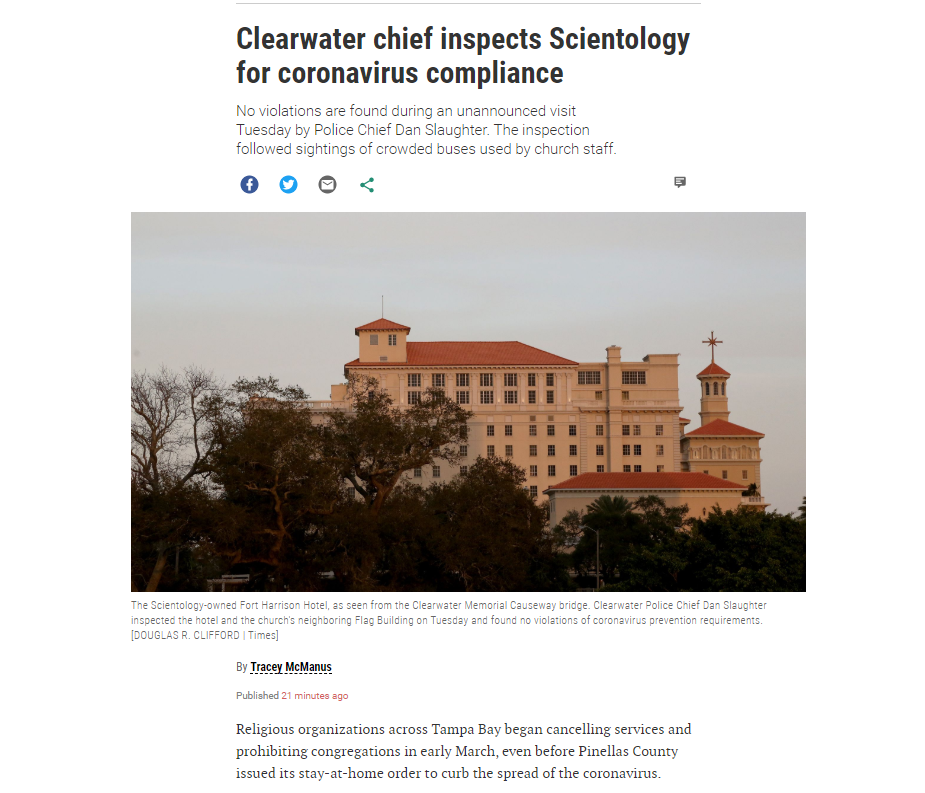 As always, Tracey McManus has the story.
I spoke to Tracey about this earlier today and she quoted me in the article. But I had more thoughts on it that she was unable to include. I also have a copy of Chief Slaughter's publicly available report.
First, this comes as a relief to me. My son is in this facility, so anything being done to mitigate the threat of this pandemic is very welcome.
Second, I applaud Chief Slaughter for taking the initiative to do something. I do not recall the last time any city official walked in to the Ft Harrison to check out what is going on.
Third, clearly the pressure from the Tampa Bay Times and citizens calling the PD and Sheriff's Office was the impetus for action. And Mark Bunker arriving on the City Council and expressing his concern to the City Manager and police cannot be underestimated.
Fourth, I think it is important for the well being of those inside Flag that they are being forced to address the issues of this pandemic. Tracey focused on this aspect of my comments in her article. The Chief of Police walking through their buildings is a VERY big deal and if nothing else raised the awareness of the seriousness of the matter.
Fifth, the city and CWPD especially need a better understanding of how things work inside scientology to be able to do their jobs effectively. I have conducted tours like this for officials and media on many occasions. Even if it was a "surprise" a drill goes into place instantly. People are on their walkie-talkies running (literally) ahead of the tour route ("We are heading to the pool then through the walkway etc") to ensure all is in order. Nobody sitting closer than 6 feet. Tables separated. No plates of food lying around. Signs all in order. Everything scientology organization can move into a "clean-ship drill" almost instantly. They have cameras on the outside of the buildings too — if Chief Slaughter was sitting outside in a cruiser or even on foot to observe the buses, he would have been spotted and any buses that DID have a lot of people on them would have been radio'd to turn around and head back to where they came from. The sophistication of the operations is not easily understood. But that does not take away from the fact that the impact of this inspection was great.
Finally, I have been critical of law enforcement when I feel they have been negligent or in error. Similarly, I want to recognize and thank them for doing their job. Well done Chief Slaughter. I hope this is the begining of a new era in Clearwater. You can be even more effective in protecting the citizens of Clearwater (INCLUDING the scientologists) if you understand better how they operate. You have a great resource now sitting on the City Council to help you with this.
Here is the Chief's report sent to the City Manager:
Mr. Horne,
I spoke with Councilman Bunker today regarding concerns about the Church of Scientology parishioners and requesting a welfare check be done. Additionally, our Communications Center received some calls about Scientology compliance with CDC guidance, executive orders, and resolutions. PIO Shaw advised there was some similar concerns expressed on Twitter. I spoke with Sheriff Gualtieri, who indicated he had field some inquiries about it as well. There was a youtube video posted that referenced March 21, which showed buses at or near capacity; but that date was before the "Safer at Home" order.
Based on the reported concerns, I did the following:
I circulated downtown on Monday and monitored the unloading of buses. I observed the buses to be less occupied than normal. The number of passengers appeared to range from 8-15. The persons were seated separate from each other. I could see as persons unloaded, they would stand on the bus six feet apart waiting to get off. I spoke with Division Chief Graham who indicated he had a conversation with Scientology staff and reviewed their protocols for transport and disinfecting procedures Scientology instituted. He advised he felt they were using best practices.
I again circulated downtown this morning and monitored the unloading of buses. I had the same observations as yesterday, but the buses I observed did not have more than 13 passengers. There is substantially less foot traffic of Scientology personnel downtown as well.
I circulated other locations on Tuesday, driving past some residential locations on N Fort Harrison and off of Keene Rd. I did not observe any congregating at any of these locations or violations of the social distancing requirements. The social distancing requirements would not extend inside of a residential unit. As longs as occupancy is consistent with Code, there would not be a violation.
At 140pm, I went to 210 Fort Harrison and advised I would like a staff member to give me a tour of the building so I could evaluate compliance with the current prevention measures in place to prevent the spread of COVID-19. Ben Shaw and Sarah Heller met me and we discussed the processes they have in place to prevent spread. I learned the following:
Ben Shaw advised that some persons staying at the Fort Harrison are international guests that are unable to get flights home due to restricted travel.
All persons that have any indication of illness or have arrived with any travel related concerns are quarantined for 14 days.
There is signage prevalent in the building, which I observed.
There is a short questionnaire asked of persons entering the Fort Harrison to confirm they have read prevention material
There is multiple locations for persons to obtain surgical masks, gloves, and gel sanitizer.
I was able to review and keep two pamphlets available at each desk that discuss protective measures.
I walked the common areas in 210 S Fort Harrison and did not see any gatherings in violation
I toured the pool area and observed the pool was closed. People were allowed to use chairs that were significantly separated from each other to sunbath or lounge.
I toured two food dining areas at 210 S Fort Harrison which were operating, but with separation between dining tables of approximately 10 feet. We discussed the restaurant restrictions and Sarah advised that their food dining was not regulated by the Governor's Executive order because they are not part of those establishments governed by chapter 500 or 509. Matt Smith reviewed and confirmed that she was correct, they were exempt as a religious organization and governed by chapter 66 of the Pinellas County Code not Florida Statute 500 or 509. I did not observe any alcoholic beverages being served.
I toured 215 S Fort Harrison as well. The general areas again did not have any evidence of groups congregating. I discussed the auditing sessions with Ben Shaw. He advised that they had created distance between the auditor and the parishioner, and the sessions involve two people.
I toured the dining area used for the general employees. They advised they generally have two sittings, but have expanded to four sittings at three different locations. The have removed tables and chairs to increase spacing. I observed employees in line at one of the sittings. The employees in line were separated by six feet, using the hallway to achieve the distance. There were monitors making sure there was compliance.
Based on the observations made, I don't see any compliance issues. They have prevalent signage and disinfectant available. Neither location was dense with people. Ben Shaw advised that with air travel restrictions, occupancy is currently lower than normal.
Feel free to contact me if you have any questions.
Thank you,
Chief Slaughter