This is a follow up to the earlier posting: Joy Villa Bridezilla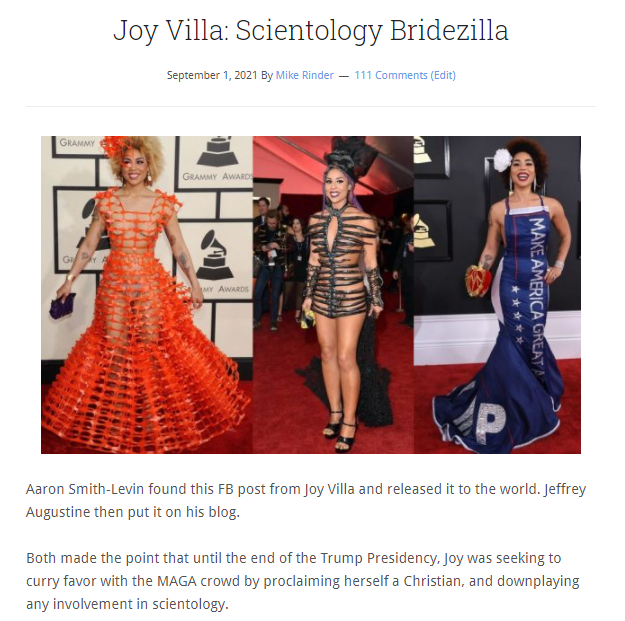 As you will likely recall, she published a list of requirements for her new partner, including the fact that he needed to make in excess of $100K US per year and be a prominent, well regarded scientologist (among many other things).
Now it seems, praise be, that she has found her ideal man. At least for now.
And Joy being the fame whore she is, had to splatter the news all over social media.
The post and images speak for themselves, but just a couple of comments.
Right out of the blocks, this woman who when it suited her claimed to be a devout follower of Jesus and a true Christian, is now saying that her success comes from "putting my Bridge first." The people who sucked up to her because she claimed she was a true MAGA Christian Believer are probably not too impressed with your latest about face. But then again, she tries to suck up to her "fans" because concurrent with the above Tweet, she had another message to deliver on Twitter (which should land her in ethics at AO Africa, she claims to be a Classed Auditor now and knows that mixing practices like this is absolutely forbidden):

As for the "I hooked one and reeled him in" tweet….
Why, if she was SO successful, did she have to do a Danger formula on the 3rd Dynamic? (Once anyone sees the tweet above, she is going to be assigned a lower condition than Danger — lucky for her SO members are not allowed on Twitter)
What? At this ideal AO a training twinship "went awry"? What on earth does this mean? How is this sort of out tech possible? And are they ok that you are announcing it to the world? They have an image to try to maintain that their random "AO" out in the boonies of South Africa is an amazing haven of standard tech from where the next great civilization on earth is going to spring.
And finally, did you verify that Avi actually makes enough money?
We are all looking forward to the next installment of the hot mess soap opera that is the life of scientology celebrity Joy Villa.
Avi, I feel for you. Like her former MAGA pals and former husband, you will soon be forgotten as Joy seeks her next opportunity for fame and fortune. South Africa is a temporary convenience way too far from the paparazzo to keep someone like Joy there for long. She needs attention to survive.