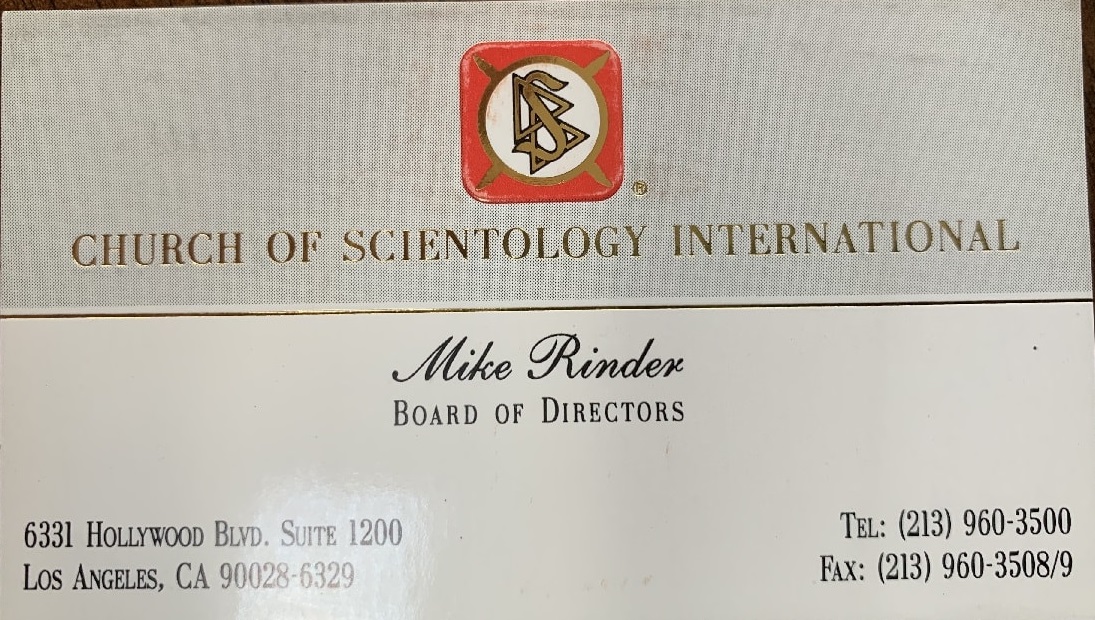 I happened across this old card the other day.
I didn't know I had it.
It was in my wallet the day I walked out of L. Ron Hubbard's old office in Fitzroy St., London. It was my final day in scientology.
I had been sent to London to deal with the BBC Panorama program being done by John Sweeney. As the card states, I was on the Board of Directors of Church of Scientology International and acting at the time as the International Spokesperson for scientology.
Of course, scientology has sought to rewrite history.
On their websites about me, they claim that I held no position of authority and had been removed many years prior to my final escape:
When the misconduct of the Posse [this was their name for the supposed cabal of Marty Rathbun, Tom DeVocht and myself] was discovered, each was removed from their positions. But, consistent with the saint-like compassion the Founder's Justice system demands, all were given an opportunity to work in low-level positions so they might have the opportunity to once again be members in good standing. That they would remain in low-level positions for several, possibly scores of lifetimes, was only a reflection of the magnitude of their damage and the number of lifetimes depending on their dedication in making full amends for their misconduct.
So what is their gripe? It's quite simple. When their misconduct was discovered, when their conspiracy was discovered, they requested all of the Founder's Justice policies be ignored, due to the personal embarrassment they would face when Scientologists became aware of their crimes against the religion and its parishioners—an inevitability as they would be seen performing very low-level functions in the present and the future.
Today, nobody buys the bs scientology shovels about those who speak out and expose their abuses. And also by the way, I have never used the term "posse" in my life, and nor has Marty Rathbun or Tom DeVocht as far as I know. This is just scientology invention.
But it is always interesting when something like this pops up that provides such irrefutable evidence of their lies. They gave a different version of this story — saying I was upset because I had requested to return to the US and this was denied when I was "on assignment" in London. Still not the truth, but somewhat closer to reality. In fact Miscavige had told me I would never return to the US to see my family, and was to be sent to a different country where I could "sell my body" to make ends meet. With that, I knew without a doubt he was a sociopath (I didn't know or understand the term at that time, I simply considered he was "nuts"), and also knew there was no point continuing to hope things would get better. A couple of days later I made my escape, never to return.
The hope of the future is a powerful glue that sticks you to scientology. So much is promised, and the inculcated idea that it is in your power to make it happen keeps a LOT of people in the bubble. The planet will be cleared. We will go St Hill size and get up the bridge. You will have superpowers if you take your next step.  We are making a better world. We have the solutions to drugs, immorality, crime and education. Life at the Int Base will go back to normal. Though there is no evidence any of these things, or many other promises, have ever come close to being true, yet the people caught in the prison of belief so badly WANT them to be true they will ignore all evidence to the contrary. They believe the future is going to be different from the past.
It doesn't matter what has happened in the past or all the evidence to the contrary because nobody can prove that the future WON'T be what is promised.
It is the same brand of carrot that keeps Jehovah's Witnesses believing Armageddon is coming no matter how many times it has failed to appear when promised. Or jihadists to fly planes into buildings and certain death.
Hope for a better future is a powerful thing that preys on those with good intentions and causes them to make bad, even terrible, self-sacrificing choices. This is faith. And I don't mean to say all faith is necessarily bad. I think faith in being held accountable in the afterlife – whether heaven, nirvana or reincarnation is a powerful moral influence for many. But faith can also be terribly corrosive of good sense.
Scientology claims it is not a belief system. But it very much is. The entire subject is based on a belief that the "tech" will bring a better world. A happy person. A cure for illness. Eradication of war. And on and on.  A button for everyone.
So much faith and belief in promises that have never been fulfilled but are held out as attainable in the future.