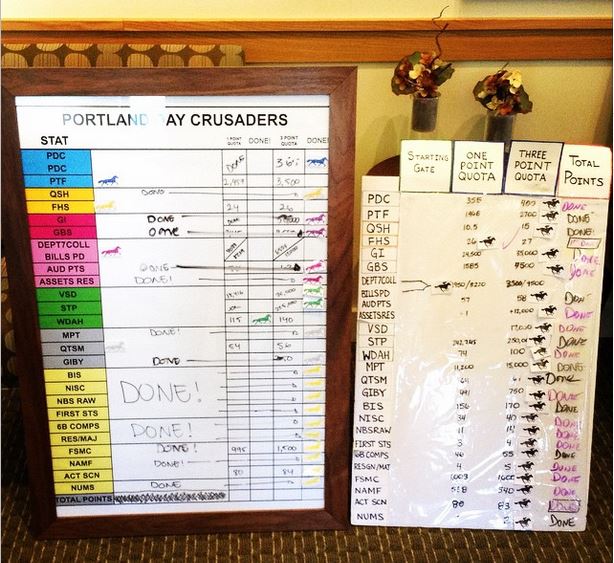 By a Special Correspondent
This image was posted by a sharp-eyed commenter over on Tony Ortega's blog. It shows a full listing of Scientology Portlands statistics for a series of weeks leading up to March 13th.
Scientology goes to incredible extremes to hide the actual numbers associated with its various organizations and always publishes "graphs" that are just meaningless squiggles devoid of any dates or numbers.
These two boards show Scientology Portland, Daytime Organization and their race for improved numbers to celebrate L Ron Hubbard's birthday. And well done to them indeed, you can see that on the final column they make "done" to tell everyone that they indeed did make their targets.
You might recall that the opening of the Portland "Ideal" Org was accompanied by massive expansion of audience attendence through the use of photoshop – which you can see here. Also to scrape up the staff to get this org up and running they closed the CC Portland and folded the staff into the new Portland Ideal Org.
But the real bonus here is that after the opening of Portland Ideal Org, they started circulating one of their fake graphs, which you can see here: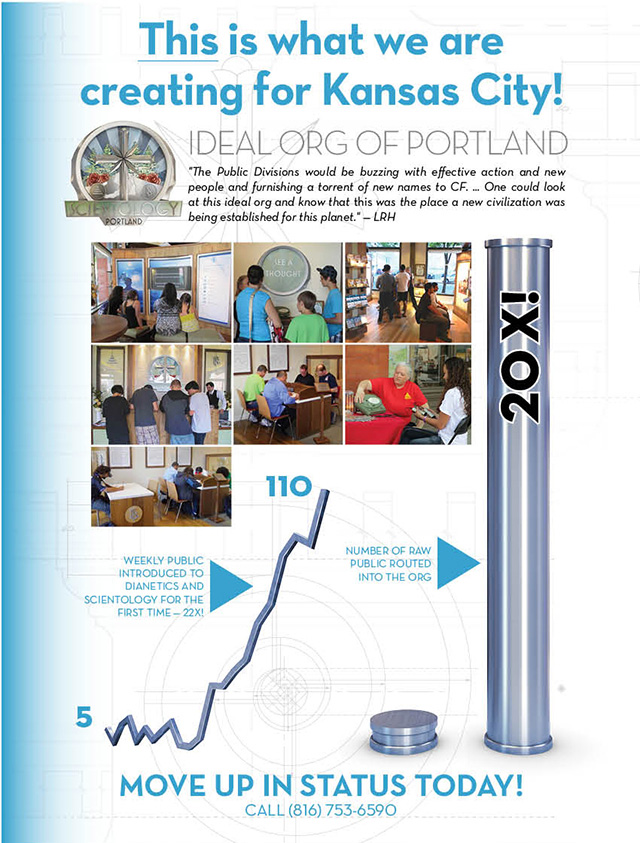 They boldly state that the number of public introduced to Scientology for the first time has leaped to 110. Well that leap obviously did not last long, if it was ever true in the first place. According to these boards, first service starts reached a blow out peak of 4 in one week. In other words, the same level as is represented at the start of their graph.
The other statistic – number of raw public routed into the org is so irrelevant that it doesn't even show up, but they do note that they sold a whole 14 books to new people that week.
So lets take a look at what is really going down in the Portland Ideal Org. I am sure many of you will have something to say about these numbers.
These are the numbers they set themselves for 3 POINTS (ie a 3 week Affluence trend which tells you how low the stats were before their final week push):
Fully Hatted Staff – 27
Gross Income $35,000
Gross Book Sales $4500
Value of Services Delivered $12,000
Well Done Auditing Hours 100
Money Paid for Training $15,000
GI By Staff $750 (which shows that total staff is around 46 people)
Bodies in the Shop 170
Number of Books Sold to Raw Public: 14
Number Intro Services Completed 40 (these services can and are taken by existing Scientologists)
First Service Starts 4
Active Scientologists 83
This shows just how dead things are on a week by week basis in Portland.
And what a $10 million plus investment and GAG II can produce.
The most interesting:
100 Well Done Auditing Hours? That is FOUR auditors low level production (and it includes PURIF "hours" and OBJECTIVES).
4 First Service Starts — this is NEW PEOPLE in and includes them watching a FILM.
Really, these stats are the same as small orgs were making in the 1970's. MANY Missions made way higher production than this (all dollar figures are inflated compared to earlier times — but the hours and starts are not).
And though I don't know the outcome yet, this org thought they had won the international birthday game as the "fastest expanding org on earth."
The first scientology city isn't looking to be happening any time soon.
And THIS is what Kansas City is shooting for. Wow.