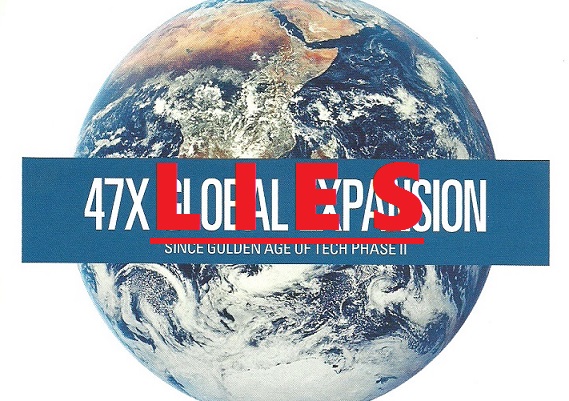 This is the page listing the scientology orgs in the August 1976 reprint of Scientology A New Slant On Life.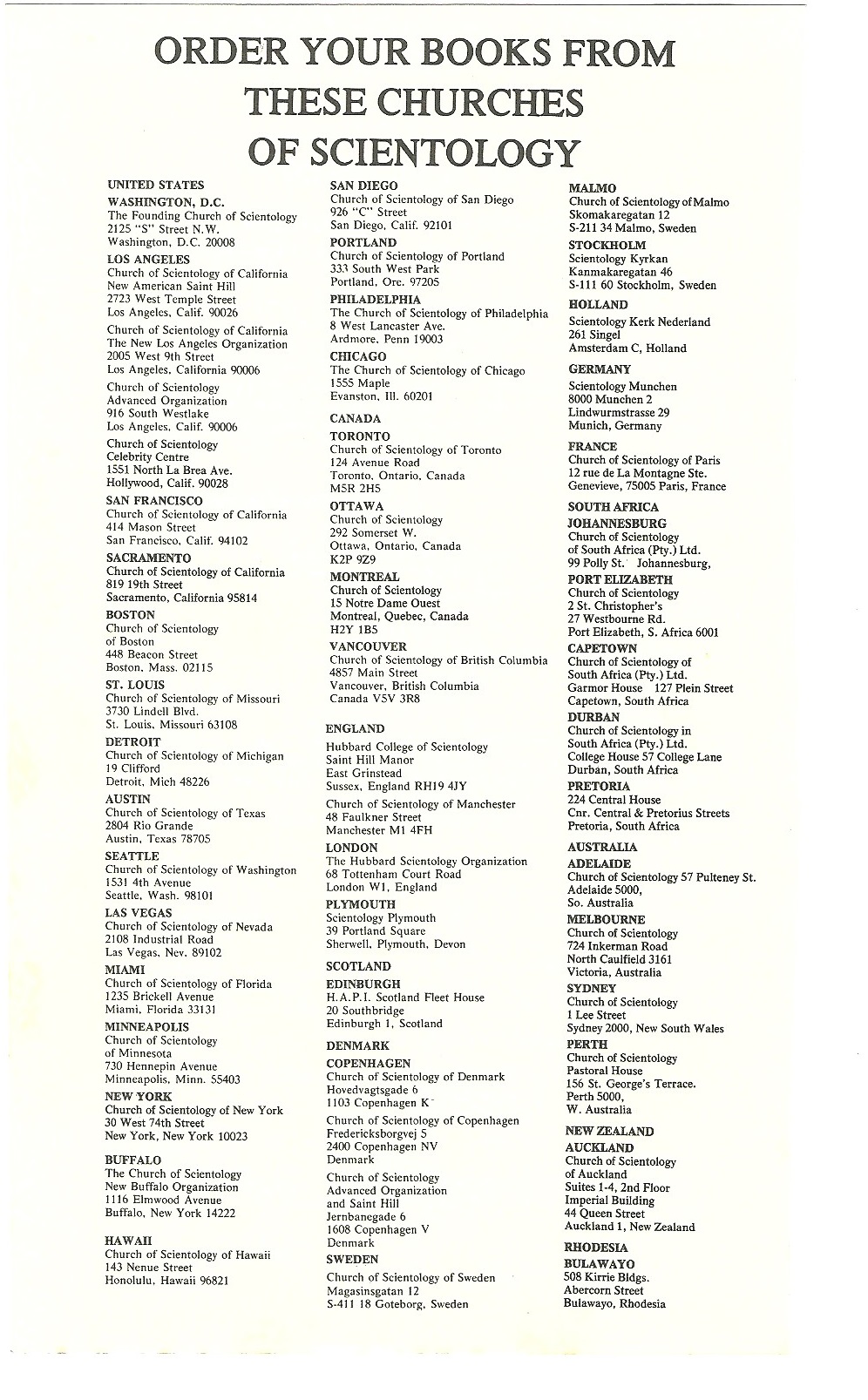 This presents the perfect opportunity to make a comparison to the list published in What Is Scientology? in 1992 and then the  CURRENT list on scientology.org. This is convenient breakdown into three periods.
I. From 1954 (the first church in Los Angeles) to 1976 (22 years).
II. From 1976 to 1992 (16 years).
III. From 1992 to 2014 (22 years).
You could call the first era the LRH Era, II is the Transition Era and III is the Miscavige Era.
This review definitively puts to rest ANY claims of straight up and vertical, 47X expansion in the Miscavige Era and classic bs the church sends to the media like this one to ABC News in July 2013 from Karin "Pinocchio" Pouw: "Scientology is a new religion enjoying explosive growth. In recent years we have opened 37 new Churches in major metropolitan areas and cultural centers in a dozen nations. This year will see many more milestones in the months to come. Mr. Miscavige is a visionary…" There are NUMEROUS examples of this line being run on the media — "If you were a real reporter you would find out the real story instead of listening to a handful of bitter, defrocked apostates on the fringes of the internet. Scientology, under the sublime leadership of Mr. David Miscavige, is undergoing its greatest expansion ever, with X new churches opened just in the last X." It is a staple of every response to the media no matter the topic they are reporting on.
But back to the topic at hand here.  Let's also not also forget the population of earth in 1954 was about 2.7 billion.  In 76 it was about 4.0 billion. By 92 it was about 5.4 billion. Today it is around 7.3 billion.
Here are the breakdowns by scientology continental area (now updated with two additional closures sent in by readers — CC Mun and ASHO Fdn).
United States:
Created between 1954 and 1976: Austin, Boston, Buffalo, Chicago, Denver, Detroit, Honolulu, Las Vegas, Los Angeles, Miami, New York, Philadelphia, Portland, Sacramento, San Diego, San Francisco, Seattle, St Louis, Twin Cities, Washington DC, ASHO Day, ASHO Fdn, AOLA, CC LA (Int), Pubs US (Bridge Publications). TOTAL 25
Added between 1976 and 1992:   Albuquerque, Ann Arbor (now Battle Creek), Atlanta, Cincinnati, Columbus, Kansas City, CC Las Vegas, Long Island,  Mountain View, Nashville, New Haven, Orange County, Orlando, Pasadena, Phoenix, Puerto Rico, Salt Lake City, Santa Barbara, Stevens Creek, Tampa, Valley, CC Dallas (now Dallas Org), CC Ptl, CC Nashville, CC NY, CCDC,  TOTAL 26
Added between 1992 and 2014:  Harlem, Inglewood, Los Gatos — closed ASHO Fdn, CC Portland, CC DC TOTAL o
Canada:
1954 – 1976: Montreal, Ottawa, Toronto, Vancouver TOTAL 4
1976 – 1992: Edmonton, Kitchener, Quebec, Winnipeg TOTAL 4
1992 – 2014: Cambridge  TOTAL 1
Europe:
1954 – 1976:  Pubs DK (New Era), Amsterdam, Copenhagen, Denmark, Gotenberg, Malmo, Munich, Paris, Stockholm, Vienna AOSHEU TOTAL 11
1976 – 1992: Aarhus, Angers, Basel, Bern, Brussels,Clermont-Ferrand, Lyon, St. Etienne, Berlin, Dusseldorf, Frankfurt, Hamburg, Hannover, Stuttgart, Tel Aviv, Oslo, Lisbon, Barcelona, Madrid, Bern, Geneva, Lausanne, Zurich, CC Vienna, CC Paris, CC Dusseldorf, CC Hamburg, CC Munich TOTAL 28
1992 – 2014: Moscow, St Petersburg, Athens, Budapest. Closed CC Munich, CC Hamburg TOTAL 2
Italy (only because scientology treats it as a separate "continent"):
1954 – 1976:  NONE
1976 – 1992: Brescia, Catania, Monza, Milano, Nuoro, Novara, Padua, Pordenone, Roma, Torino, Verona TOTAL 11
1992 – 2014:  Florence, Pordenone Closed. TOTAL 0
United Kingdom:
1954 – 1976:  AOSHUK, SHF, London, Manchester, Plymouth,  Edinburgh TOTAL 6
1976 – 1992: Birmingham, Brighton, Sunderland, CC London TOTAL 4
1992 – 2014: Closed CC London and SHF TOTAL -2
South Africa:
1954 – 1976:  Bulawayo, Capetown, Durban, Johannesburg, Pt Elizabeth, Pretoria TOTAL 6
1976 – 1992:  Joburg North, Harare TOTAL 2
1992 – 2014: NONE
Australia/New Zealand:
1954 – 1976:  Adelaide, Melbourne, Perth, Sydney, Auckland TOTAL 5
1976 – 1992:  Brisbane, Canberra, Tokyo, AOSHANZO TOTAL 4
1992 – 2014:  Kaohsuing TOTAL 1
Latin America:
1954 – 1976:  NONE
1976 – 1992:  Bogota, Mexico City (ADD, ACD, ITD, IFA1 IFA 2) Guadalajara, Valencia, Caracas TOTAL 9
1992 – 2014: Buenos Aires TOTAL 1
TOTALS:
ORGS OPENED BETWEEN

1954 and 1976: FIFTY SEVEN 

while the population increased from 2.7 to 4 billion
ORGS ADDED BETWEEN

1976 and 1992: EIGHTY EIGHT 

while

 

the population increased from 4 to 5.4 billion
ORGS ADDED BETWEEN

 1992 and 2014: THREE 

while the population increased from 5.4 to 7.3 billion
"47X", "straight up and vertical", "greatest period of growth in history" are not just lies, they are magnificent, bald-faced, incredible, astonishing, unbelievable lies.
The dwindling number of sheeple keep swallowing them as they accept ANYTHING they are told by their Dear Leader.
What is more disturbing is the fact that when the church sends the media this drivel about their expansion and opening new churches blah blah blah, they often accept it uncritically, print it and thus give some credence to the lies.
I hope that in future, media will be interested enough to do a bit of research and perhaps even look at these facts.
Peter Griffiths has taken the time to create graphs to visually tell the story above. I am adding them below.