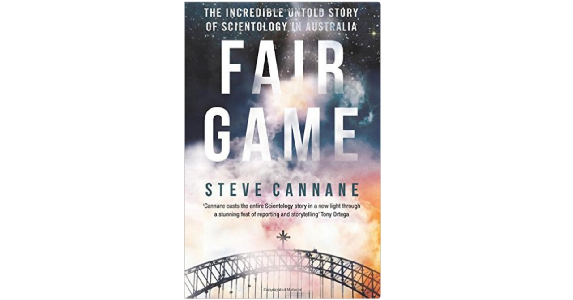 I have just finished reading Australian national journalist Steve Cannane's book Fair Game.
I highly recommend it as a very well written and researched account of scientology's history and a revealing expose of newly disclosed and little known information. Steve had earlier commented that I had prompted him to embark on this exercise when I had mentioned the important role Australia had played in the history of scientology — from the first government inquiry and ban to the Australian High Court decision defining religion and the precedent setting role of Australian media unintimidated by scientology's threats. And the personalities who had had pivotal roles, from Yvonne Jentzsch and family to Jan Eastgate and Senator Nick Xenophon to James Packer and Rupert Murdoch and sons.
His book is oriented around the history of scientology in Australia — but don't let that fool you into thinking it does not have much greater relevance in the overall narrative about scientology and its place in the world.
Steve managed to find and interview some fascinating sources for his book, uncover some heretofore unknown information and he reveals behind the scenes information that paints a broader picture of scientology.
I will not do a traditional review of the book other than to say I found it compelling reading, accurate and enlightening.
But I will describe some of the things that are contained in the book that I feel are especially important.
The real source of the Australian Inquiry (L. Ron Hubbard refusing to provide a refund to a disgruntled customer) and the definitive recounting of this seminal event in the history of scientology that led to a great deal of the policy and approaches to dealing with critics and governments in the 1960's
The subsequent activities of the Guardian's Office and the Snow White Program, including interviews with Guardian Office operatives.
Fascinating quotes from L. Ron Hubbard – at first sweeping complements about Australia being the greatest hope for scientology and a wonderful country to the exact opposite after the Inquiry, now becoming in his eyes the home of criminals all descended from criminals.
The key role of Rupert Murdoch from the early days of scientology in Australia when his empire was a few newspapers in Australia and how hard his papers went after scientology and the role this played in the later effort to recruit James Packer…
A lot of detail about Nicole Kidman and Tom Cruise – much of which has now been published elsewhere
Rare, perhaps exclusive interviews with Janis, Terri and Peter Gillham — Yvonne's 3 children who were early members of the SO and their recollections of L. Ron Hubbard and David Miscavige among other things.
Pat and Annie Broeker and the story of the rise to power of David Miscavige
The inside story of Chelmsford — scientology's greatest victory against psychiatry and the real people behind it (not the "Freedom Medal Winner" Jan Eastgate).
The beginnings of scientology's losing battle against the internet, Julian Assange and another Australian internet activist who were seminal figures in what has become the information war scientology could not win.
There is much more. Read it and I think you will agree it is an important addition to the story of scientology.