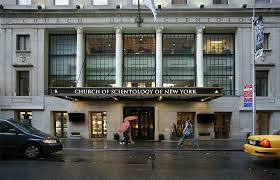 This is the story of what happened to someone who went into the New York "Ideal Org" this week.
Not only was the place empty, he found out where they are getting "Sea Org recruits" from these days….
Captain Miscavige should be mighty proud of this, one of his most important "Ideal Orgs" (most important because Tom Cruise has an apartment in NY City, so might need to come in for something someday….)
Hey Mr. Rinder, 
This past Monday, I visited the Times Square Church of Scientology org which is located near the Paramount Hotel on West 46th Street in Midtown Manhattan.
I went in there under the pretense of having wanted to partake in their "IQ" test to uncover my potential. While in actuality, my IQ is 116, according to the woman who administered the test, I had an IQ of 76 and was given the routine that they (CofS) could make me smarter and then proceeded to act interested in my well being all in the meanwhile look at me like I was "the prize game hen" she had been looking for.
I told her that at the moment, I was under-employed and living paycheck to paycheck. She then suggested that I should join the Sea Org and that I wouldn't have anything to worry about while I was in the Sea Org (I did my time in the US Navy and by what I have read about the Sea Org, you couldn't pay me a million dollars to join).
Then, when I informed her of the fact that I had a job and that I was a standup comedian, she proceeded to lie, said she saw me at a local club (which would in essence be a lie because of what I understand regarding the Sea Org pay, $30 a week doesn't cover admission and a two drink minimum at most clubs in NYC), loved my act, and when I proceeded to inform her that I have Parkinsons Disease, she said and I quote, "for $14,500, I could get training leading to the OT levels, courses that would make me a better standup, a cure for Parkinsons (apparently Vitamins and Saunas can cure a debilitating neurological disorder along with reading Dianetics), all I need is your mothers maiden name!"
And when I heard that, I left and said I was insulted by the thought that goons like you would charge someone coming to you for help such a large sum of money after only meeting them for an hour.
While inside the org, I saw 20 staff members, under utilized office space, a few black kids handing out flyers for a movie called "Intro to Dianetics" and a dude handing out flyers who had no teeth in his head claiming to be an OT8.
Also they were throwing out boxes filled with booklets on how to disseminate Dianetics and Scientology into schools and public arenas if that helps.
Please do what you will with this information Mr Rinder and I look forward to hearing from you soon.
Best Regards,
Special Correspondent