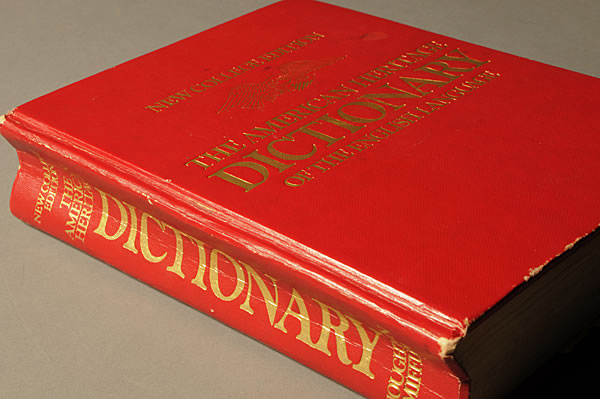 Here is an interesting tidbit sent in by one of our Special Correspondents.
They report that there is a "new issue" from "International Management" (interesting as this has long since ceased to exist, wonder why Dear Leader did not affix his name to it as he has assume the position of "Source of Lost Tech"?) regarding dictionaries.
The only way to see a copy of this issue is to go into a local org. It seems that copies are not available for the public, but they are shown to people in the org who are going on course. Now that is bizarre, what can they possibly be afraid of? Someone making fun of them? 
The issue is Senior C/S International Bulletin No. 212, dated 30 April 2013, entitled "Recommended English Dictionaries for Org Academies."
It lists the only dictionaries which are now allowed in the academy and which dictionaries are now specifically banned, including:
Webster's New World Dictionary for Young Readers (which was specifically recommended by LRH in HCOB 13 Feb 1981 "Dictionaries")
as well as ALL Thorndike Barnhardt dictionaries,
The American Heritage Dictionary and
All  Funk and Wagnalls dictionaries.
As our Correspondent points out: "This is yet another blatant, if minor, alteration of the tech. I know there have been much worse alterations, but it demonstrates that Int Management's continuing intention is to indoctrinate the flock into gradually accepting the idea that "Mi$cavige tech" trumps LRH tech."
Anyone else who has any information about this I would be interested to hear. This is the sort of thing that shakes up the stable data of the sheeple. Something as apparently unimportant as this can be such a break in reality for them that it causes them to begin to doubt other things. This is the REAL reason they are not distributing this issue broadly. I am certain the plan is simply to "disappear" the old dictionaries and most will not question it. For those that do, there is an "issue" kept under lock and key. And no wonder Dear Leader doesn't take credit for it…. 
UPDATE:
One of our readers just pointed out that David St Lawrence has had a copy of this issue posted on his blog Possibly Helpful Advice since June 2013! You can see it here.
That's what happens when you are an unemployed blogger on the fringes of the internet — you just are not up with the rest of the world.
Thanks David, I feel a bit silly, but happy to know you at least were on the ball….