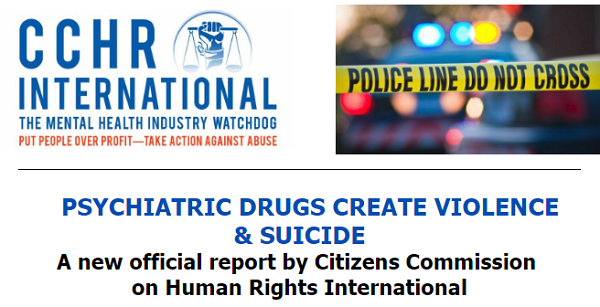 I have often commented about scientology being masters of disaster capitalism — taking advantage of any disaster or tragedy as a reason to collect more money.
And here is the latest. Cashing in on the tragedy of mass school shootings.
Let's begin with a fundamental: because two things are connected does not mean one is causative.
When it rains, umbrellas appear that are otherwise not seen. A fool might conclude that umbrellas cause rain.
When someone is mentally deranged enough to murder children in a school, it is more likely than not that they have been in the hands of the mental health system at some point. After all, scientology does not deal with the insane, despite Hubbard claiming that through his discoveries "the last need for psychiatry is gone."  Insane people are turned away from scientology.
It is also likely that an extremely troubled person is going to be put on drugs. It is not a rational conclusion that the drugs caused the violence — though of course there are instances where this might be true. Some drugs could cause violent outbursts or suicide. But this is not the CCHR pitch. They assert with total certainty that it is drugs that CAUSE violence.
Few would argue that there is not a problem with over-prescription and overuse of drugs in the US.
But CCHR wants you to believe that you should give them your money so they can eradicate ALL psychiatric drugs. I can almost certainly predict that the end results would be MORE violent crime. Many people DO improve with drugs. It is simply an incontrovertible fact. And certainly, leaving people with NO treatment (because scientology will certainly not step in to treat the insane if they manage to get all drugs banned) is not a better idea.
But don't tell that to CCHR. Just send them your money: