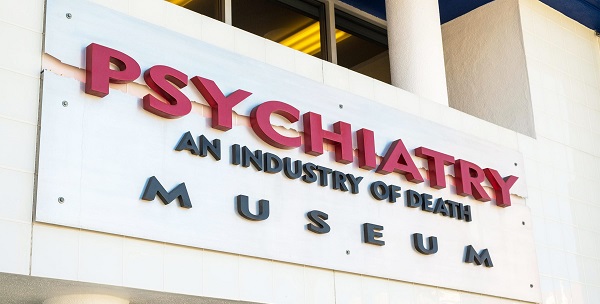 Snark of the day.
This was the commentary that accompanied this piece from CCHR (Citizen's Commision on Human Rights) that had been sent to one of our faithful readers.
Unfortunately, the bad news is, that unpaid and underpaid CCHR workers are tirelessly bombarding legitimate news, newsletter, and aggregating websites, and pseudo-news outlets, with their 'facts' which they don't fact check, at all. These overworked and understaffed decision-makers are just looking for interesting topics to publish in these COVID-19 times. CCHR's massive spewing out of their bullshit articles are clearly hitting some lazy PR drone or unprepared intern, who takes these free offerings. Not knowing that under that pretty green fan of sticky leaves is a rattlesnake, sinking its teeth into more and more organizations.
At CCHR's next bloated event, (to extract money to do more of the same) they will list these organizations, news outlets, or professional persons, as supporters of the controversy and conspiracy theories they are gleefully spreading.
They will further assert that that organization or professional person is banging their drum.
Is it a huge win for Scientology?
No, because it's a front group, so taking the win is idiotic.
No, because anyone who actually agrees with their spewage, is certainly not someone you'd want in your church.
No, it's not a huge win for anyone, unless, bot-level drivel published, is the stat of the day.
While on the subject of CCHR, here is some more drivel.
Talk about hypocrisy: "there is so much negativity and hysteria in the media"… CCHR are the absolute KINGS of negative hysteria. Read ANYTHING they publish and it is readily apparent.
And as for the mind blowing "stats and strides" it apparently doesn't take much to blow the mind of whoever wrote this.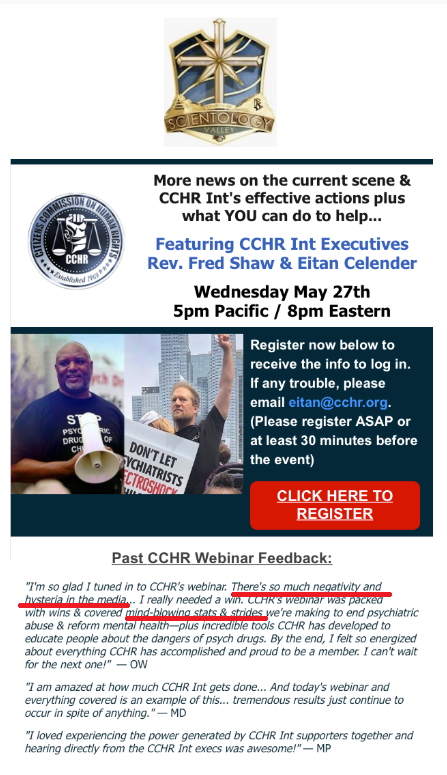 And finally — some patented CCHR hysteria.
Everything is a psych plan to drug and suppress the population….