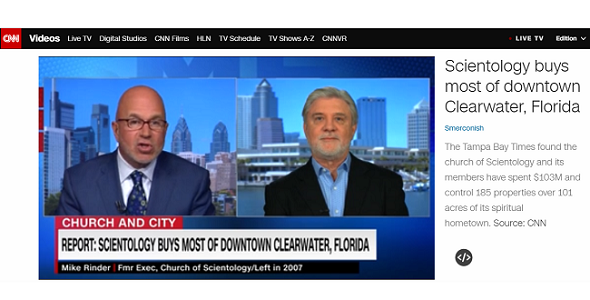 Earlier today I chatted briefly with Michael Smerconish on CNN. Unfortunately, there is no embed code for the video so you have to click HERE to watch it.
It was a VERY short piece, not really enough time to explain such complex issues, but it is good to see national media paying some attention to this issue. Hopefully more media outlets than just the Tampa Bay Times will want to dig in to this.
Tracey McManus also published a new story concerning community reaction to middle-of-the-night distribution of Freedom magazines. As usual, the glossy hype of scientology's PR effort does nothing but worsen the public perception of scientology. It is reminiscent of the Freedom they put out after the Truth Rundown series that caused many scientologists at the time to jump ship.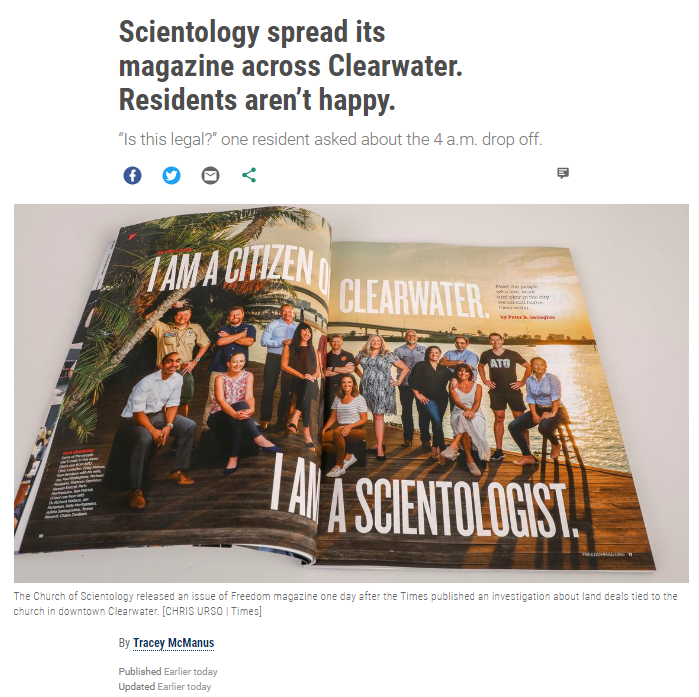 I covered my thoughts about this expensive, glossy hype in my earlier piece Scientology BS Grows Deeper.
The Tampa Bay Times also published an editorial concerning the story that ran last Sunday: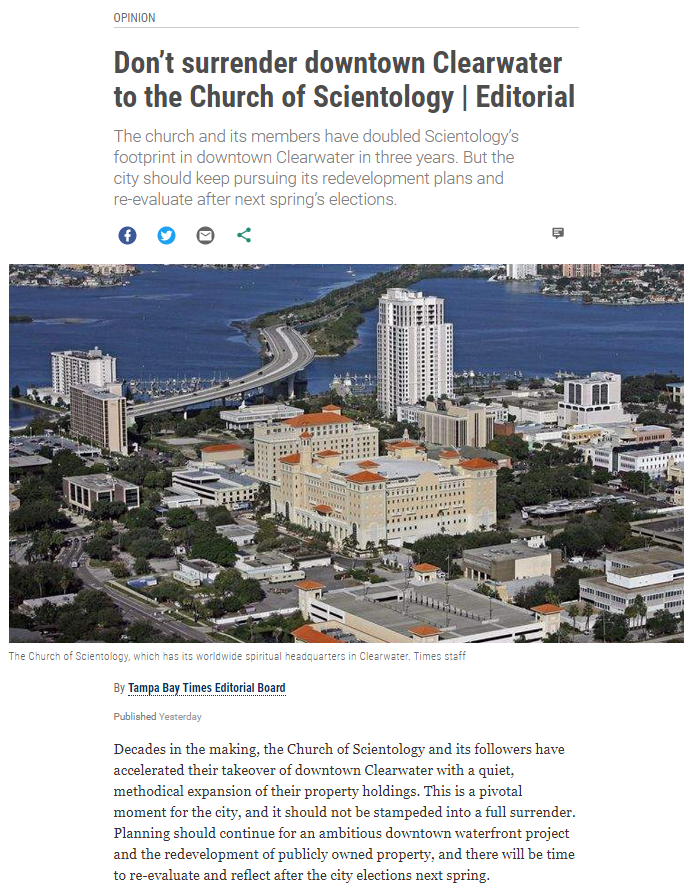 I am more cynical about the future of downtown Clearwater than the Times editorial board.
I do not believe the city should be spending more taxpayer money to try to create facilities that might persuade people to come downtown. Short of getting rid of the scientology presence, I doubt anything will persuade non-scientologists to go to this area other than a concert in the park. And they cannot hold concerts every day — concerts alone cannot sustain any businesses that might be attracted to the area. And of course it goes without saying, scientologists alone cannot support a flourishing downtown.
The only hope for downtown Clearwater is:
a. Bring enough pressure on law enforcement and the IRS to act and bring an end their tax exempt status
b. Find some massive development project that could overwhelm (or at least match) the presence of scientology in downtown. This may not be possible as most property is now owned or controlled by them — only city and county property remains available. One or the other (or both) would have to relocate and a huge, self-contained retail/hotel/condo/entertainment complex would need to be developed that would act as a magnet to get people into the downtown core in enough numbers to balance the presence of scientology. This may be an impossible task. Seems like a. above is more likely.
Removing scientology's tax exempt status will not only restore massive amounts of property to the tax rolls, it will allow oversight of what scientology is spending money on and force accountability for the organization. They operate as a law unto themselves currently. They don't have to disclose how much of their tax free money they spend on private investigators, lawyers and campaigns to smear their enemies. They don't even have to account for how much they spend on their supposed "charitable activities" — they collect hundreds of millions of dollars and spend only enough to hire camera crews to "document their good works." They are not bound by labor laws. And many other things that flow from being an exempt religious organization, not the least of which is claiming protection from court/governmental interference in their affairs based on the First Amendment.
The city fathers and stakeholders should be united and doggedly determined to insist the appropriate government agencies do their jobs. Clearwater is being destroyed for lack of it. As I said to Michael Smerconish, the single biggest loser on earth when scientology was granted tax exemption was the City of Clearwater. And the loss is growing with compound interest.