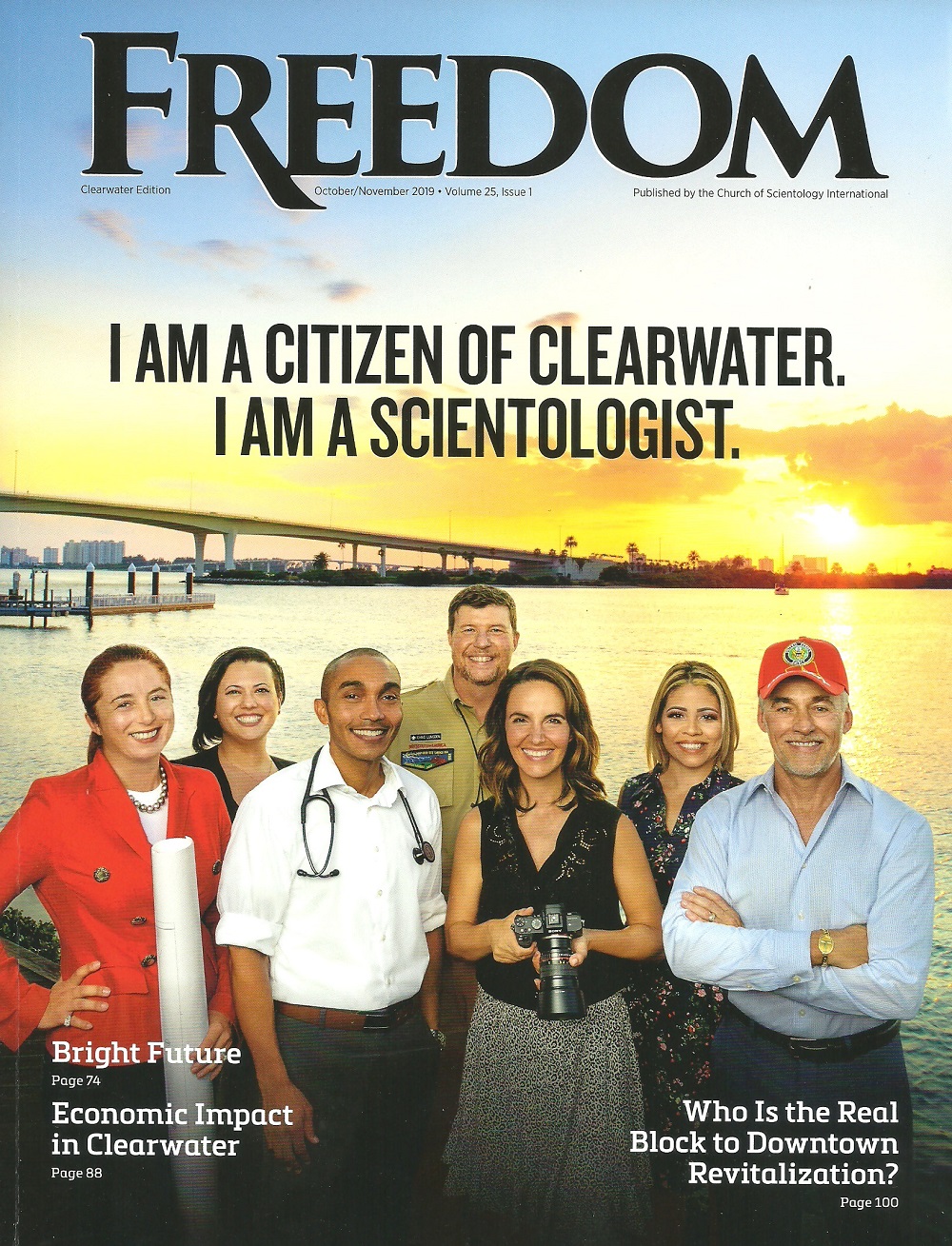 Scientology had this 116 page "rebuttal" magazine ready to distribute in Clearwater on Sunday immediately after the Tampa Bay Times bombshell dropped.
It had been prepared and printed well in advance, with staged photo shoots and 116 pages of PR fluffery and outright bs ready to drop without the inconvenience of having read the article. In fact, it arrived in Clearwater mailboxes Monday morning, so it was mailed even before the article was published.
A large percentage of the magazine consists of flowery pages of "I am a Scientologist" stuff. This is basically a rehash of what is shown on Scientology.TV and has been a standard PR line used by scientology since the first "I am a Scientologist" ads and online sites began to appear.  I did a series of these in response to the 1991 Time magazine article. They try to make scientologists look like everyone else — and they are in most respects except for one of great importance. Normal citizens of Clearwater don't take their orders from either L. Ron Hubbard or David Miscavige.  But every scientologist does. The dictates, policies and practices of scientology take precedence over everything else in a scientologist's life. No matter how much they try to claim this is not true, you can ask any of tens of thousands of former scientologists and they will all confirm this. Every. Single. One.
But the real BS is piled on here in other areas — not in trying to convince the world individual scientologists are OK people.
First, the "stats" they insist on showing to "prove" how beneficial scientology is for the city.
Right up front they devote a full page to stating there are 15,000 scientologists in Tampa Bay.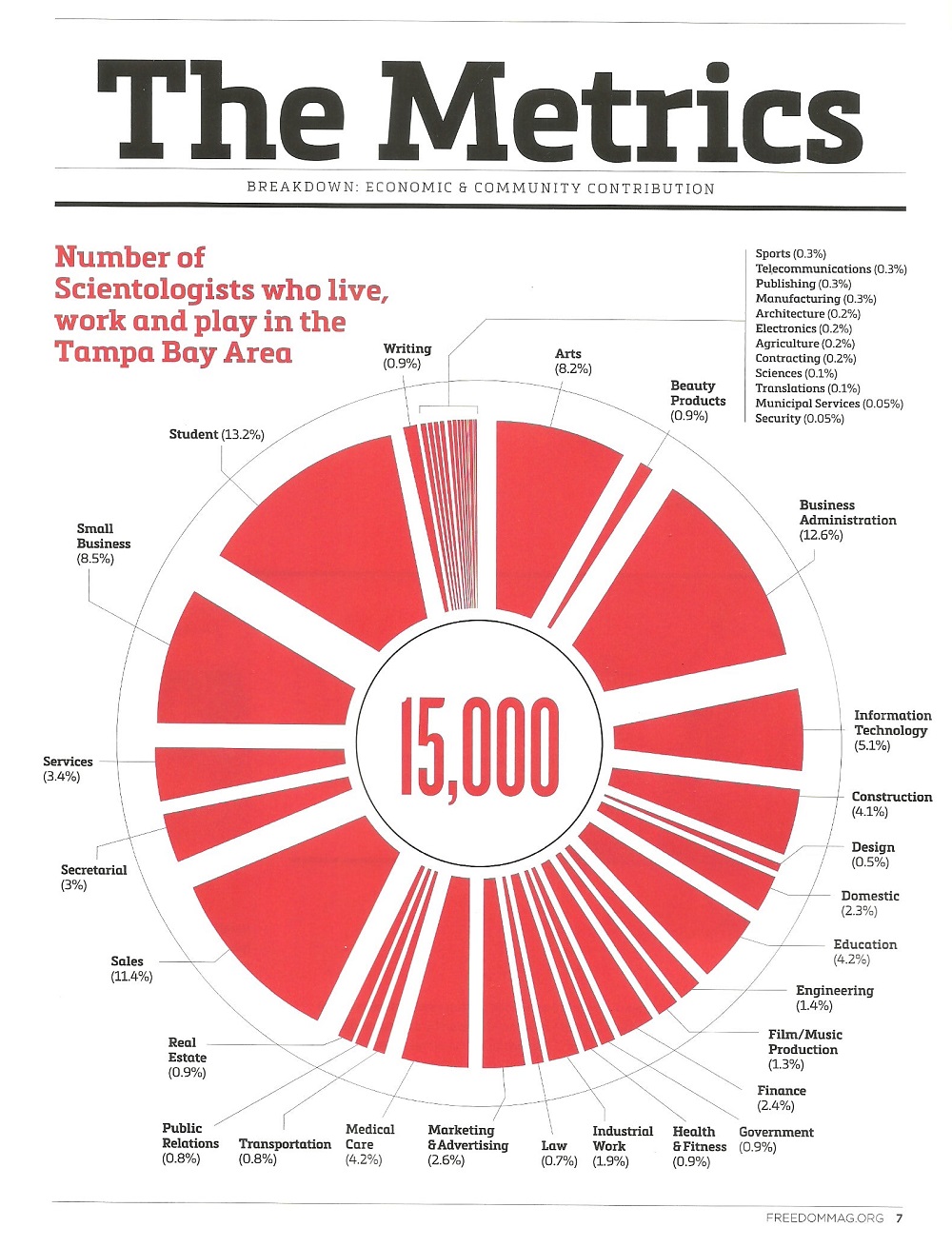 The simple proof this is a massive lie is that they hold ONE event a year that David Miscavige comes to town for. Arguably the most important day on the scientology calendar: March 13, L. Ron Hubbard's birthday (the "Christmas" of scientology). Every scientologist in the area is expected to attend as a tribute and show of support for Hubbard and Miscavige. Every year since the 90's the event has been held at Ruth Eckerd Hall. It seats 2300. They have NEVER expanded to a larger venue. In fact, it has become harder and harder for them to even fill Ruth Eckerd. Be certain that if Miscavige had a chance of rounding up 15,000 (or even 10,000) people, the venue would be Amalie Arena, he would have. A huge Nuremberg Rally style backdrop and they would be boasting about it to the word. It chaps Miscavige big time that his largest event was in 1993 and he has not been able to gather a crowd even near that size since.
And just a minor point, but nevertheless indicative of how little you can trust anything they say. Where are the Sea Org Members and Tampa Org staff reflected in this "breakdown"? Or children? Are they all listed as students? Or stay at home mothers and fathers? They are the Domestics? Then what are the room cleaners for their hotels?
The "economic impact" figures they offer up are completely bogus. They are entirely based on a flawed study commissioned by scientology. The problem with it, like any other studies they commission, the researchers were NOT given open access to gather their own data. They were provided with figures by scientology from which they extrapolate their results. They say so quite openly in their report, but unless you actually read it, this is not mentioned anywhere in the scientology PR. It's a neat trick. Give someone phony figures, pay them do their expert extrapolations based on those figures and forevermore cite the extrapolations as "proof" that it's all true. I wrote a piece about this study earlier that debunked its findings: Scientology Takes Clearwater for Suckers
Here are some quotes from that earlier article concerning the source of the information they extrapolated from:
In 2013 over 9,000 parishioners visited the Church from around the world for Scientology religious services, many more than once, and for an average 36 days per visit. Additionally, about 10,000 Scientology parishioners currently reside in the Tampa Bay area.  
The source for these "facts" is cited as: Personal Communication, Ms. Pat Harney, Church Public Affairs Director, February 4, 2014.
One can assume that the cite to "personal communication" protects this information from being disclosed. Though why the fundamental "facts" upon which the entire study is premised should be "personal communication" is strange in itself.
They cite all the economic information they got about how much money the church spends to:  Personal communication, Ms. Sharey Wang, NSBN February 14, 2014. NSBN is the  long time CSI accounting firm in Los Angeles formerly known as Nanas Sterns. Why THIS information is "personal" is more than a little strange. An accounting firm sending information at the request of the church to a public university paid to do a study that then becomes the subject of a massive PR campaign by the church is hardly "personal."
Even worse than this, they based their extrapolations on "surveys" the church provided:
For the visitors survey, there were a total of 9,148 visitors to the Church in 2013, with 265 surveys collected.
For the residents survey, there were a total of 9,763 Church residents in the area, with 271 surveys collected.
The surveys were NOT random but were carefully screened before being turned over. With 18,911 people supposedly under their direct control, it is impossible they could not come up with a better statistical sampling than 527 (about 2.7%). If the church told everyone to fill out a survey, they would have had about 50% of the local scientologists turn them in and 75% of all "visitors." And those are conservative figures. Clearly FSU did NOT understand the amount of control the church exerts over its members.
And for the local businesses, the information was even more suspect:
In 2013, there were approximately 262 businesses owned by Scientologists in Clearwater and immediate surroundings and Clearwater neighboring communities.
While the Church contacted the majority of businesses for the purpose of collecting data on business demographics and expenditures, only 33 Scientologist-owned businesses provided responses to the survey.
The initial Church business list was based on a Church business association directory, provided by Ms. Pat Harney, Public Affairs Director, Church of Scientology Flag Service Organization. 
No surprise. FSU accepted EVERYTHING FROM THE CHURCH.
This is the same study they continue to rely on today.
Let's take a peek at some of the bs they dish up:

Right from the top — how many other churches HAVE hotels in Clearwater? Apparently there is one? Didn't know that. This is not a comparison. The REAL comparison would be: How much tax revenue is NOT going to the city because scientology properties are exempt? That is the LOST INCOME of the City of Clearwater.
Those 132 events were almost ALL held "in partnership" with the 9 scientology front groups listed alongside that number.
The 25,000 figure includes the scientologists who bring their children to "Winter Wonderland" each year. This is a joke. They boast 2,000,000 square feet of buildings and 95% or more of this is NOT accessible to non-scientologists. You will be given a trespass warning if you try to enter any of the real buildings of scientology, as opposed to the front groups that line the Potemkin Village along N. Ft Harrison.
As for the economic impact, this is entirely based on the false information provided to the researchers. Scientology is trying to pretend "Look, we are making a flourishing area because of all the money we inject into the community" but this is clearly a lie. you only need to drive through downtown Clearwater to see this. It's The most moribund downtown in the entire Tampa Bay area. Dunedin, Safety Harbor, St Pete and even Largo in Pinellas are all more vibrant than Clearwater.
They then go on to break down this fantabulous figure:
Charitable contributions?
They are actually pretending the amount of "charitable contributions" they collect FOR THEMSELVES are "contributions to the community." OMG
You can be sure, scientologists are NOT giving $131 million a year to charities OTHER than scientology. Not a chance. And scientology itself does NOT contribute anything to outside charities. This is the sort of thing where the FSU people got completely bamboozled. They were given a list of selected scientologists and asked them how much they gave to "charities". None of this money went INTO the community.
And here is their supposed growth — numbers plucked out of thin air. They don't even have phony FSU extrapolations to support this. It's wishful thinking just like their 15,000 scientologists…
Nothing supports this, but unashamed they plough on with more specious "comparisons"
They absurdly conclude Clearwater Beach has only slightly more impact on the local economy than scientology — though according to their "projection" above it will rocket past the beach this year. Hahahaha.
The revenues generated from the property and hotel taxes on Clearwater Beach are the economic engine that almost single-handedly drives Clearwater. The biggest drag on tourists choosing Clearwater Beach — repeatedly voted one of the best beaches in the US — is the presence of scientology.
Hey, for a real comparison, why not do a study of the Baptist Churches in Clearwater. How much revenue their members generate and how much property they have that is not on the tax rolls.
As with every scientology PR effort, you eventually come to the supposed REAL CAUSE of the catastrophe that is downtown Clearwater. someone to blame other than them.
Typically, it's "the psychs". But that was a bit too much of a stretch ere so they focused on the next great source of "suppression", the media. And in this case it's the Tampa Bay Times.
Scientology doesn't actually believe that the citizens of Clearwater are going to buy their bs. This is intended for their INTERNAL public to make them feel like they are "fighting back" and "confronting the SP's".
The people who take their direction from Hubbard and Miscavige think this is pretty cool. The downtown of Clearwater is a moribund ghost town because of the Tampa Bay Times. Yes, they DO buy this sort of illogic. If scientology says it, it must be true.
They even try to pitch again the great "redevelopment plan" that Miscavige promised the city and then took off the table in a hissy fit after the city bought the old aquarium lot he wanted. Remember too Miscavige going after David Yates, the head of the Aquarium for being "overpaid" and taking tax dollars etc etc (See earlier post Scientology Clearwater Hissy Fit). But now, they pretend none of that happened and it was the city that "refused" Miscavige's wonder plan at the behest of the Times ("Pravda West" according to Freedom). This is resurrected from the dead in all its glory, being hyped as the perfect "cooperation" between the church and city — of course omitting the fact that the "cooperation" was unilaterally canceled when the Aquarium decided to move forward with their commitment to sell the property to the city rather than take a higher offer from Miscavige.
Now, history is being rewritten that it was the Tampa Bay Times that somehow scuttled this magnanimous plan…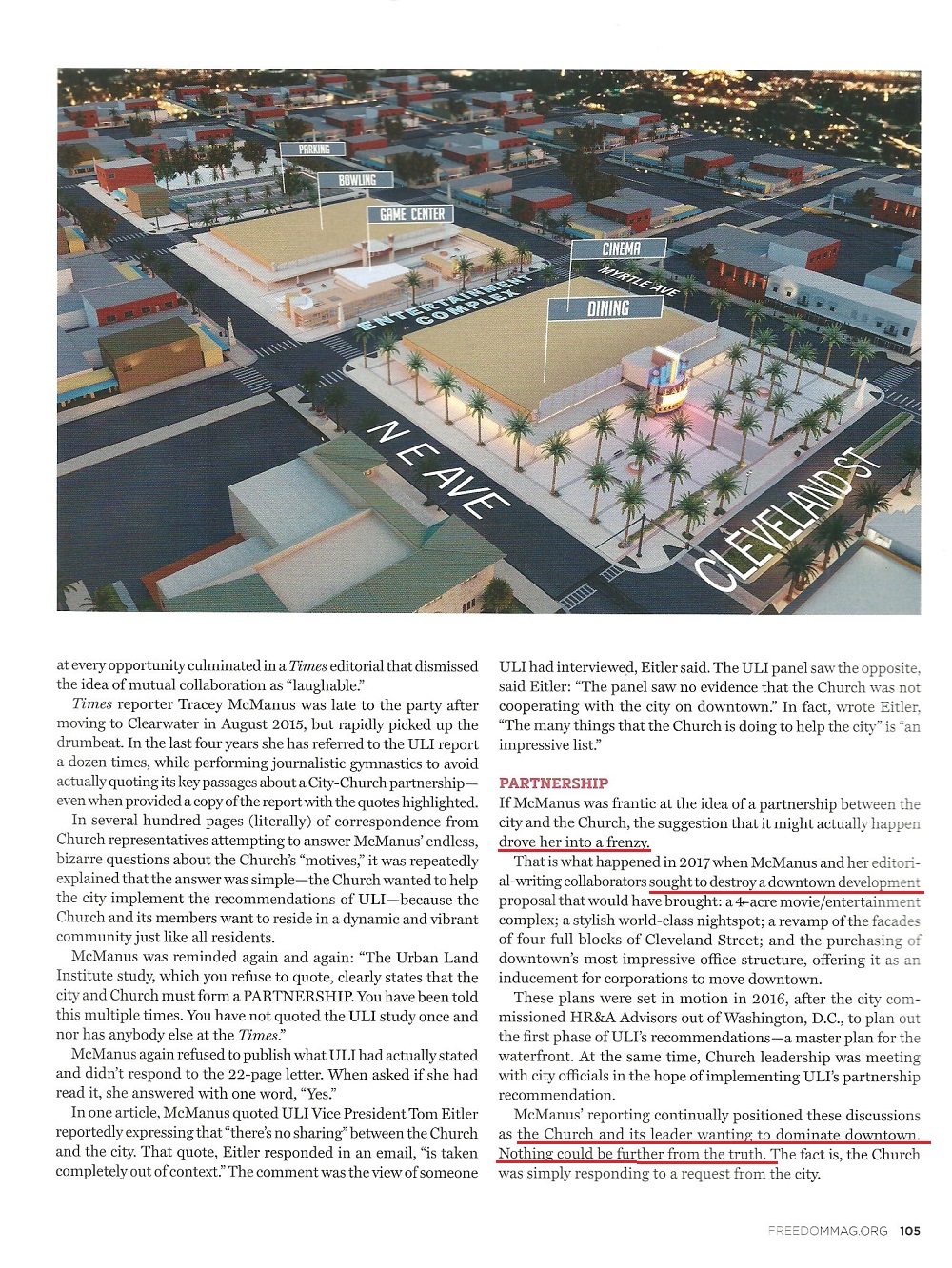 What is most damning to their attempts to recast events is that scientology now owns or controls all the property and more that they wanted for their redevelopment plan that was being done "for the good of the city."  So, why haven't they just moved forward with it — they claim it is the perfect plan to make Clearwater a great place for everyone (including the scientologists)? If they are so interested in the well-being of downtown Clearwater why not just roll forward despite the supposedly misplaced skepticism of the Times? They collected enough money from their whales at the recent IAS event to do the whole thing in one fell swoop. Hell, Trish Duggan, one of the scientologists featured in the magazine, handed over $61 million to the IAS a couple of years ago. That is just in ONE year. And that figure is not a typo.
Freedom Mag's John Sugg was reportedly once a real journalist before he took the blood money from scientology to turn out purple prose smearing anyone he is told is an enemy of the organization. Mr. Sugg now turns his gun-for-hire sights on Tracey McManus. According to Sugg, she is in a "frenzy" and "sought to destroy downtown." Obviously he has never met Tracey (scientology apparently forbids anyone to speak to the Tampa Bay Times — just as they did with The Aftermath and any other media that approach them). She is one of the most level-headed, even-handed, careful journalists I have ever met. Her story did not contain even a hint of anything other than reporting the facts. John Sugg should be made to apprentice under her for a couple of years to learn what real investigative journalism is all about.
And I have to comment on the use of one of Miscavige's favorite catch phrases. "Nothing could be further from the truth." This is what they call a "tell" in gambling circles. It's a big one for those who know Miscavige.  Whatever statement this protestation follows you can be pretty sure is precisely on point. In this case "the church and its leader wanting to dominate downtown."
Just read the story and look at the maps it contained. This IS what happened.
And lastly, the final insanity is this.
Scientology has the cojones to complain that the Aquarium lot purchased by the city "has not returned to the tax rolls to benefit citizens." This from the organization that has taken more property OFF the tax rolls than any other entity in the history of Clearwater. And while the lot remains empty and thus uses none of the city services — fire, police, ambulance, utilities — that taxes pay for, scientology takes full advantage of the city's services regardless of not paying taxes. Try walking into a scientology building to see how quickly they call 911 and several cars from the CWPD show up.
Scientology's latest effort to misdirect, put lipstick on a pig and smear its enemies is proving once again that what is said about this toxic organization is 100% true.