Someone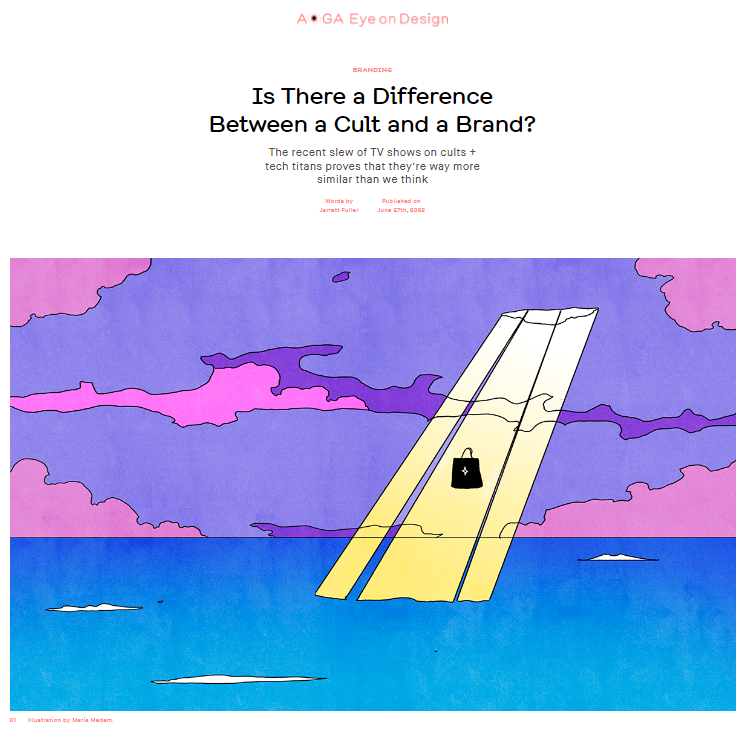 Someone sent this article to me recently: Is There a Difference Between a Cult and a Brand?
This is the sort of positioning scientology, and Miscavige in particular, absolutely HATE.
Scientology is put into the same category as Heaven's Gate, NXIVM, Rajneesh etc. and compared to Tupperware, Amway and Mary Kay… It notes that these MLMs use the same model that L. Ron Hubbard did: selling increasingly expensive courses and "technologies." 
It also mentions "the ever-growing library of documentaries about Scientology."
It's a growing problem for scientology. As much as they try to get themselves "into the mainstream," they are drifting further into the positioning of harmful cult.
These are the paragraphs from the article that mention scientology specifically.
I was surprised an extraterrestrial-worshiping group that ended in mass suicide also offered graphic design services, but maybe I shouldn't have been. Cults are infamously image-obsessed, whether it's Heaven's Gate's Star Trek-inspired iconography or Scientology's use of celebrity spokespeople. They need to be savvy marketers to attract new followers. Cults, in this way, are just like brands, built around developing a coherent identity, complete with codes, imagery, and language that paint a clear worldview and ideology. (Nowhere is this more obvious than on social media, where the dominant action is to follow.) Nearly every cult uses the methods of branding to gain followers and every brand — whether they admit it or not — strives for a cult-like audience.
Cults are having a moment right now. Heaven's Gate is just one in a recent run of documentaries on groups with questionable beliefs (I've devoured them all). There was The Vow and Seduced: Inside the NXIVM Cult, a pair of docu-series about the sex cult made famous after Smallville star Allison Mack was exposed as a high-ranking member; The Way Down, about a Christian-inspired weight loss group based in a wealthy Nashville suburb; and Wild Wild Country, about the Eastern-influenced religious group in Oregon; not to mention the ever-growing library of documentaries about Scientology.
These distinctions have always been blurry but it wasn't until the late 70s and 80s that the overlap of cult and brand became apparent, primarily through the rise of multi-level marketing programs, in many ways the original social networks. Though these programs — companies like Tupperware, Anyway, and Mary Kay — had been around for decades, it was during this era that many started to incorporate spiritual, self-empowerment language, mostly around ideas of being your own boss and unlocking social and spiritual freedoms. Incidentally, this is the same model Scientology, which was founded in the 50s by science fiction writer L. Ron Hubbard, uses: selling increasingly expensive courses and "technologies." NXIVM, the sex-cult founded by Keith Raniere, was a multi-level marketing program that also sold "technologies" promising to help followers become better leaders and professionals; these so-called "Executive Success Programs" went horribly wrong; culminating in branding their logo inside women's legs.
By the 90s and early 2000s, it wasn't multi-level marketing programs that felt the most like cults. Instead, it was fitness brands and gyms such as SoulCycle and CrossFit, which gained popularity using similar self-empowerment language. "It's a space to come as you are and celebrate who you are," reads a current headline on SoulCycle's website, "to emerge feeling stronger and inspired." One could easily swap this marketing language with a headline from Scientology's website — "You can rise!" — and no one would know the difference. Today, it's not uncommon to see modern brands of all types using similar language, employing aspirational campaigns, featuring heavy usage of self-empowerment language, glossy imagery, and clean logos to sell us not just a product but an entire lifestyle. Goop, perhaps, is the epitome of this trend, but you can see it in everything from shaving companies to sneakers to new foods.
The key to building a strong brand is coining new terms and phrases, and rebranding old ideas as something novel. In her book, Montell notes that many cults do this too. For a cult, the act of inventing new words and phrases creates an internal language and sense of community, a subtle way to begin separating members from families and friends who aren't also part of the group. The members of Heaven's Gate referred to their bodies as "vehicles", for example, and Scientology created new terms like "going clear" to mean taking control of your own thoughts. Brands, too, are experts at phrase coinage, whether it's the lengthy list of acronyms CrossFit followers use or Warby Parker's human names for frames. You know a brand has transcended its product when a name becomes a verb (think about 'googling' or 'ubering'). No one, perhaps, is better at this than Apple, from calling its tech support the "Genius Bar" to renaming high-resolution screen technology "Liquid Retina." (In fact, Steve Jobs' famous keynotes could be read as a religious gathering — a charismatic leader presiding over his flock. Of course one of the most popular Apple blogs is called… Cult of Mac.)