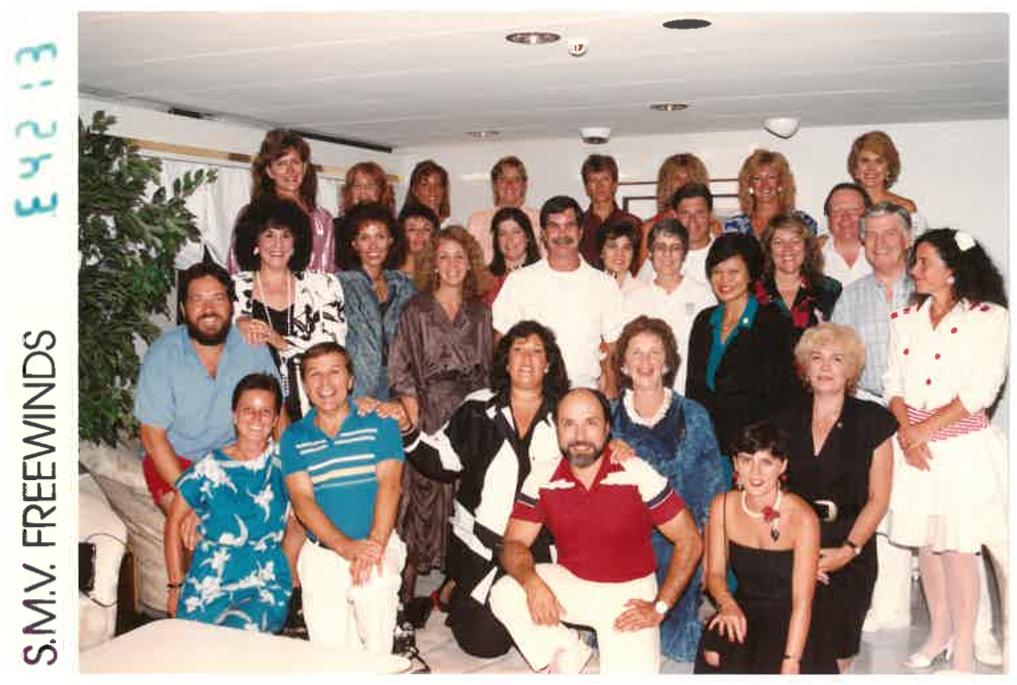 Frequent commenter here George White sent me this photo of some of the original OT VIII's on the Freewinds in 1988. I don['t recognize many, and George doesn't recall anything other than the first names of some of them.
Milt Wolfe is in the center — he was the CO Flag Ship Service Org, though it was not an assignment that lasted long. I think that is Jane Allen in the back row. She is an IAS Freedom Medal winner who vanished from the scene after contracting cancer. Debbie Mace is standing to the left of Milt, co-founder of the infamous Mace-Kingsley enterprise, also an IAS Freedom Medal winner, but she too became invisible after she ran off to live with one of Adnan Kashoggi's wives (Loredana) in Italy. Obviously many more women than men — not sure why…
George sent me this write up along with the photo.
Hubbard died in 1986. After his death, the drive to purchase and launch the Freewinds vessel was intense. OT VIII was to be delivered on a ship sailing in open waters on the Ocean. Having completed OT VII in 1987, I was a prime candidate who was being groomed for this new OT level. Hubbard had nicknamed it "Truth Revealed". He claimed that it was developed for each individual personally.
The training for the level started with briefings. In these, I was told that the textbook for the auditing was the book "History of Man".
I was also told to review the Philadephia Doctorate Course Lectures as well as all of Hubbard's printed books like 8-8008.
Having been introduced to Scientology in New York City in 1972, I had developed a curiosity about Hubbard's more extreme claims. He often mentioned the immortality of the spirit and that his e-meter could control its destiny. He also emphasized that this ancient spirit possessed super-normal powers which could be accessed through his "technology."
Giving Hubbard the benefit of the doubt, I dove into his writings and taped lectures. I studied every reference to OT powers that he mentioned.
I even wrote to Hubbard and he replied with personal instructions for me (the same party line — study HOM, PDC, 8-8008 — obviously the letter answerers had been briefed).
Expecting to develop at least one of these "powers" on OT VIII, I joined the second sailing of this ship in July, 1988.
Considered an expert with e-meter auditing, I felt that there was nothing that could stop me in my Hubbard inspired journey.
To protect the people in this picture, I have not released it for over thirty years (I would not want someone releasing photos of me without permission — but enough time has passed).
Scientology is a religion of "expectations". Hubbard made me believe that he had a "technology" which was worth the high prices that he collected.
In the end, Scientology did not meet my expectations. I am sure that some of the people portrayed in this picture are still Scientologists satisfied with Hubbard's technology. In my own particular situation, I do not accept Hubbard's basic subjective interpretation of reality. There are far more advanced scientific theories of the origin of life which Hubbard
did not cover or missed completely.
At any rate, the original OT VIII level was withdrawn in early 1989 and replaced with a less advanced release.
At one time, I did believe that Hubbard's work was "original". Except for a few e-meter exercises, most of Hubbard's works were either copied from others or modified to suit his ends.
Those who remain in Scientology today are protected by the Constitution of the United States. After studying Scientology, I am convinced that the religion is basically "Satanic" in nature and does not fit any conceivable definition of religion by the Founding Fathers. Modern definitions of religion include Scientology but are really illusory. I have spent years defining Scientology. How it developed. Who exactly he copied from. At its core, Scientology is anti-Christian and this is the ultimate "Truth Revealed" about Scientology. But defining Scientology is not a an end in itself.
I feel now a sense of emotion in just looking at its damage to all people. Had a view for a while that there was some good in it. Now see it as Satanic.
Ultimately, scientology does not deliver on its promises, and is merely a collection of theories based on subjective faith.
Here is George speaking with Ron Miscavige in more detail about OT VIII: