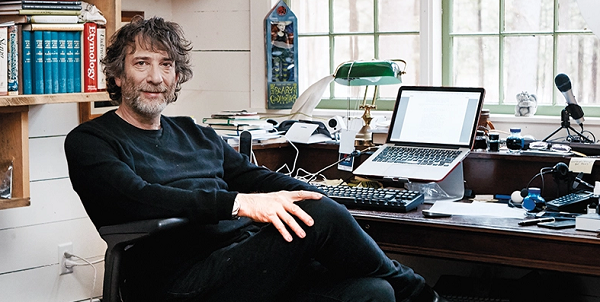 This interesting piece detailing a tumultuous period of scientology's history was sent to me by Mike Crotty, the creator of the Investigative Youtube series 'Comic's Secret History'
Whether you agree with his conclusions concerning why Neil Gaiman's book frames events as it does, he has laid out the history of scientology in the UK in the mid-60's better than I have seen it done anywhere before. It was a convulsive time and led to the formation of the Sea Org when Hubbard left the UK to try his luck in reassuming his role as founder of Rhodesia, and failing at that 
Neil Gaiman's Scientology Suicide Secret
The Cult at the End of the Lane.
In 1968 Scientology was in trouble. In the space of just a few weeks in the late summer, the British Government had introduced sweeping new legislation, effectively outlawing it in its adopted world headquarters in the UK. Its founder and leader L Ron Hubbard, who had just been declared 'Persona Non Grata' by the Government, announced his sudden resignation & departure from the organisation. There were also a series of damaging lawsuits and lurid articles around its activities, when 2 of its leading figures; a married couple, invented a series of lies about the tragic suicide of their lodger to save the cult and their livelihoods.
45 years later, shortly after the death of his beloved father, their son, acclaimed author Neil Gaiman wrote a book inspired by their lies, which whilst obviously fictional and fantastical, stated its origin; his parent's lies to save Scientology were true, and he even invented more lies to desecrate their lodger's suicide. The critically acclaimed, multi-award-winning book has already been added to school's curriculums, adapted as an equally successful stage play, touring across the U.S in 2023 and is in pre-production as a film with Director Joe Wright (Darkest Hour) at Tom Hank's production company "Playtone," but here for the very first time is the true story behind "the true story behind" 'The Ocean At The End Of The Lane'.
In the unusually dull and wet British summer of late August 1968, a seven-year-old boy stood waiting to be interviewed by the BBC in the front garden of his parents' house in West Sussex. His father, who was the head of worldwide Communications for the organisation the interview was about stood by closely watching events proceed, ready to assist and intercede if necessary. The interview had been arranged and conceived by his father as the start of a plan that would subsequently involve lies, intimidation, harassment, threats, false testimony under oath, attempting to usurp Britain's leading mental health charity and even a hunger strike to the death. The BBC publicity was the first step in response to a decision by the British Government, a month earlier on the 25th of July of 1968, that had severe consequences for his employer and his own livelihood. Barely a week after that, the organisation had suffered an even more devastating blow, when the boy's mother, also a prominent figure in the organisation, had announced to the world on the 2nd of August 1968 that their employer's founder and leader had stepped down and away from the organisation with immediate effect.
As the BBC Journalist Keith Graves began his pre-interview testing of his recording equipment in late August 1968, nobody could have imagined that 45 years later, the child would revisit this time and place in an acclaimed fictional novel to showcase and perpetuate his parent's invented story about the suicide of their lodger just days later, to protect the Church Of Scientology, in a work cherished by millions across the world in various media. Graves pressed 'record' and spoke into the microphone to I.D. the interview: "Neil Gaiman, 7 years old. Radio Interview. BBC Radio 'World at Weekend'. August 1968."
Neil Gaiman is one of the world's best-selling, critically acclaimed and award-winning Fantasy Authors. His work including 'Good Omens', 'Stardust', 'Coraline', 'American Gods' and 'Ocean at The End of The Lane' has sold tens of millions of copies in multiple languages, garnered hundreds of awards and been adapted into Audio Dramas, Theatre Plays, Television series and Films. One of his earliest works, the comic book series 'Sandman' started in 1987, is currently one of the most watched television series on Netflix and a 2nd series has just been announced. Neil's skill at communication has served him well; he's a rare breed of writer who through his copious interviews, speaking events and public appearances, is as beloved by his fans as any of his works. Whether through these public events or his active online presence (he has 3 million Twitter followers), there isn't much his devoted audience don't know about Neil, except for his impeccably opaque long-standing Scientology connections.
Now widely viewed as a showbiz science-fiction-esque religion with sinister undertones, Scientology was invented in 1953 by the pulp writer L Ron Hubbard. It was launched into the post war vacuum of disenchantment with traditional religion and the growing impact of scientific 'marvels' in improving everybody's lives, and thanks to a massive promotional and advertising blitz, its followers grew quickly with its promise of 'scientifically proven' methods to improve member's lives beyond the scope of just modern medicine. The financial cost of this, which enriched and empowered the organisation greatly thanks to its religious 'Church' tax status, was something that followers were not made aware of until after they were informed how essential Scientology was for improving their lives. In 1959 Hubbard bought an isolated mansion in the British Sussex Countryside; Saint Hill Manor. Built in the late 18th Century with 50 acres of surrounding countryside, the nearest town was the tiny East Grinstead, several miles of twisting small country lanes away, which afforded Saint Hill Manor privacy, isolation and importantly room for expansion. All of which suited Hubbard who decided to use it as Scientology's worldwide headquarters and base for training and indoctrinating its followers. It's relative closeness to London and its airports, for ferrying international students, was also an advantage as East Grinstead was situated less than an hour away, almost exactly halfway off the M23 major motorway to the seaside town of Brighton, also less than an hour's drive away.
Neil Gaiman's parents David and Sheila were converts to Scientology in the early sixties, they gave up their careers (he was a grocer, she was a pharmacist) and they moved their family to the outskirts of East Grinstead, buying the nearest available home to Saint Hill Manor; Harwood House, which though also distanced by the meandering miles of winding country lanes from the town, was just a mile away from the Scientology HQ. Both began working with Hubbard in Saint Hill Manor and quickly established themselves in its hierarchy; aside from working in high ranking positions in the World Wide Communications department they also ran the only canteen on the premises for the hundreds of staff and students, lodged paying students in their home and also used their Scientology connections, backgrounds and resources to start up a mail order Vitamin company 'G&G Vitamins' from their home in 1965; a business that grew exponentially as their status in the cult did. Scientology was rewarding for the Gaimans in more ways than for most of its followers.
David Gaiman was relatively famous in Britain in the sixties (and on into the seventies). As head of Scientology's Worldwide Communications, he was the public face of Scientology in the UK; he often appeared on television, radio or in the press as their spokesperson in response to negative stories or articles which were increasing along with the cult's presence. He was adept publicly at what appeared to be a calm and reasoned responses about Scientology, while privately threatening lawsuits and issuing libel writs against the people and media behind 'anti-Scientology' stories. When Hubbard decided around 1966 that Scientology's best defence against negative stories was to attack the sources rather than the stories, it was David who took up the charge and began planning ways to undermine Scientology's critics while his colleagues in the more proactive Saint Hill Manor's 'Guardian's Office' took a swifter and more immediate approach.
Hubbard requested they produce stories about "murder, assault, destruction, violence, sex and dishonesty in that order" against their 'enemies', to attack and undermine, using any means necessary. Their most prominent critics including the National Association of Mental Health. At the time the NAMH was the largest mental health charity in the UK (and still is today under its new name; MIND). In the early sixties this association was one of the most vocal critics of Scientology and the dangers it posed in its practice of attacking and forbidding any and all psychological or psychiatric treatments. Kenneth Robinson; the UK Minister for Health, who would introduce the sanctions against Scientology in 1968, was NAMH's vice president until he became Minister and he was replaced by Robert Lindsey; Lord Balniel. Balniel was the first person to raise concerns about Scientology and its dangerous attitude to mental health to the new Minister for Health. As early as 1966 Hubbard personally instructed staff to 'get a detective to dig up dirt on Balniels's past'.
The 'Guardians Office' of Saint Hill Manor, which David Gaiman later headed, set about hiring a detective to dig up dirt against their establishment critics. They held interviews and audited prospective detectives using their patented 'e-meter' technology (two metal handheld tubes with electric wires attached to a meter) to ensure they weren't spies and were aligned with Scientology. Unfortunately their secret scientology device didn't work and the detective they hired; Vic Filson was so appalled by the instructions he was given, which included "Start feeding lurid, blood sex crime [sic] actual evidence on the attackers to the press" that he went straight to the newspapers exposing Scientology's plans along with Hubbard's own personal instructions. The story, which appeared in 'The People' newspaper in March 1966, revealed that Scientology's first target was to be Lord Balniel. While there had been a myriad of lurid stories about Scientology and Hubbard in the UK Tabloids and more medically established critical ones in the 'Broadsheets' previously, it was this story initiated and executed by both Hubbard and the Cult's ineptitude, that grabbed the British Public's attention and set in motion events that led to the Government's July 1968 action.
In response to mounting public backlash against Scientology's actions, the British Government, through the Minister for Health Kenneth Robinson, took the decision on 25th July 1968 to declare L Ron Hubbard 'Persona Non Grata'; banning him from Britain and implemented a ban on any foreign nationals intending on studying or working in Scientology. In spite of his expressed shock and indignation at the UK Government's actions, David Gaiman had already been developing a multi-pronged media driven very public response.
By late August 1968, everything was going to plan for the Gaimans. 7-Year-old Scientologist Neil's interview had gone better than his parents could have hoped; the BBC's Keith Graves described him at the end of the interview as "Extraordinary". David meanwhile was progressing ahead with his own plan to destroy the NAMH, while at the same time both parents were working at Saint Hill Manor which was issuing 40 writs for defamation against the media, their neighbours in East Grinstead and their local M.P. Geoffrey Johnson Smith, who had stated in light of the U.K Governments banning of Scientology students that; "scientologists direct themselves deliberately towards the weak, the unbalanced, the immature, the rootless and the mentally or emotionally unstable.". David had already responded with a statement published in the 'Observer' newspaper on the 25th August rebuking Johnson Smith's comments and by extension the UK Government's stance: "From a personal viewpoint I am a little bored with the allegation that everyone in Scientology is either neurotic, weak-witted or naive, especially since the mentally and physically ill are not permitted Scientology training and processing (counselling)" and then less than a week later, on the 30th of August, their lodger for over 2 and a half months, Scientology student Johannes Scheepers killed himself using their car.
The name Johannes Scheepers means nothing to the millions of people across the world who are intimately familiar with how he died. His death is even part of the UK's school's curriculum; but all of Neil Gaiman's 2013 'Ocean at the End of the Lane' retellings don't afford him his name. Almost every fact about the suicide victim was erased by Neil in both his novel and the dozens of times he spoke about the 'True Story' of Scheepers, while he invented a history to damage his reputation, as his parents did decades before him. The only factual account of Johannes Scheepers tragic suicide exists in the Times Newspaper's reporting of his inquest on the 5th of September 1968, and it paints a very different picture to that portrayed and promoted by both generations of Gaimans.
Scheepers was only 29 years old when he travelled six thousand miles from South Africa to Saint Hill Manor to study Scientology in early June 1968. We know this because the 'Times' account of his inquest reveals that he described himself as a 'Student of Scientology' on his alien registration card when he entered the UK, before being permitted to travel on to lodge with the Gaimans in their isolated Harwood House, weeks before the UK Government ban was introduced. We know he was white; under Hubbard's instructions Scientology was rabidly racist and pro-apartheid in South Africa and would remain so until the mid-Eighties. There is also an extraordinary account of the experiences of foreign Scientology students, from the renowned author Alan Levy, who visited Saint Hill Manor to study Scientology at the same time as Scheepers did and later wrote about it for 'Life Magazine' in November 1968; "my contract for Grades V through VII called upon me to pay not the $390 New York and London had given me to understand — but $3,150! "Plus living expenses," added the Cashier, whom the Registrar had summoned in the expectation of having my signature witnessed. "The information you say you were given in London and New York is wrong. These our are rates, payable in advance. We can't have credit, can we?". Unlike Levy, Scheepers stayed studying Scientology at Saint Hill Manor right up until he took his life on 30th August 1968; It was important enough for him to record on two notes just before his death, which were found on his body, that he was a Scientologist and that Scientology wasn't to blame for him committing suicide.  In fact all the evidence presented to the court revealed exactly the tragic and lurid story the British Press loved; a foreign Scientology Student who lived with the Scientology's power couple; one of whom was their public face of the cult, who then used their car to commit suicide close to the cult's worldwide headquarters.
It's hard to imagine a more unfortunate turn of events for the Gaimans, and at a more inconvenient time. But David Gaiman was the Worldwide Communications Head of the cult with good reason, with just days to prepare, he created and told a story at the inquest, with his wife Sheila's help, to protect Scientology and by extension themselves and their livelihood.  According to the 'Times' Inquest report, David, who was described as "senior executive of the cult" denied on oath that Scheepers was a Scientologist or studying at Saint Hill Manor or registered at any Scientology establishment in Britain. He also denied he was their lodger or that he even knew him. He was simply someone who had stayed at Harwood House very briefly 2 and a half months ago, then left and returned after ten weeks just before committing suicide. Having deftly removed Scientology and the Gaiman family from the narrative David, still under oath, then presented the inquest with a perfectly reasonable explanation for his suicide and lack of any funds; which Alien Students were required to have as part of their Visa conditions.
Scheepers was a gambler who came to the UK to gamble, David swore to the inquest, who didn't question why a gambler with 'Scientology Student' on his Alien Visa would leave the gambling mecca of London and travel to an isolated farmhouse next to Scientology's World Headquarters. Gaiman continued his tale, explaining that Scheepers had left Harwood House shortly after arriving in June, for Brighton which was less than an hour away on his original route from London, and that he then hadn't seen him for over 10 weeks. Sheila Gaiman joined the story when David explained what happened while Scheepers was in Brighton and not living with them or studying Scientology that tidily explained his suicide; "Scheepers had mentioned casually to my wife that his gambling system had broken down, and from that I gathered the impression he was broke". Based on the evidence and David Gaiman's oath-sworn testimony, the East Sussex coroner Dr Angus Summerville recorded a verdict of 'Suicide' and the inquest was closed. The reassuring rationale of gambling and the absence of any tabloid-tempting Scientology involvement killed the story as quickly and quietly as carbon monoxide poisoning. Or at least it would have if, Neil hadn't resurrected it 45 years later for his first work after the death of his father David.
Neil Gaiman's own version of the truth, taken here from the end of the book itself, adds details nowhere to be found in the inquest reporting, which serves to only damage Scheepers memory more and it cannot be overstated that this is about a young man who killed himself; "he smuggled all of his friend's money out of South Africa and which he was going to bank for them, because there were apparently limits to what you could take out of South Africa. He went to Brighton, to a casino, and spent all his money – and his friends' money.". Neil added an element of illicit criminality to his actions as well as the morally reprehensible gambling away of all his friends' money also. However just as there wasn't a shred of evidence to suggest Scheepers was a gambler, curiously there wasn't even a reference to this pivotal point in either of his suicide notes; Neil's additional info about 'smuggling' and financial restrictions in South Africa were factually incorrect; there were no financial restrictions between South Africa and the UK in the sixties. Most UK Banks had branches in South Africa until anti-apartheid pressure in the mid-eighties caused them to rethink their position; much like Scientology in fact.
There is at least a logic, abhorrent as it may be, in David and Sheila's desecration of their tormented Scientologist lodger; their reputations, livelihoods and belief system hung in the balance of the inquests outcome and disowning fellow Scientologists and disparaging them falsely was and is common practice in the cult. Neil's considerably more far reaching desecration and additional falsehoods are more difficult to rationalise and can be best appreciated when delivered by himself to an audience. One of Neil's talks promoting 'Ocean at the End of the Lane' in 2013 with British actor Sir Lenny Henry at the National Theatre is available on Youtube. Around the 5 minute and 30 second mark he tells the 'true story' of Johannes Scheepers to an audience; host Henry obviously ignorant to any of facts, makes light of him gambling away his friend's money prompting laughter from the audience. He then appears horrified that Neil would put the 'real' suicide in the book which draws more laughter from the crowd, Neil dismisses his horrified reaction and carries on recounting his 43-year-old self's (he says he learnt the story in 2003) annoyance that 'something interesting had happened and nobody told him'; cue mass laughter all round.
There is always the possibility that Neil wrote 'Ocean' as a tribute to his father (though he dedicated it and says he wrote it for his now ex-wife Amanda Palmer) and the story that David created to save Scientology. The book opens with the Narrator (who Neil has confirmed is himself) leaving a funeral where he spoke, intending to go to his Sister's house to meet old friends and this really happened in 2009 at his Father's funeral where a massive Scientology service was held in Saint Hill Manor followed by a smaller Jewish funeral the next day; Neil's only sister still living in the UK is Lizzy Calcioli and she is one half of the UK's current Scientology power couple. However Neil clearly went above and beyond just retelling his Father's account. For somebody who has professed not to being a Scientologist for decades, everything he did to Johannes Scheepers memory in the book is straight out of the Scientology play-book; whitewashing Scientology out of the picture, defaming the 'troublemaker' and inventing falsehoods to attack him.
Neil Gaiman's history with Scientology is very murky; deliberately so. His family are practically Scientology royalty in the UK, he met his first wife Mary McGrath while she was studying Scientology and lodging at Harrow House and he himself worked as a Scientology Auditor for several years in the Eighties and was a Director of a Scientologist's property company 'Centrepoint' until 1999.  He now won't discuss his own Scientology connections and states, without any details, that he's no longer a member of the Cult that supported Apartheid up until the mid eighties, believes homosexuals are deviants and mental illness is a manifestation of personal failure in the sufferer's current or past life; beliefs which are anathema to most of Neil's adoring audience.
His connection to Scientology and apparent departure from the cult first went public as part of a court case in 2002 where when asked "Are you still involved with the Church of Scientology?" Neil said "I don't understand the question", subsequently asked "Are you still a member of the Church of Scientology?" he replied "I don't consider myself as such". Even then his admission that he worked for the Church for 3 years is somewhat confusing: "I worked for a 3 year period after getting out of school as a 'Counsellor' for the Church of Scientology"; in fact he actually worked as an 'Auditor' in a process made famous in the award winning 2015 Documentary 'Going Clear' which explains how officials in the Church of Scientology keep in-depth records on everything its members say during private 'auditing' sessions and then use their secrets against them. Renowned Journalist and author on Scientology Tony Ortega says that Gaiman "became a Class VIII auditor, and even ran the Birmingham "org" as its ED, executive director. ".
While there is no contradiction in Neil's actual admission of working for Scientology up till the late Nineties and subsequently leaving the cult and its beliefs sometime in the early Noughties, conflicting details arise in the period since, when Neil has insisted he's not a Scientologist. According to public records he was a shareholder in the family firm G&G Foods, which produces the vitamins used in Scientology's highly criticized Narconon and De-Tox practices, since 2011. He transferred approximately a quarter of a million shares to Scientologist shareholders in 2013. There's the book 'Ocean' also from 2013 and then there's also his production company 'The Blank Corporation'. 'The Blank Corporation' is Neil's production company which works on all his adaptations such as 'Sandman', 'Anansi Boys', 'Good Omens' and the upcoming 'Ocean at the End of the Lane' in partnership with Netflix, Amazon, Warner Bros, the BBC and others. According to the website and any interviews, Neil founded 'The Blank Corporation' in 2016 with his Vice President and former P.A. Cat Mihos. According to the official Companies registration however, the company was actually set up by Neil and then wife (and still devout Scientologist) Mary McGrath in 2000. The company is still registered to a Scientologist's P.O Box in Wisconsin, where Mary McGrath still works for the Church of Scientology. One company; two very different stories, it's just another mystery, like what really happened to cause Johannes Scheepers to take his own life in 1968.
David Gaiman went on after his Suicide Inquest testimony to become a central figure in the lawsuits Scientology initiated in the Summer of '68. They dropped most of them and lost the rest. In 1969 he tried to take over the NAMH by organizing a membership drive amongst Scientologists to afford them voting rights to take over the charity, to elect himself as the new Chairperson. The NAMH's Lord Balniel recognized what was happening and rescinded the voting rights of the hundreds of new members from East Grinstead who all signed up at the same time. On March 13th 1970 David began a very public Hunger Strike to the Death in protest to the ban on Scientologists entering the UK outside the Government offices in Whitehall but abandoned it less than a fortnight later. In 1971 he took Lord Balniel to court over rescinding the NAMH membership of hundreds of new members from East Grinstead and again lost the case. NAMH later became the charity MIND.
In 1983 David was declared a 'Suppressive Person' by Scientology and officially stripped of all his ranks and privileges in the Church due to his 'Running the canteen for his own profit, using Scientology to push and promote his own G&G Vitamins business' and "Sexual or Sexually perverted conduct contrary to the well being or good state of mind of a Scientologist in good standing or under the charge of Scientology such as a student, a pre-clear, a ward or a patient.". While Neil and the rest of  the Gaimans remained devoted to the Cult, David had to spend the next 20 years retaking and repaying for every course and training he had already done up to that point. Neil's mother Sheila went on to introduce the highly dangerous and much criticised Scientology anti-drugs programme 'Narconon' to the UK in the eighties, and with David built their Vitamin Company G&G foods in to a multi-million pound business plying their wares at the Chernobyl and 911 disaster sites.
There was clearly a duality to David Gaiman; mirroring that of Scientology. In public he was charming, calm and very reasonable, while in private he was ruthless, cruel and devoted to realising L. Ron Hubbard's proclamations. And that duality seems present in Neil Gaiman's attitude to Scientology too; aside from the two histories of his production company. On the one hand apart from the consequences promoting Scientology would have on his brand and his audience, it's actually understandable why as an apparent former member he doesn't want to discuss or criticise the cult. Neil would be viewed as the enemy by Scientology, shunned and subjected to unfounded vile attacks; just as Johannes Scheepers was. But on the other hand Neil himself epitomised the very worst attributes of the cult, in how he publicly and jovially described Scheepers suicide and in particular his repeated first hand false accounts to audiences across the world. 'Ocean at the End of the Lane' is coming to a theatre near you, soon.