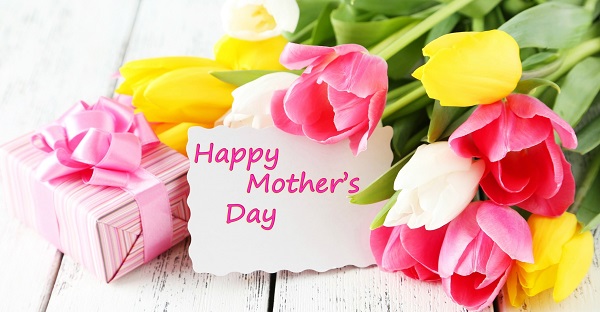 In the US it s Mother's Day today.
To all you mothers who are readers here, have a wonderful day. I know it can be tough for those disconnected from their mother or mothers disconnected from their children (or in some cases both), but still it is a day to celebrate the wonder and magic of motherhood and remember that it's never too late for things to change.
Our old friend Brian Lambert reached out to me yesterday and asked if he quickly finished something he was writing, could I put it up today in honor of his mother.
Always thought provoking and usually eliciting a variety of perspectives, here is the latest from Brian. I especially enjoyed his last paragraph.
THETANS
If I had never tasted an orange before but you had, you could not accurately describe what it tastes like to me. The best you could do is say what it is like through inference and association. "It tastes similar to a lemon but not so sour, sweeter yet just as juicy." "The skin is similar in make up but orange not yellow." "Both are composed of sections."
The circumstance of the lemon's existence can be used, through inference, to describe the taste of the orange. But that description can never accurately describe it, unless I've tasted an orange directly.
It is the same with discussion of the existence of the soul, or in Scientology the Thetan.
It's impossible to argue for the existence of an incorporeal independent conscious being, if you have not experienced it. The validation of the existence of a soul/thetan can only be accomplished through inference and association, which is circumstantial evidence.
In the example above, when two people have tasted an orange they can share their experience of an orange with knowledge based on direct perception, the taste of an orange. Then it is possible to discuss the nature of the orange with reason, intelligence, agreement or disagreement, without faith, belief or hocus pocus supporting the dialog. Both have tasted the orange. The existence of which is not in question. The existence of the orange is self-evident truth through direct personal experience.
Although I have had countless subjective experiences that prove to me the reality of an independent conscious existence apart from the body, I can only attempt to convey my experience to non-believers or non-experiencers, through inference and personal circumstantial evidence, that I experienced objectively in the "real" world.
My subjective experience of the soul can easily be relegated to the garbage bin of delusion, wishful thinking, magical thinking, brainwashing, suggestibility, and me being prone to superstition. And that may be a reasonable conclusion for you, based on your personal experience, or your lack of it, with this subject.
To those who have "tasted" the existence of the soul, no argument is necessary. We share a direct experience and need no proof. We can share a fun conversation about the nature of consciousness, and it's independence from matter.
The idea of immortality and God can then be discussed without judging each other; for being superstitious as unlettered rubes—the enemy of rationality and science, the judgements, rightly or wrongly of atheists and materialists.
This is my argument for the existence of the soul/thetan through circumstantial, objective, material world evidence, that I have actually experienced in THIS world.
CIRCUMSTANTIAL EVIDENCE: My Mother's Death
"Brian, I'm ready to go!" My mother said to me on a morning phone call. My mom was almost 90 years old. My dad was gone. Her best friend of her entire life was recently  killed in a car crash. Her sister was dead, brother dead, and most of her intimate generational connections had all flown the coup.
My mom wasn't angry.
She wasn't sad, in pain, or frustrated.
She simply told me, "I'm done!"
My mom and I always shared the belief in reincarnation and the spiritual side of life. Her father, my Grandpa, was a sort of mystic. People would call him for physical and spiritual healing. I remember as a very young boy with a stomach ache, Grandpa put his hands on my abdomen and my pain vanished!
So, in my family, we had a non-dogmatic acquaintance with the spiritual side of life.
Many are the stories in my family of objective experiences, not belief, validating the spiritual side of life. No religious dogma was ever preached in my family. Yet my mom and Grandpa were deeply spiritual people. They lived the principles without wearing the labels. Mom and Grandpa were living examples of their spiritual principles, a far superior virtue than flouting a church membership card. It was my mom who supported and protected my youthful spiritual interests, and nurtured my experimentation by allowing me to do so.
Back to my mom and our phone call. "Brian, I thought I was dying last night of a heart attack. I was so glad that I laid back in my bed and was ready to go." She continued, "I fell asleep and awoke the next day and was so angry! Dam it! I'm still alive!!!" Then she told me she got angry with God. "What's the matter? Don't you want me?!" My mom is a strong powerful women. The idea that she was scolding God for not taking her, was extremely funny to me. I've been on that side of her scorching admonishments. This moment was hilarious. It was so fascinating to be speaking about death like this with my mom. We were talking about it as two dispassionate observers, completely lacking grief, sorrow, loss, or fear of the unknown. I cherished that moment with her and was proud to be her son.
Then I asked her, "Y'know mom, some people say what keeps people attached to the body at the end of life, is having unfinished business. Do you think you have anything left undone?" She says, "Hmmmm, let me think about that. We can talk again later tonight on the phone." "Ok mom, let's do that." We said our goodbyes and hung up.
At the end of this day, I picked up my wife from work as usual. We went to dinner, then out of nowhere I began having a strange feeling. The experience was very palpable. I told my wife, "Sweetie, I'm feeling a bit weird for some reason and I don't know why." During dinner I hardly said a word to her. She asked me what was wrong. I told her I did not know. I was feeling forced to be introspective. It was difficult to communicate, and besides, I felt unwilling to leave this feeling of deep introspection. I was visibly uneasy.
When we got home and I went immediately to my recording studio to be alone, trying to intuit what was happening. I put a piece of music on, a five minute movie cue that I had just finished the night before. I thought the soothing tracks would help me experience what was happening. The music track was composed for the death scene of a Catholic Hispanic man.
As the music started playing, tears started falling down my cheeks. I had no idea why this was happening. Then I heard a voice within me as a lucid daydream. "Brian, I know what's holding me back." Not being an instantaneous believer in these sorts of things, I doubted it for a moment, and then thought to myself, "Let's just go with it; it can't harm me entertaining a daydream." Then  I heard my mother's voice say, "I'm sorry for being so hard on you as a teenager." My mom never apologized to me for anything. As a teen I was getting into trouble, doing drugs, running with street gangs, and causing general mayhem in my family.
I said back to her, "Thank you mom I appreciate it, but you had a right as a mom to be so concerned. I was doing some bad things." Mom was very hard on me. It was a time in our culture where punishment acted in place of instruction. But as an adult I knew she did the best she could. It was also interesting that she apologized to me in this lucid daydream state. Again, it was not characteristic of her to apologize. She never apologized to me.
I felt an intimate communion with my dear mother during this subjective experience, all the while tears where still streaming down my face. I found my hands in prayer, but I wasn't praying. An inner voice then said, "Look at the clock."
I looked at the clock and it said 9:30 PM. I stayed in this introspective meditative state with tears falling until the phone rang at 10 pm. It was my younger brother, Michael. He informed me that mom left her body. I asked him when?
He said, "She passed at 9:30 PM."
From this very personal and intimate story, I'm sharing my circumstantial evidence of the existence of the soul. Here are the key points:
1. In the objective world, I asked my mom what was holding her back from dying?
2. That night she comes to me in my subjective world resolving the question, of what's holding her back.
3.  I was instructed to look at the clock in my objective world.
4. My brother then calls me,  confirming the undeniable connection between the subjective and objective world experiences. My mother died at 9:30 PM after telling me what was holding her back from going. She was now free to go.
I know many of you are thinking, this may be just coincidence. But to me it takes more blind faith to NOT see the conscious intelligence orchestrating this experience, justifying the existence of a materially independent soul.
Happy Mother's Day and much love to all mothers living in this world, and to all mothers that have gone on the the next. They are still alive.