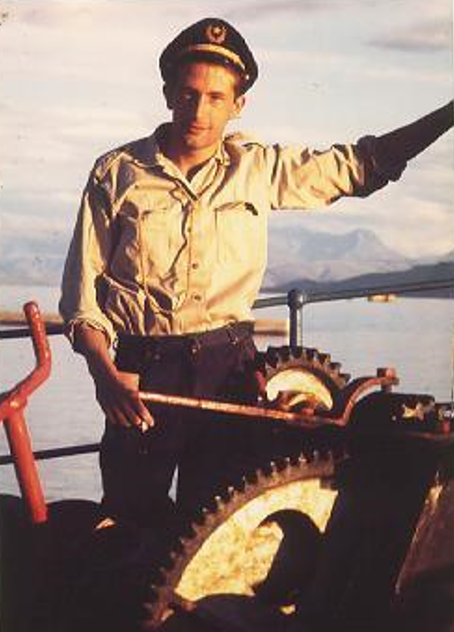 by Janis Gillham Grady (Sorry for the delay, as most of you know, I was out of touch on a cruise for the last week)…
Sadly, we all get older and there is a time when each of us will decide it is time to go.
With that said, it is time to say goodbye to someone many of us have known and loved – Amos Jessup who passed away today – March 14, 2019.
Amos had been sick recently, which I had announced about a month ago to many of his friends.  It was thought that he was recovering as he was getting his motor skills back along with his speech, however, after a rough night last night, he was in a lot of pain, he refused to go to the ER and wanted to just remain in his living room chair.  He seemed okay, so his son took the dog out for a short walk – only to find upon his return that Amos had moved on to a new world.
I first meet Amos when I was 11 years old on the Royal Scotman.  As a Commodore's Messenger I interacted with Amos many times during our Sea Org years together, when he was the Captain of the Avon River/Athena, later the Chief Officer and even Deputy Captain of the Apollo and again in 1975 when I did the mission to Toronto org and put him on post as the Executive Director.
After being a successful executive for many years, Amos kept returning to the auditing chair, where he loved to help people by auditing them. Even after Amos left the Sea Org over 30 years ago, he continued to audit and help people.
Amos was one of those people that I and many of his old shipmates will greatly miss – at our reunions, he was always the one to arrive with his guitar in hand, ready for any song we could throw at him for everyone to join him in song.   He was well known to bring laughter and joy to the room with his fun-loving smile and joyful character. He cared about people and wanted to make them happy.
Amos was also very helpful with my first two books about growing up in the Sea Org – he was a behind the scenes reminder of various things that occurred and always offered whatever help he could in editing and improving my books for which I will always be grateful.
Only two years ago, Amos and Daly moved from San Diego to North Carolina and in that short time Amos made dozens of new friends.  Upon hearing the news of Amos' passing a bunch of them showed up at his home yesterday and kept proposing locations for his memorial "party."  As they discussed it, each proposal would be shot down in favor of a bigger place (starting with his big back yard). On Sunday, a special memorial program about him will be aired on the local radio, where he was featured many times, with music and poetry.
In Daly's own words, that ability to make friends really created a new life, in a place 3,000 miles from San Diego, within less than a year.
Amos is survived by his wonderful wife (for putting up with us all!), Daly and his son Tucker.
We will be missing Amos jamming on his guitar at the June 22 Burbank Reunion where instead we will remember and honor him along with our other big loss –  Bill Franks.