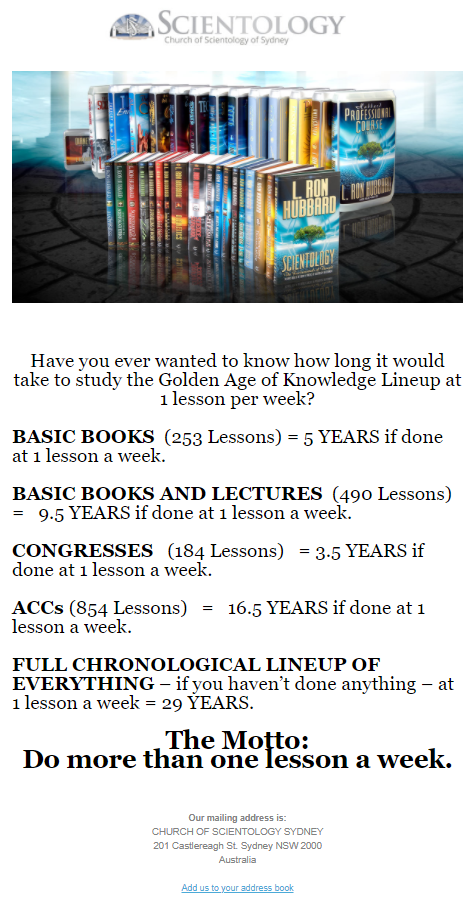 OMG, does this put the study of scientology in perspective.
Hubbard rambled on and on in books and lectures to such an extent that if you just complete one chapter of the books and lectures each week it will take 29 YEARS.
And this does not factor in the 17 Tech Volumes and 11 OEC Volumes which contain about 5 times more words than all the basic books combined.
It also doesn't include the LRH EDs, which are a couple more volumes about the size of an OEC or Tech volume.
Now, according to Hubbard, everyone should study all of this in order to attain full spiritual freedom and secure your eternity. I never much understood the concept of securing or guaranteeing your eternity as the fundamental concept is that you are an IMMORTAL spiritual being. Immortal means living forever. Forever is eternity.
I would NEVER put out a promo piece like this, it highlights some uncomfortable facts. Rather than encouraging anyone to do more, I think it more likely will convince them this is a hopeless task.
Even worse, if you read and absorb all this wisdom from Hubbard, you will NOT be smarter or better off. You might be able to parrot more Hubbardisms, but the extent of your study and agreement with the twisted logic and false information from Hubbard directly correlates to your inability to think straight and exert free will. I'm also pretty sure NOT reading this will do more to improve your eyesight than all the promises of Dianetics ever could.