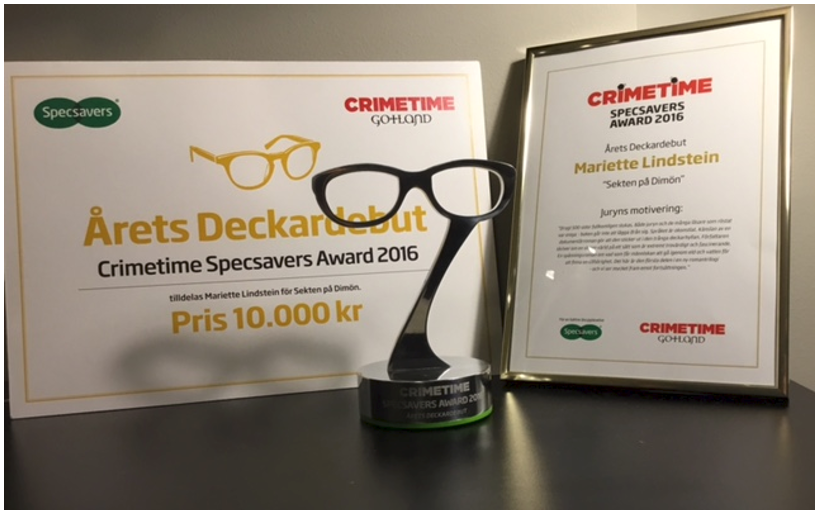 Some great news from our long term friend, Dan Koon about his wife (Mariette Lindstein)'s prize-winning, best-selling book.
For those unfamiliar with Mariette, I asked Dan to provide us with a short biographical sketch.  I have known Mariette for many, many years, in fact it was me that brought her to "Int" to become Watchdog Committee Scientology in 1983.
Mariette grew up on Sweden's southwest coast in Halmstad. She became involved in Scientology after graduating the Swedish equivalent of high school around 1978. Soon, she was working at the Malmö Org where she and a couple other Div 6 people put copies of DMSMH into the hands of commuters coming out of the busy train station and 10Xed the central files. Within a year or so she was the ED. She and her former husband Billy Lindstein were recruited into the SO around 1983 and both were soon at Int and part of WDC. In 1989 David Miscavige made Mariette the CO of the entire HGB (the Int Liaison Office or upper middle management located in the Hollywood Guaranty building in Los Angeles) but brought her back to the base in 1991 and made her the AVC Int Authorization In Charge (meaning she approved all iussues, evaluations, programs and anything else that required clearance before publication). For the next several years Miscavige was her direct senior and she worked closely with him. As with literally anyone forced into that orbit for long, she was squirted out like a watermelon seed between the thumb of DM's sociopathy and the forefinger of his management "style," and found herself twinned with Ray Mithoff on the RPF. After graduating she wound up on Marketing and worked with Jeff Hawkins and me to assemble the books and lectures marketing that became known as the Golden Age of Knowledge, or GAK, which is the redheaded stepchild of YECCH. After I blew in late 2003, Mariette became one of the charter inductees into The Hole. From there she devised a brilliant plan to be sent off the base down to the PAC RPF, and from there she escaped in 2004. She and I moved to Sweden in 2011 and instead of flipping burgers at McDonalds is now making her mark in the literary world.
This is Dan's report on Mariette's successful book:
Gotland is a beautiful island lying off the east coast of Sweden in the Baltic Sea. Visby is the island's only real town and it has a rich history as part of the Hanseatic Empire and stretching back to medieval times. In an effort to support and further the Scandinavian crime genre made world famous by Henning Mankell's Wallander novels and Stig Larsson's Millennium Trilogy they have begun awarding prizes in Sweden for the best suspense novels of the year.
This year's award for the best debut novel has a strong Scientology connection: Mariette Lindstein's novel, The Cult on Fog Island, won the prize as the book of the year. Mariette spent 25 years working in the Sea Org at the Int base and spent several years with David Miscavige as her direct senior.
After her escape in 2004 she settled into a new life but was plagued by nightmares of her time under DM. When Lawrence Wright was researching his book Going Clear: Scientology and the Prison of Belief he contacted Mariette for information about working under DM. Larry was insistent that Mariette do something about the abuses of Scientology and speak out about what she knew. That is what inspired Mariette to tell her story but in a way that could reach a very large audience.
As Picasso once said, "Art is a lie that makes us realize the truth," and she decided that fiction would be the vehicle she could use to tell the truth. Around March this year Mariette received word that she had been nominated for the prize but insisted that she had no chance of winning because her publisher was very small (in fact, it is a one woman operation) compared to the other nominees who are represented by the largest publishers in Sweden and, of course, they were throwing their PR and advertising clout behind their authors. It is a big deal to win the prize, which carries a good deal of prestige.
This afternoon they held the event to announce the winners in the different categories. The other nominees had all written other books before, just not crime or suspense novels. The Cult on Fog Island was Mariette's first shot and she hit the bull's-eye. The book was released almost exactly one year ago and generated a lot of media attention because of Mariette's long connection to Scientology, the Int base and David Miscavige. People in Sweden (and elsewhere) are fascinated by the craziness of Scientology, particularly under DM.
There were five jury members who each had a vote with the sixth vote being comprised of readers who could vote for their favorite. Mariette won all five jury members and the reader's votes, which was gratifying to her in particular.
The jury wrote their reasoning for their vote and Mariette translated it from the Swedish:
The jury's reasoning:
"Over 500 pages are completely devoured. Both the jury and the many readers who voted were unanimous – the book is impossible to put down. The language is unpretentious. The feeling of a documentary novel makes it stick out on the overcrowded crime novel shelves. The author writes about a secluded world in a way that is extremely believable and fascinating. A suspense novel about what makes people go through hell and high water because of the desire to belong. This is the first in a new fiction trilogy – we really look forward to the continuation."
The Cult on Fog Island is the story of a young university graduate who joins a New Age movement called ViaTerra. The group's charismatic leader Franz Oswald offers her a job and being adventurous she accepts. At first things are wonderful. But when a reporter writes an article that ridicules the group, Oswald erupts and begins taking it out on the staff. A completely wrong target, but something became used to in her Sea Org career. Finally, she decides she has had enough and escapes and—this is fiction, remember—Oswald is arrested and jailed.
Her second book, The Cult Rises Again, which was just released this week, is the story of what happens when the heroine leaves ViaTerra and begins speaking out about the abuses she and others suffered under Oswald and his minions. There will be a third book in the ViaTerra trilogy but we'll leave that for another time.
The news today is that The Cult on Fog Island has become an award-winning hit here in Sweden, which hopefully will bring it to a language near you soon. Many suspense and crime novels are written for entertainment. Mariette's books have another agenda: to let people know that the cult mindset exists not just in insular bubbles such as Scientology, but in segments of the wider society as well. The people who join ISIS, for example, are of the same mindset that Mariette encountered among some people in the Sea Org. People in abusive relationships, those who have sociopathic bosses at their jobs and other examples are indicative of the attitudes and behaviors Mariette saw and experienced under DM. The Cult on Fog Island is just one more chicken coming home to roost for David Miscavige.