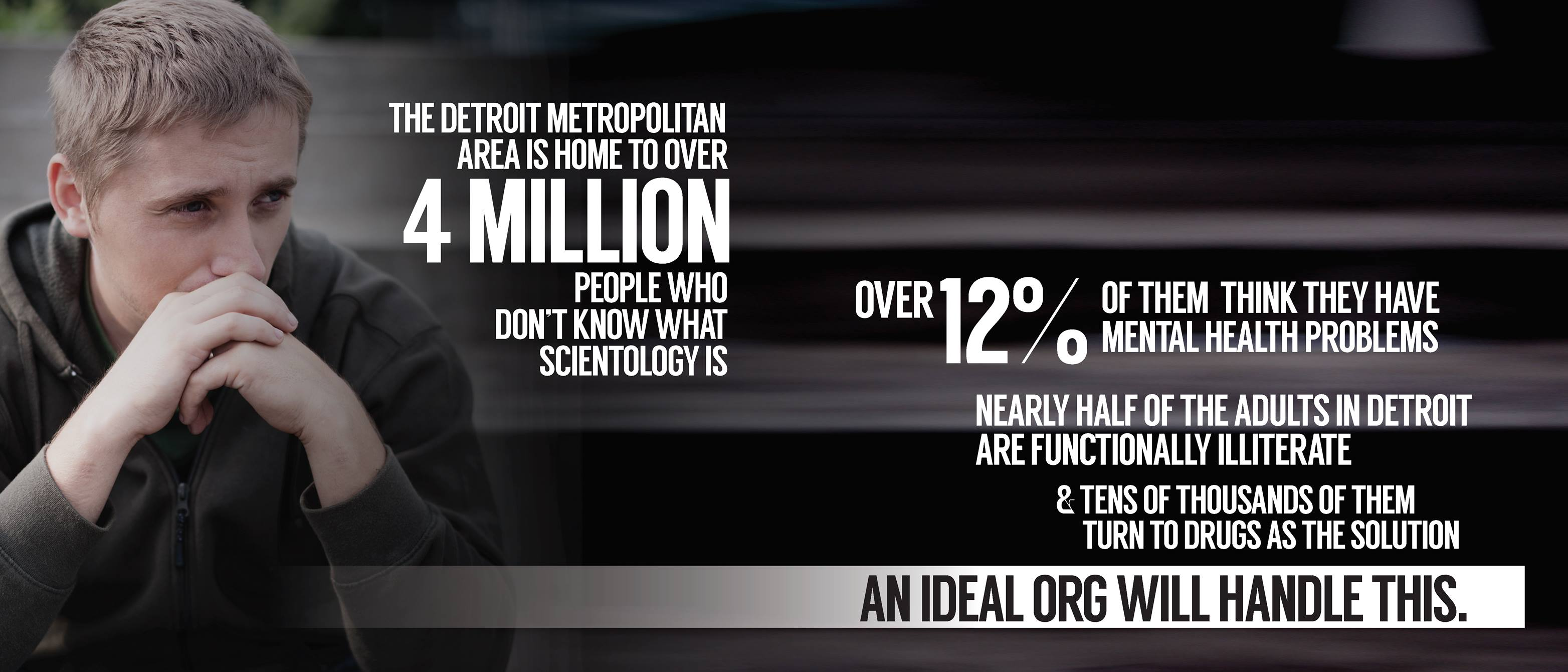 Some of the claims made about Ideal Orgs defy belief. Even for a cynical bitter defrocked apostate on the fringes of the internet.
This is the latest fundraising pitch for the Detroit ideal org.
Detroit org has been there for half a century (perhaps more?) and it has created absolutely NO impact. They admit nobody in Detroit even knows what scientology is. They probably know the word and the information from the internet and The Aftermath and Going Clear — but in the minds of scientologists that means they don't know what scientology REALLY is. They are only aware of the "entheta"…
All these years applying THE tech, and nothing to show for it? But now, with a different building, they are going to take over the city! The delusion is great. An Ideal Org Will Handle This…
Not to mention the 480,000 people in Detroit who think they have mental health problems. I wonder if the person who wrote this knows that scientology REFUSES to audit anyone who is taking any sort of psych medication? Or, heaven forbid, seeing a mental health practitioner. Though Hubbard said that with the Introspection Rundown the last reason for psychiatry to exist was gone, he did NOT change the policy forbidding the treatment of the insane, or anyone who has even come in contact with psychiatry. So, you have to wonder how the ideal org is going to "handle that"?
How are they planning to handle the functional illiteracy? With Study Tech? "Study tech" is useless if you cannot READ. Scientology does not teach people how to read. Remember, scientology is to make the able more able, not to teach people how to read or provide shelter for the homeless or food for the hungry. So what IS their plan for half the adults in Detroit? Bring them in and have them marvel at the marble floors and mahogany desks and that will glow away their illiteracy?
And finally, the last pitch is to handle the tens of thousands who are drug addicted. But scientology orgs do not deal with these people either. They are not qualified to participate in services in an org until they are "clean". So, just how is an "ideal org" going to help with this problem?
That is three swings and three strikes. Not even close.
These people live in a world of delusion. They seem to believe that if they merely say something it makes it true. It's absolutely nuts.