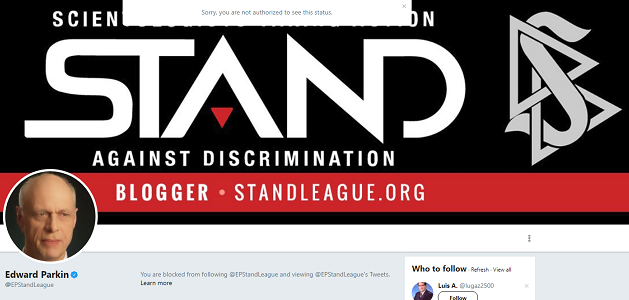 The crazy keeps getting crazier. The unhinged Minions of Miscavige spew increasingly insane rantings as the walls close in on their bubble of belief.
Anyone suffering under the illusion that "author" of this latest conspiracy theory, Ryan Prescott, is some wayward "lone-wolf" scientologist acting on his own, please know this is NOT the case.
Nobody, especially not a scientology org staff member, takes OSA Matters into their own hands. They ONLY act in concert with and as fronts for OSA or they are shut down instantly. He might as well announce himself officially as a member of the STAAD League OSA Front.
Ryan reminds me of the "Squirrel Busters" that were deployed against Marty Rathbun when he was "public enemy #1". The overzealous "OT's" who thought they were collecting brownie points for their good work (and a paycheck for their time) were actually sinking scientology.  OSA banked on the fiction that their outrageous conduct was "protected" because they were "individual scientologists, expressing themselves according to the freedom of speech and religion guarantees of the 1st Amendment"… But that didnt work out so well when the evidence proved they were directed and paid by OSA. Even Miscavige and RTC dumped on Church of Scientology International to try to escape liability and ended up admitting the entire operation was OSA.
Mr. Prescott has been diligently working to try to "dead agent" Scientology and The Aftermath. Rest assured nobody dares utter a word on this subject without being in VERY close coordination with OSA.  This is a "matter of RTC concern" and sits squarely on the plate of David Miscavige. Prescott would not be writing and publishing books were he not working on an approved OSA program.
In their desperate efforts to "do something effective" they make horrendous bloopers like the one in his "book" The Truth About Apostates: The Scientology Story.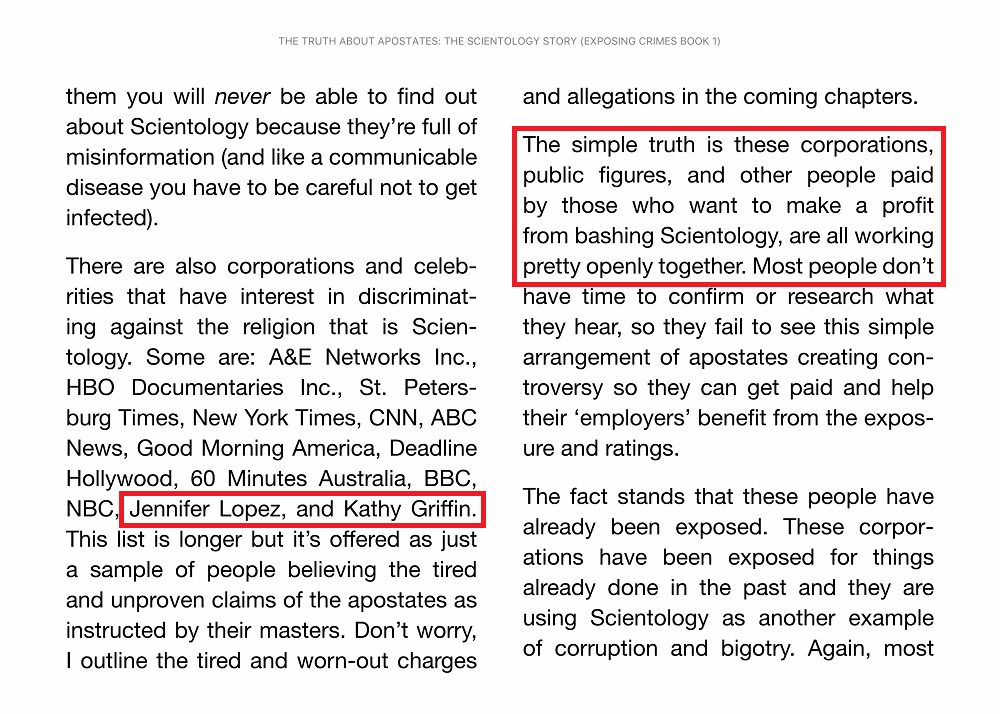 Really Ryan? Jennifer Lopez and Kathy Griffin are "wanting to make a profit from bashing scientology" and are "all working pretty openly together"?
Rather bold of you… I suspect they may take issue with your characterizations.
I suspect also the back story of this book is all going to come to the fore in the near future.
This is the sort of nut-job accusation that destroy any shred of credibility scientology might try to assert. They are truly unhinged.  No allegation is too "out there" when it comes to the crimes and conspiracies employed by Leah Remini and me in our "campaign of hate and bigotry." Scientology will literally say anything.
For those who care, a little background on Ryan Prescott.
He was born to Scientology parents with some notoriety. His father, Richard E. Prescott, got into trouble running unlicensed Narconon-style drug rehabs in California before moving the family to Oregon.
Ryan is on staff at the Portland Ideal Org and came to the attention of Tony Ortega on his blog for his crazy scientology twitter feed.
Here he is, resplendent in his ideal org bellhop uniform, announcing himself as a "Social Media Network Founder" (with 29 followers) and "Entrepeneur"
He announced a second book under his name was coming that he titled "Escaping Leah" but this only lasted on Amazon for a day or two until some people complained that he was misappropriating Leah's image and name.
He replaced it with this:
His current "book" is a collection of blog posts/tweets from the STAAD League/OSA Files, compiled by an illiterate (not sure if Ryan actually compiled it or it was sent to him by someone else). I suspect the next book will be a step down from that. I look forward to whatever his next conspiracy theories are — perhaps that Barack Obama and Donald Trump have teamed up to black PR Tom Cruise's movies at the behest of the World Federation of Mental Health?
Last I checked, his current book had 13 reviews on Amazon. All devastatingly negative. They couldn't even round up some fake people to post some glowing reviews of his 72 page masterpiece.
I don't normally bother with someone like this, but I wanted to make it clear that he IS an OSA Operative (for all I know, his post in the "ideal org" in Portland could actually be in OSA).
Happily, I predict the fake supporters, fake allies and fake front groups of scientology are not going to be around too much longer.
Winter is coming.