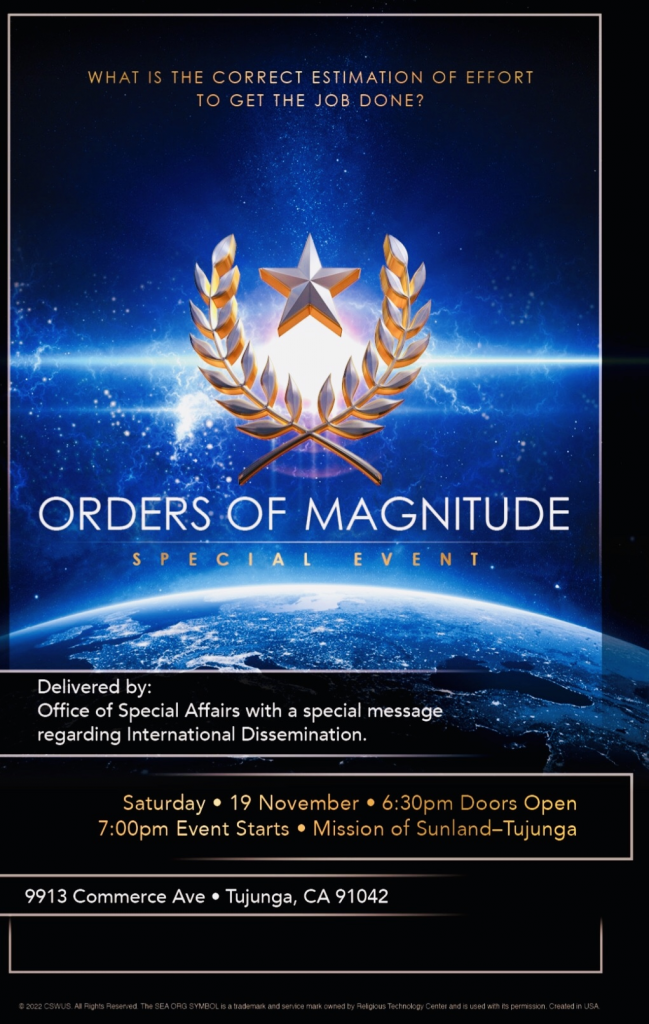 What is so sad about this is that they take themselves seriously.
What is the correct estimation of effort to get the job done? The "job" they are referring to is attaining a "Cleared Planet." It's what every scientologist has in their mind as the ultimate objective of their efforts.
"Correct estimation of effort" and "Orders of Magnitude" are Hubbard catchphrases that scientologists use routinely.
In simple terms, this briefing is purportedly going to explain what they really need to have and do to Clear the Planet.
Of course, it would be a momentous thing if anyone in scientology really announced this. Certainly it would not come from the nebulous "Office of Special Affairs" and it would not be delivered to a handful of people at a mission… This is a Captain Miscavige briefing if ever there was one.
What any suckers who show up to this briefing will be told is that in order to "make planetary clearing a reality" they need to get active as scientologists, get on course and in session, and hand over more money. There won't be any talk of anything other than what each person needs to do. It's all on them.
Of, how they miss the vast forest for the leaves on one sapling.
What such a briefing would actually require would be some simple math.
They need to clear 8 billion people. If they want to do it in 10 years (without taking into account the new people being added during that time) they need to clear 800 million people per year.
For the sake of simple  math and giving them every possible advantage, let's take as a basis for the calculations of the biggest org in the history of scientology, a "Super Org" — TEN times the size of "Old St Hill." Such a Super Org may be able to clear 100 people per week (remember, most scientology orgs have not cleared 100 people in a DECADE) if they could find enough people willing to come in and try it out.  That would be 5,000 Clears a year for each Super Org. That means they would need 160,000 Super Orgs. Not the 160 small and failing orgs they currently have.
So, they need to open 159,840 new Super Orgs this week. Every month that goes by that they don't open the needed 160,000 Super Orgs they have to add a bit less than 2,000, so next month they will 162,000 Super Orgs, the month after that 164,000.  Yet, they haven't ever accomplished a single Super Org. They have the same number of orgs today as they had 20 years ago. There are no orgs at all in China, India or anywhere in Asia other than Japan and Taiwan. There are no orgs in Africa other than in S. Africa. No orgs in Brazil.
The correct estimation of effort is actually a very simple equation: give up, it's hopeless.