Various reports have come in about the scene in Pasadena Org. Apparently, they have been being "shamed" by the "production" at LA Org with their massive bodyrouting effort fail (I guess they didnt read the recent post about this).
But this is not a new "management" tactic in scientology. In fact, it is pretty much par for the course. Make every org believe that others orgs are doing well and they are the only ones failing.
According to the reports there are about 25 Sea Org members hovering around the Pasadena org to "inspire" staff to get things going. They are passionate to get "the field" activated. They are urging the FSMs to "drive" people in on the org.
They are circulating a 3 1/2 page list of about 150 people who have "blown" from the Basics Courses so that the other, non-blown, active members can "nudge" them back into the Course room. This list includes a Who's Who of leading scientologists from that area.
Pasadena "Ideal Org" opened nearly 5 years ago. In that time, the Division 6 course rooms have never really been used for any length of time. They have not even cleared their own building much less the city.
And now this email drops and it confirms everything our Special Correspondents have been telling us for a couple of weeks.
If you will recall, Rona was exhorting her troops to "beat Taiwan" and stay "number one" in the world not too long ago. That this empty, sad org is even in a discussion about the top org on the planet tells you the state of most of the orgs in the flat out and horizontal scientology world.
From: Rona Bowles [mailto:ronabowles@hotmail.com]
Sent: Thursday, December 18, 2014 8:23 PM
To: otcmail@pasaotc.org
Subject: GREAT NEWS FROM PASADENA ORG
Dear OTC Members,
As you have probably all heard these are the most exciting times for any Scientologist in LA. The LA Area has recently had a Flag Command Team put into place to boom the Pacifica Bridge, and they have been doing just that. Launching from those actions which cover proper implementation of standard LRH administrative policy letters, the same exact actions have been launching in all LA Area Ideal Orgs. The subject of this e-mail is your city, your org and YOU – just as covered in LRH ED 339R by LRH – and is the way we will in fact, through standard actions, BOOM this org and Clear our zone.
You might say – but I am already Clear, or I am already OT – and that IS a fantastic accomplishment! But we are still responsible for clearing all others in our zone, so in addition to taking part in your next Bridge steps (which may include Purif or SRD) you should be training as an auditor to assist to Clear others!!
These are the most exciting times EVER in Scientology history, and now all that has been released with Golden Age of Tech Phase II in terms of a streamlined on-source Bridge is being brought to life in the Ideal Org of Pasadena. These are just some of the highlights of recent weeks:
– Highest EVER HGC Delivery two weeks in a row (Well Done Auditing Hours).
– Highest EVER Purification Rundown Delivery and completions two weeks in a row!
– Highest EVER Survival Rundown Delivery (hours) and two MORE OT completions on the Survival Rundown – Andrea Wilson and Tina Phillips!!
Through the standard Enlightenment actions there are more public signing up to go Clear at Pasadena than EVER before in our history, and individual public signing up for Student Hat, Purification Rundown and the Survival Rundown is at an all time high!!
There were three new staff arrivals onto post in Pasadena this past week including:
– Kim Nestler (Tech Executive)
– Carol Mathy (Division 6 Executive)
– Desiree Valdez (Dissemination Division staff)
There are three Golden Age of Tech II staff members who have arrived to staff in recent weeks as well: Bruce Johnson (now Golden Age of Tech Phase II Level IV auditor), Nelly Northcross (Golden Age of Tech Phase II Level IV auditor) and Cheyenne Savage (Golden Age of Tech Phase II supervisor).
SO: What you need to do is:
a) Come into the org this week and get through your OWN personal GAT II services. We are here to service you morning until night time including the weekends until 10pm. You can put in EXTRA time over the holidays so as to move through your own personal Bridge actions even faster. What better way to spend your holidays than with LRH!
b) Bring all of your friends and family INTO the org, they can see the applicable enlightenment films applicable and learn what their next service on the Bridge is, and then signed up and moved onto their correct next service. If you need any assistance call the org and you WILL get helped.
c) Actively FSM public into the Pasadena org for ANY service at all.
We stand ready to service YOU and all the public in the Pasadena area on ALL Golden Age of Tech Phase II services that we deliver. This includes all Golden Age of Knowledge courses, all Life Improvement Courses, all Division 6 services, the full Academy, the Purification Rundown and Survival Rundown.
WE PLAN TO BE THE FIRST LA AREA ORG (OUTSIDE OF LA ORG) TO BECOME SAINT HILL SIZE – THAT MEANS A BIG BOOMING ORG AND IN ORDER TO DO THAT WE NEED YOU INTO ACTION ON A RIGHT NOW BASIS!
Ml, Sara and Rona
Executive Directors Pasadena Day and Foundation
P.S. Please feel free to pass this good news and direction along so we have an avalanche of production here in Pasadena!!!
How many of those "new staff" came from LA Org after they were given the boot? My guess would be all of them…
Perhaps it is time for someone to wander past Pasadena again and take some shots so we can see what this new "highest ever" production really looks like and why with all these "highest evers" they are getting so much heat. Or is it the 25 SO people in there that have stat pushed them up — and if so, where next? I bet NOT Inglewood, that place couldn't be brought to life with a million volts and there are not enough non-white SO members to do the job anyway. Probably Orange County, it's close enough for them to be bused in each day. What are they going to do with the disasters in Denver, Phoenix, Portland and Seattle? Let alone Nashville and Buffalo?
It really sucks to be an org.
UPDATE:
One of our Special Correspondents sent me this information and I didn't see it for a few days. He was much more on the ball than I am! It confirms everything that is above and answers a mystery to me about an earlier post where I KNEW I recognized one of the people that were the subject of the post but I could not put my finger on it.
If you go back and look at the LA Org Bodyrouting post, you will discover:
The "Madam" is Rona Bowles, wife of Tim Bowles the lawyer. Rona is the ED of Pasadena "Day" Org. (She is on the right below)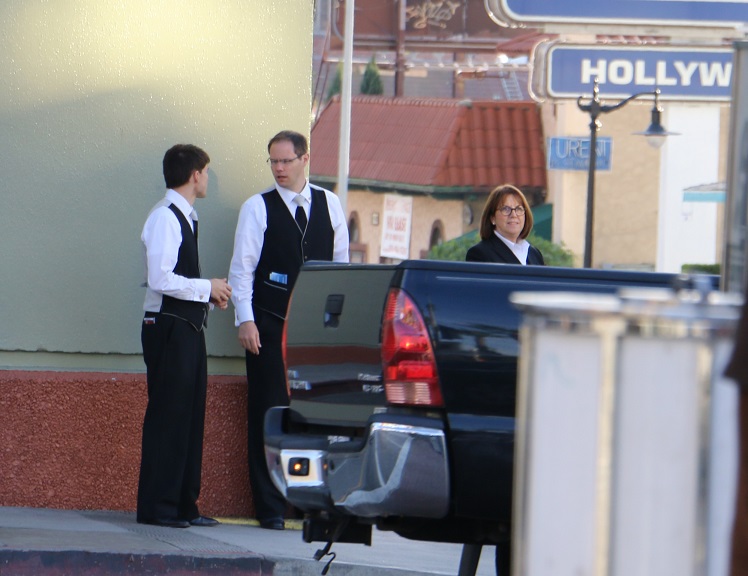 The "Upper Class Lady" who makes the ugly face (on the left below), is Sara Jonic, also from Pasadena. She has been the head of Div 6 but sometimes is made the ED Foundation. Then she had been put on recruiting Foundation staff, but now I would guess she is back to being the "ED Foundation". There has been a Musical Chair post situation recently.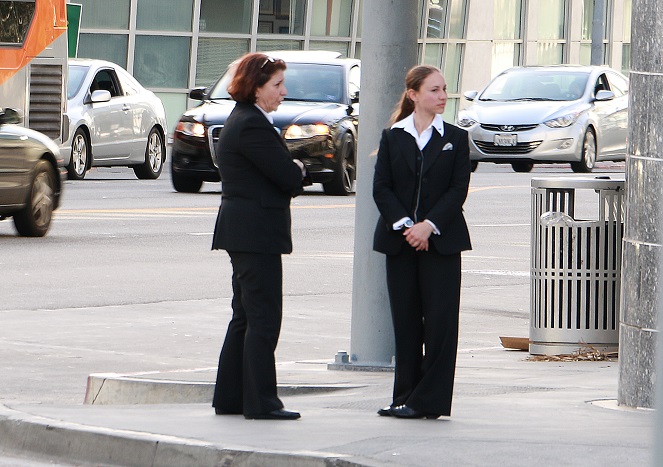 There was an ED Conference recently at PAC for the many orgs. 
So they appear to be apprenticing as Body Routers to learn LA Org's successful actions. Each org a slightly different style of uniform. 
The things in their pockets are tickets to a movie at LA Org and a free Personality Test. You can find similar things on the pavement at Times Square in New York. 
Pasadena has tried the Stress Test table around the corner from their org on Colorado Blvd in Old Pasadena where thousands of people walk daily. There have been flaps with the City, so maybe that is out of favor currently. 
Maybe they are training so they can Body Route everyone waiting for the Rose Parade on Dec 31st on Colorado Blvd. (Parade is the next day, but people grab a spot overnight.) About a million people will be there and it might be enough for a Highest Ever. Offering free coffee, hot chocolate and a bathroom to the cold crowd should make it a slam-dunk. As one of the truly "free" Scientology services, they traditionally hand out copies of the "Way to Happiness" with a rose printed on the cover the night before the Parade.