I am often asked this question, and my answer is usually that while there is no hard and fast rule, scientologists tend to lean Republican because of Hubbard's words:
He opposed "big government" (pretty much ALL government — it's "group bank")
He opposed welfare — that is "rewarding downstats."
He opposed taxes.
He believed homosexuality is an "aberration"
He opposed government funded medical programs because "they support psychiatry."
These positions pretty much ensure any good scientologist is a Republican voter. We saw in 2016 that the only precinct in LA that voted for Trump for President was the small area that includes "Big Blue."
Someone sent the below FB post to me which prompted me to comment about this today. This guy is a pretty typical, KSW scientologist: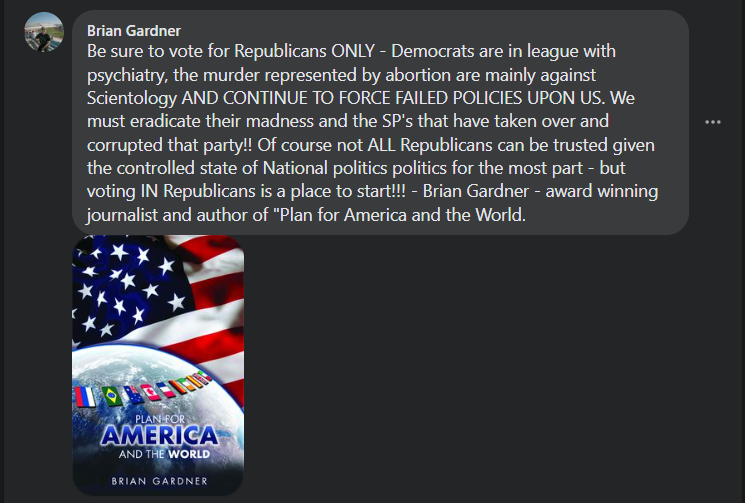 Brian Gardner's website announces the fact that he has been "a parishioner" of scientology since 1979, he was one of the SFO Org  "PR's" (I remember him from my OSA days) and today is the head of the LV Way to Happiness Chapter. About as "all in" as you can get. A good representative of scientology think.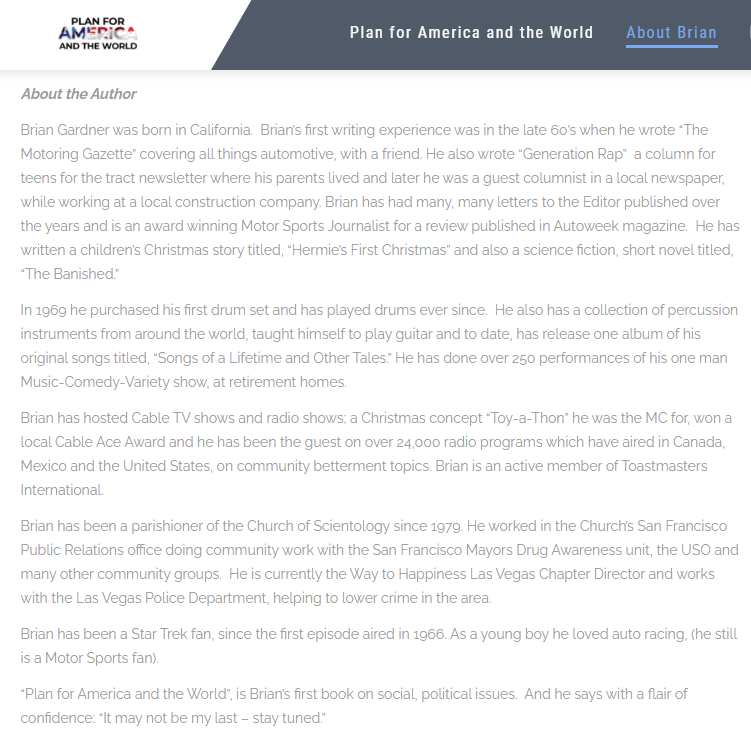 What I find interesting about his post is that he displays the "us vs them" mentality so typical of cults. It's a simple equation: "Democrats are in league with psychiatry." A broad, bold statement that cannot be an absolute. But it is in keeping with "scientology think." Everything about psychiatry is evil. Thus anyone associated with it is evil.  No questions asked. And thus all Democrats are bad and all Republicans are good.
His second eye-opening statement is "the murder represented by abortion" as a reason the Democrats "are mainly against scientology."
I guess Brian is not very well versed in the facts — Hubbard and the Sea Org have promoted, even coerced women into having abortions. Hundreds, if not thousands of times. Hubbard sent his own messengers to terminate pregnancies.
Most scientologists (apparently including Brian) don't understand Hubbard's position concerning abortion. They cite Dianetics as their "source" for opposing abortion. In fact, Hubbard in Dianetics was railing against FAILED abortions — specifically how coat hangers and knitting needles and other barbaric efforts to abort a fetus impacted the reactive mind of the child. There wasn't even such thing as a "thetan" when he wrote Dianetics. 
In a subsequent book (History of Man) he claimed a later "discovery:"  the thetan attaches itself to the body ("assumption") "just prior to birth."
A successful abortion may be traumatic/engramic for the mother, but the aborted fetus is never occupied by a thetan.  In the world of Hubbard "science" this is NOT a murder, it is akin to an appendix removal from the mother. A part of the body of the mother is excised, she is not murdered. It only impacts HER.
Frankly, many scientologists do not understand what Hubbard teaches about this subject and assume that because he goes on and on and on about failed abortion attempts in Dianetics he therefore generally opposed abortion. Though he never specifically stated it that I am aware of, I assume he would have been in favor of abortions being legal because it would reduce the number of failed abortions which is the only thing he said was very harmful. (I am not going to get into the further confusing ideas of the Genetic Entity vs thetan, I just want to keep this as simple as possible).
Brian Gardner, like many scientologists, is confused on this issue of abortion. It is the one thing where Hubbard was NOT in lockstep with conservative thinking.