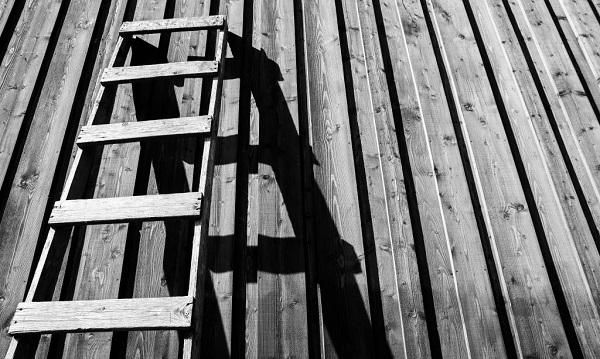 An article by long term commenter Mike Westen
Scientologists love hierarchy.
Participation in the Church of Scientology involves climbing several ladders of scientological status:
The most important ladder is The Bridge to Total Freedom – Hubbard's spiritual hierarchy denoting auditor class, therapeutic achievement and godhood. [1]
The loyal scientologist will be expected to donate to various projects such as the "Ideal Org strategy" (the relocation of existing churches into new premises) and the IAS (PR frippery and legal defence).
Constantly hounded to "move up in status", those willing to cough up are rewarded with majesterial titles such as Gold Meritorious, Platinum Laureate, Patron Excalibur, Diamond Maximus and Diamond Maximus…with Honors. [2]
The Tone Scale is a hierarchy of emotions that scientologists use to regulate their behaviour and manipulate the behaviour of others. From the darkest depths of personal ruin to the highest heights of spiritual calm, the scientologist believes his pursuit of godhood will result in a syrupy state of exquisite tranquility. [3]
A successful career in the Sea Org will involve advancing through a number of paramilitary ratings and ranks, including (but not limited to) Swamper, Petty Officer, Midshipman, Warrant Officer, Lieutenant, Commander and Captain. [4]
An increasing wealth of research may well offer insight into these hierarchies – research that originated in the 50s and 60s with the works of American social psychologist Leon Festinger, who rose to prominence after studying the impact of hierarchical ranks on self-improvement. [6] His research would lead him into the realm of cognitive dissonance and, rather wonderfully, the study of a doomsday cult founded by a former dianeticist. [7]
The psychology of social status is a hefty subject. It's impossible to condense it in any meaningful way for the purpose of a blog post. Nevertheless, I hope some of these little nuggets may prove useful. All references are listed at the end.
In short:
Felicia Pratto (Professor of Psychological Sciences, UConn) and Jim Sidanius (Professor of Psychology, Harvard) suggest there is a direct link between the preference for social hierarchies and the urge to dominate others. [8][9]
"Social dominance orientation (SDO) is a personality trait which predicts social and political attitudes, and is a widely used social psychological scale. [It] is a measure of an individual's preference for hierarchy within any social system and the domination over lower-status groups. It is a predisposition toward anti-egalitarianism within and between groups." [10]
Multiple studies in both primates and humans have shown a link between social status and serotonin. Increased blood serotonin has been found in high status individuals which decreased in line with a drop in status. Experimental treatments with SSRIs on low status subjects were associated with "increased self-assessed dominance, increased dominance judgments by peers, and dominant pattern in a stranger-dyadic social interaction" in both men and women. Research into dopamine has yielded similar results. [11][12][13][14][15]
Yeah, that's right. Status gets you high.
A 2012 study by Tokiko Harada, Ph.D. (Hiroshima University) found that an individual's perception of his "social power" can affect how the brain performs cognitive tasks (eg. mathematics). Those who believed themselves to be at a higher status performed better than those who believed they were lower. [16]
So if your chess game really did improve after reaching the state of clear, chances are you're just a douche with an ego.
An advance in status pursued within a game scenario aids self-empowerment
A major 2008 study by Caroline Zink, Ph.D (NIMH) found:
– An increase in status, especially when pursued within a game scenario, is linked to increased feelings of control and influence over day to day life.
– An increase in status produces brain activity similar to being rewarded.
– Possible health risks associated with high status individuals whose positions become threatened. [17][18]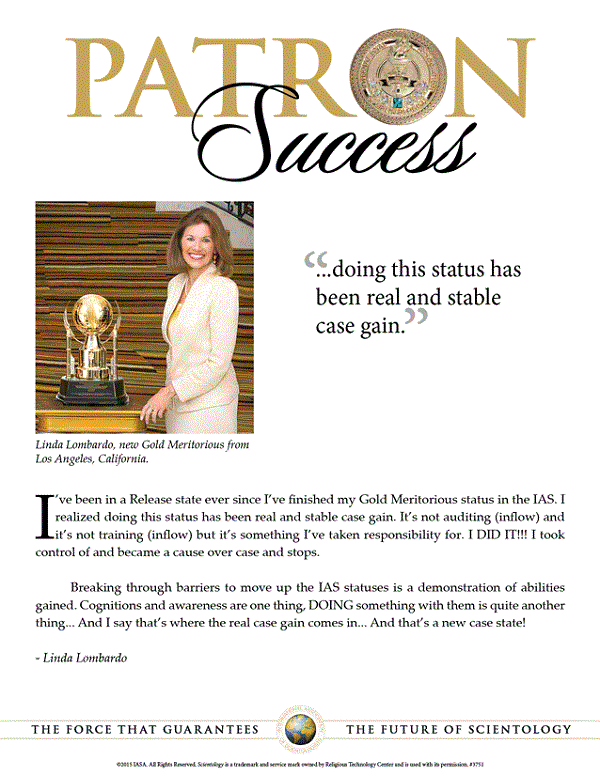 "We will not speculate here on how I came to rise above you all the bank."
Inspired by his love of Crowley, his mystic dalliances with both AMORC and the Ordo Templi Orientis [5], as well as his time spent in the US Navy, Hubbard clearly had a boner for hierarchies and arguably knew the importance of status (including his own). Perhaps it was only natural for Miscavige to follow suit.
When an alpha dies, a beta takes over.
There has been a lot of recent speculation as to the future of the Church when DM either dies or loses his alpha status. Who are his betas? Are they willing to fight it out for the top spot? And even if the winner steps up will it effect any significant change?
It's perhaps appropriate that research into baboons may provide a clue. Biologists Robert Sapolsky and Lisa Share studied a troop of wild baboons in Kenya for over two decades. These baboons lived near an open garbage pit where only the most aggressive amongst them foraged (they denied access to the meek). Following an outbreak of tuberculosis that had originated from infected garbage meat, practically all of the aggressive baboons died. Those left behind, from the newly assumed top down, were significantly less aggressive, suffered less stress, and showed stronger affinity and affection for eachother – far beyond what is typically observed in baboon troops. This behaviour continued after the new high status baboons eventually died off. Even new member baboons who had grown up in other troops adopted this "kinder, milder" behaviour. [19]
* * *
"It's a tough universe," Hubbard wrote. "Only the tigers survive".
Tigers are solitary, territorial and dominant.
This is the "winning valence."
Welcome to the Church of Social Darwinism.
Refs:
1. https://scientology-research.org/chart-the-bridge-to-total-freedom/
2. https://tonyortega.org/2014/03/17/here-are-the-wealthy-people-keeping-scientology-alive/
3. http://suppressiveperson.org/1971/09/25/hcob-tone-scale-in-full/
4. http://www.xenu-directory.net/mirrors/www.whyaretheydead.net/krasel/II-99.html
5. https://www.spaink.net/cos/essays/atack_occult.html
6. Festinger, L. (1954). A Theory of Social Comparison Processes. Human Relations, 7(2), 117–140.
7. https://en.m.wikipedia.org/wiki/When_Prophecy_Fails
8. Pratto, Felicia, James Sidanius, Lisa M. Stallworth, and Bertram F. Malle. 1994. Social dominance orientation: A personality variable predicting social and political attitudes. Journal of Personality and Social Psychology 67, no. 4: 741-763.
9. Sidanius, J., & Pratto, F. (1999). Social dominance: An intergroup theory of social hierarchy and oppression. Cambridge University Press.
10. https://en.m.wikipedia.org/wiki/Social_dominance_orientation
11. Raleigh, M. J. (1984). Social and environmental influences on blood serotonin concentrations in monkeys. Archives of General Psychiatry, 41(4), 405.
12. Raleigh, M. J., McGuire, M. T., Brammer, G. L., Pollack, D. B., & Yuwiler, A. (1991). Serotonergic mechanisms promote dominance acquisition in adult male vervet monkeys. Brain Research, 559(2), 181–190.
13. Tse, W. S., & Bond, A. J. (2002). Serotonergic intervention affects both social dominance and affiliative behaviour. Psychopharmacology, 161(3), 324–330.
14. Moskowitz, D. S., Pinard, G., Zuroff, D. C., Annable, L., & Young, S. N. (2003). Tryptophan, serotonin and human social behavior. In G. Allegri, C. V. L. Costa, E. Ragazzi, H. Steinhart, & L. Varesio (Eds.), Developments in tryptophan and serotonin metabolism(Vol. 527, pp. 215–224). Boston: Springer US.
15. Martinez et al. (2010), Dopamine type 2/3 receptor availability in the striatum and social status in human volunteers. Biol Psychiatry. 2010 Feb 1;67(3):275-8
16. Harada, T., Bridge, D. J., & Chiao, J. Y. (2012). Dynamic social power modulates neural basis of math calculation. Frontiers in Human Neuroscience, 6, 350.
17. Zink et al, (2008) Know Your Place: Neural Processing of Social Hierarchy in Humans. Neuron, Volume 58, Issue 2, 24 April 2008, 164-165.
18. Sapolsky R., (2004). Social Status and Health in Humans and Other Animals. Annual Review of Anthropology – 393 – 418, 33 – 1.
19. Sapolsky R, Share LJ (2004). A Pacific Culture among Wild Baboons: Its Emergence and Transmission. PLoS Biol 2(4): e106.