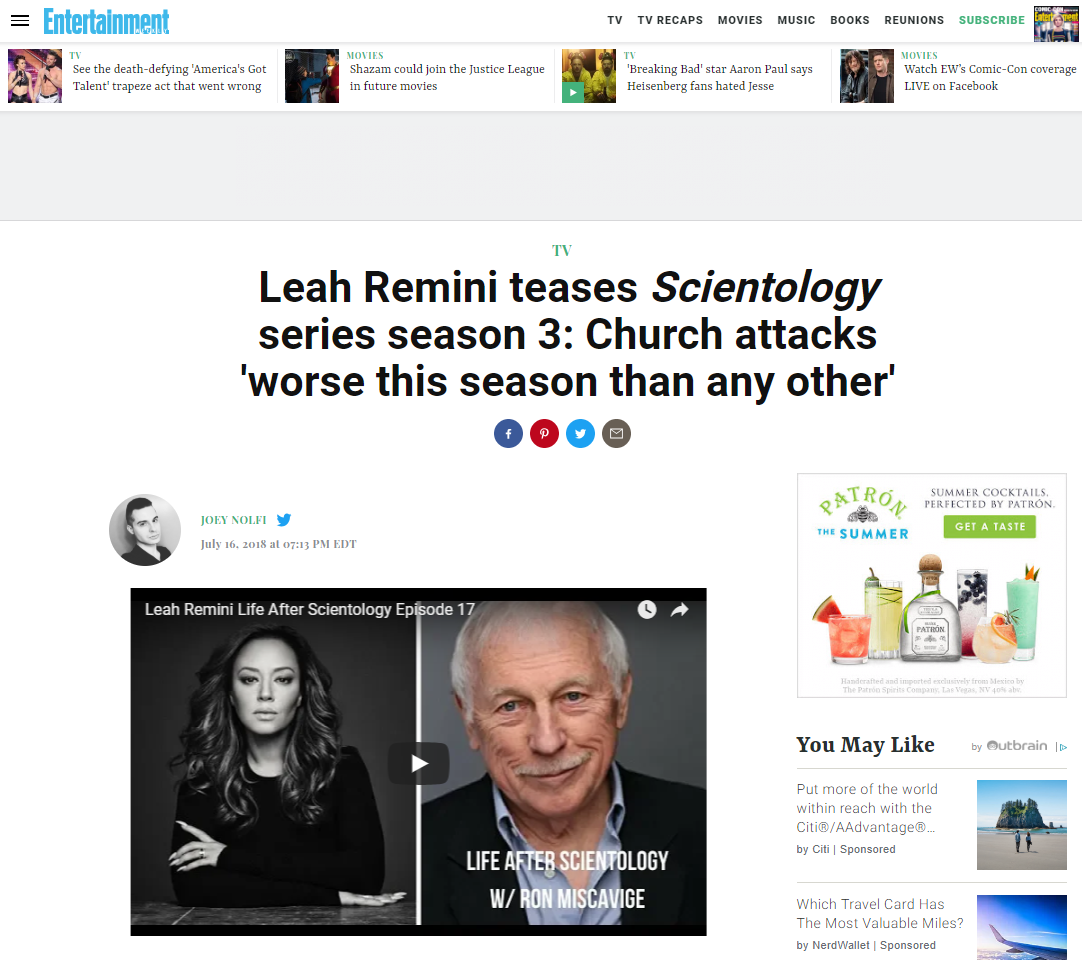 A recent article by Joe Nolfi for Entertainment Weekly elicited a pretty unhinged response from scientology.
The article springboarded off Leah's appearance on Ron Miscavige's podcast Life After Scientology where she and Ron discussed the upcoming Season 3.
Scientology's crazy response is a study in "never defend, always attack" mentality (see my earlier blog post for a lengthier discussion of this topic Dealing With Critics of Scientology):
When reached for comment on Remini's Life After Scientology comments, a representative for the church told EW: "Even a cursory review of this fringe podcast shows Leah Remini to be unhinged and delusory, reflecting Remini's growing paranoia. Remini finds new conspiracies around every corner, inventing stories out of whole cloth to incite hate crimes against members of her former religion." The church further noted that Remini's accusations are only "so-called controversies" that "are manufactured by a handful of anti-Scientologists seeking to exploit people's curiosity about the religion" before pointing viewers to www.scientology.tv for more information.
Let's just address this first part of their "response."
"Unhinged and delusory" and "growing paranoia" aptly describes scientology, though no sane person would ascribe any of these characteristics to Leah Remini. Let's not forget Scientology The Aftermath is not about Leah Remini. It recounts the experiences of individuals in scientology that we talk to. I guess they could claim every one of them was unhinged, delusory and paranoid, but that would make them sound foolish. Their attack line on the victims is that every one of them is a liar and tells "scripted, rehearsed, acted and dramatized work[s] of fiction."   The ONLY people on earth who believe that are the people that wrote the statement for EW. Anyone who has watched the show and seen and heard the people who have appeared in no way thinks these people are not telling the truth. You have to go to scientologyTV to find 24/7 scripted, rehearsed, acted and dramatized works of fiction. And there is no viewer of that fare who thinks otherwise.
As for finding "new conspiracies around every corner" — once again, the hallmark of scientology. They literally see conspiracies designed to destroy them everywhere. The psychs and "big pharma" are out to get them. So too the FBI and CIA. And the IRS. And the French Government. And the media. And, and, and… We have never claimed any conspiracies relating to scientology's abuses of people, let alone "around every corner"– except perhaps that there is a conspiracy of dunces formulating their media responses.
They claim we are engaged in a conspiracy to "incite hate crimes" against scientologists. Funny, not a single "hate crime" has been documented against scientology incited by Leah Remini. Though there are plenty of hate crimes that have been documented against former scientologists that have been PAID FOR by scientology. They don't bother "inciting", they just buy them directly and cut out the middle man.
And finally, the "so-called controversies" are actually real abuses.
Perhaps it is true that there is a curiosity about scientology — people are truly fascinated that they can get away with these sort of abuses, hiding behind the cloak of religious protection and funded by tax-free dollars.
In fact, scientology's response offers a window into their minds. They would do well to re-read Hubbard's entreaty that "A criminal accuses others of what he or she is doing."
Now, let's look at their next statement in the article:
Remini said she feels this is normal behavior for Scientology under the church's "Fair Game" policy, which she claimed is employed by the church to silence detractors by any means necessary (including surveillance, stalking, and public shaming). Although the Church of Scientology has repeatedly stated that the policy was consistently misinterpreted by critics and ultimately canceled in 1968…
This one is old as the hills and has been shot down every time they bring it up as a lie.
Here is the so-called "cancellation" they refer to: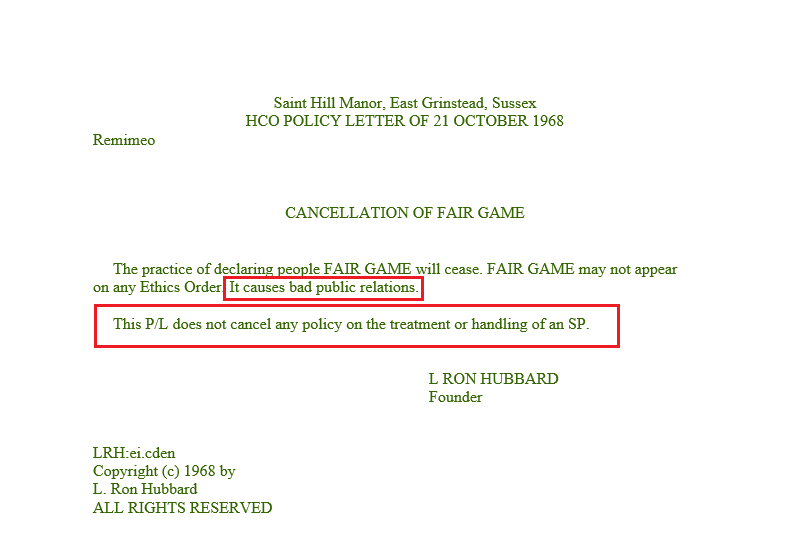 Note well, the use of the TERM was canceled. But HOW SP's are to be treated is specifically NOT changed.
This would be like Torquemada claiming he no longer tortured heretics because he pinned a note on the wall:
We will no longer label people HERETICS. It caused bad public relations.
But this does not cancel any doctrine on the treatment or handling of those who don't believe in Roman Catholicism.
Would anyone seriously buy that this statement meant the Inquisition and torture was ended? Especially when it clearly states it is NOT?
Keep trying scientology. You truly seem to believe that by saying the same lie over and over, people will eventually believe you.
And finally, there is this:
The church maintains that it operates consistent with its religious and charitable mission, and that Remini's allegations should be discredited because of her "extreme bias."
This, oddly, is a partly true statement. Scientology's "religious mission" and "scripture" include entreaties to destroy those who speak about it in a way they don't sanction. Their religious beliefs include hiring private investigators to intimidate and harass people. To accumulate money to excess and at the expense of the well-being of those they take it from. Their charitable mission includes physically assaulting people. Forcing abortions. Human trafficking. Fraud and deceit. All these things — according to their own policies and actions (and the words of L. Ron Hubbard) ARE what scientology considers its "religious and charitable mission."
Let's analogize it once again to Torquemada. Would it excuse the abuses had he said "I am operating consistent with my religious mission"? Scientology wants you to believe that this is all they need to say and as long as it's "religious" they can get away with anything they want.
As for "extreme bias" — once again, the show is not about Leah.
Again, the moniker suits scientology. An organization that deems everyone who is not a member as a "wog." An organization that believes all other religions and non-believers are simply "stuck in an "implant"." That anyone not in agreement with scientology is an enemy and a criminal.
Bias? No, that's too mild. Scientology are religious haters. They want scientology heretics "destroyed utterly if possible."