They are promoting "Season 4" of scientology.tv.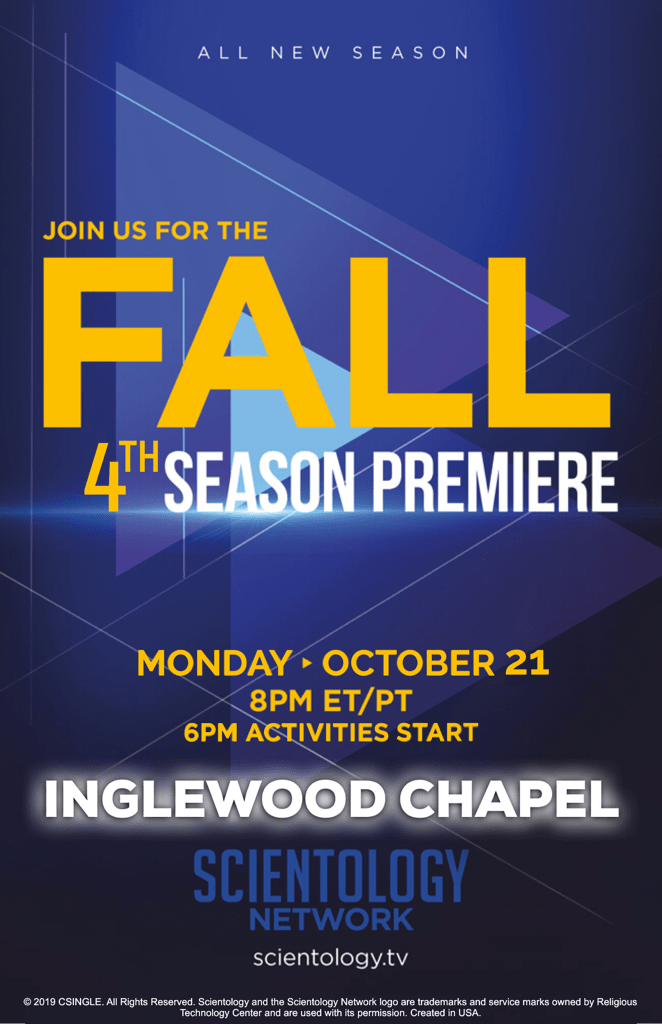 Of course, their "seasons" consist of a few episodes of the same shows they have been airing since the launch of the "network". Meet a scientologist. Visit a city where a scientology org is. Wisdom from Ron.
There are no audience figures available as the "network" has no advertisers and is not monitored by any normal tv audience monitoring system. So they claim it's a roaring success. Like they know what the actual statistics of every ideal org is but because they keep those stats secret they simply claim they are all "expanding 10X" and "clearing their zones."
But unlike org statistics, there are some "wog" measures of its success. Amazon Alexa ranks sites based on the traffic they get. It is a comparison to other sites, not raw numbers. The lower the number the more visited the site.  Google is #1 with hundreds of millions of users clicking on it every day.
We know they spent tens of millions purchasing and renovating their "state-of-the-art" Scientology Media Productions facility to "make this dream a reality" and that they constantly promote this on billboards in key cities, on promotional pieces they send out and every scientologist is expected to watch and encourage others to watch. We also know that you can watch this on DirecTV without needing to search on the internet (thus DirecTV viewers will not show up on the Alexa rankings). According to the latest numbers, DirecTV has 21 million subscribers in the US which is a small percentage of households.
This is the Alexa ranking for scientology.tv:
There are 170,083 websites that get more hits than scientology.tv. This means very little in the abstract. Is it good or bad?
Well, it's not good that it is in a consistent decline in audience over the last month and a half.
But the only way to know if this is shit or shinola is by comparing it to others. Here is the Alexa graph for this website: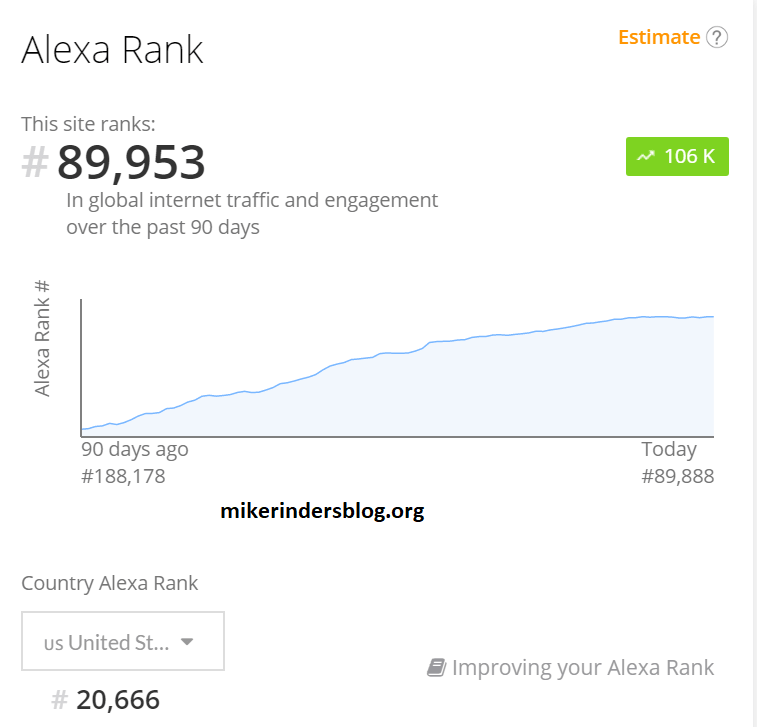 You can see, it's a steady increase and has just a little less than half the number of sites that get more traffic than scientology.tv. A LOT more people visit this blog than visit scientology.tv on the internet. You cannot even conclude that it is double the number. The closer you get to #1 the larger the number of visitors. It's almost exponential.
You can also see that the rank of this blog in the US is significantly higher at 20,666. They do not give this figure for scientology.tv for some reason.
The popularity of scientology.tv can also be measured against the popularity of scientology itself. Scientology has spent huge amounts of money to make scientology.org a "state-of-the-art" website. With tons of slick graphics and video content. They have it linked to hundreds of their own websites and have people devoted to boosting its popularity with Search Engine Optimization (SEO) strategies. Scientology constantly promotes how "curious" everyone is about the subject, just DYING to find out what scientology is really all about.
So, here is the most direct comparison to this blog — the Alexa ranking for scientology.org accompanied by a second graph showing where the audience comes from which is also very interesting: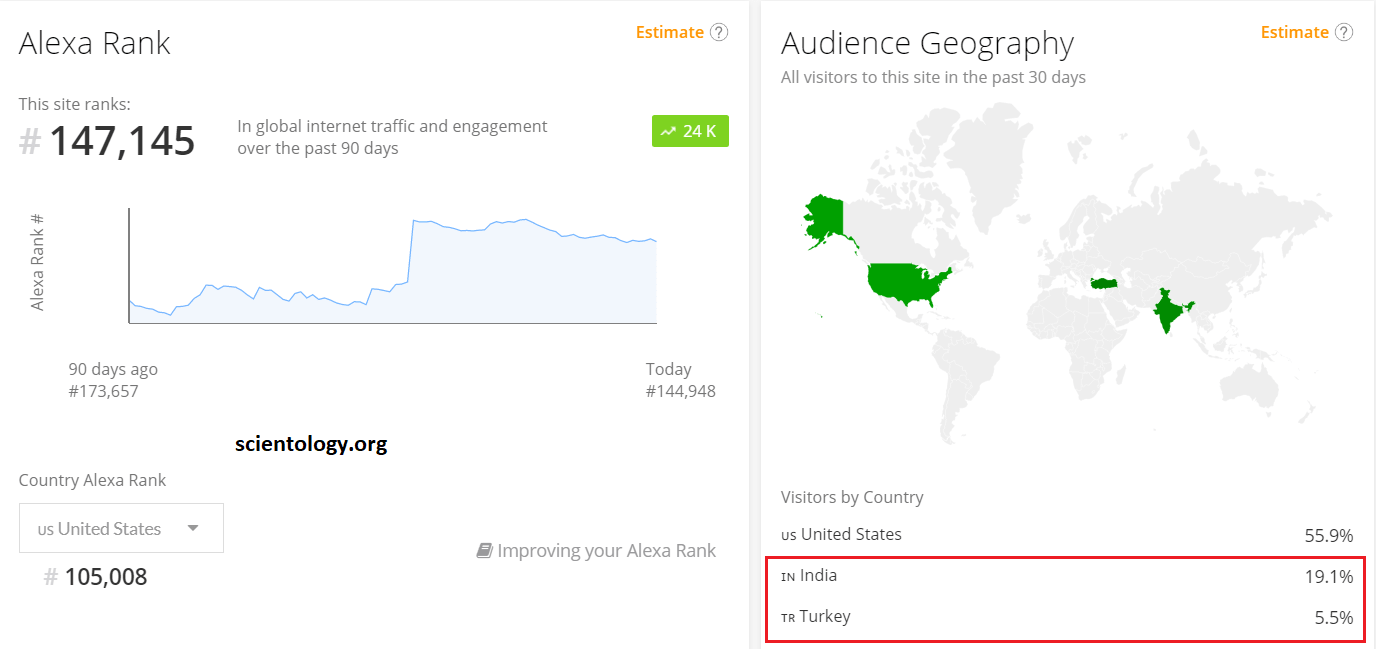 This massively promoted and cultivated site is ranked at 147,145 in the world — way worse than this blog.
Even more significantly, in the US it is beaten by 105,007 sites which is drastically worse than this blog at 20, 665.
Note the huge jump on one day a month and a half ago. And the fact that a quarter of their traffic comes from India and Turkey — two countries that have no scientology organizations but do have cheap labor for click farms. They are not only investing time and money in building and promoting their site, they are buying clicks to increase their rankings. That huge one day jump must have been when the financial approval came through and they transferred the funds to Turkey and India. And even with that, they are not close to beating this blog which I do as a part time, very amateur activity.
Despite their PR about how they are changing the world and clearing the planet and saving mankind, the truth is they are sinking into insignificance. Their words are meaningless. As Hubbard says, STATS ARE EVERYTHING.
Scientology TV is a massive MISS in every respect except one.
The sheeple believe the bs they are fed that this is the "greatest dissemination tool ever" and that the mere fact that it exists is "proof" that they are succeeding and should hand over more money so they can increase the "effectiveness" of their "outreach."
The ONLY audience for scientology.TV are the clubbed seals of scientology – an audience that is considerably smaller than the audience for this blog.