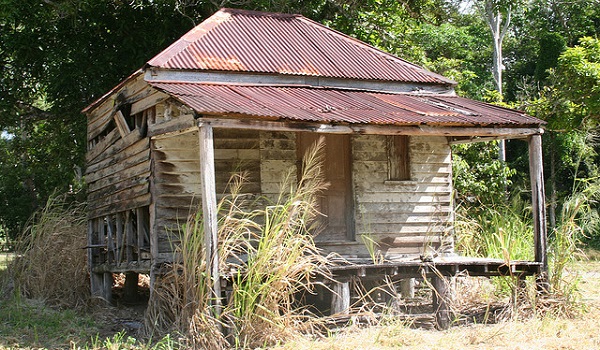 This information was provided by one of our readers who has familiarity with the situation in St. Louis and is a follow up to the earlier post The Real State of Scientology, St Louis Style.
Church of Scientology Missouri owns a building at 6901 Delmar in University City.
It is approximately 15,000 sq.ft. on three floors with parking for about 50 cars.
They have a mortgage of about $900,000 on that building and have had the mortgage, as far as I know, during the entire decade of bankrupting members for the "Ideal Org" — the new building they purchased in 2007.
I do not think they paid it off because all of the funds raised were of course, sent up lines to David Miscavige's Real Estate slush fund.
The roof at 6901 Delmar was leaking back in 2009 and they asked us for money to fix it …. after we gave a ton of money to the Ideal Org….$100,000. I thought that was criminally insane – and it was.
CRINGING – yes, we became Humanitarians.
Pretty maddening because we lost our house after doing such a foolish thing – donating money we did not have… when we had kids to feed… we just had to "make it go right" or else….
In 2007, Scientology purchased a building at 2345 Lafayette in St Louis City. They paid $1,600,000 for a dump…. a 60,000 sq.ft. building with a leaky roof, dilapidated and crumbling walls with old wooden warped and rotten auditorium floors. I heard the previous owners purchased it 6 months earlier for $800,000 and flipped it to the Church of Scientology for an $800,000 profit. The building was sold 'as is'.
You can look up the information on the City of St Louis website – put in the address.
They did not pay the real estate taxes for 3 years for both properites – which are about $65,000 per year for both properties. Huge fines had to be paid.
They also purchased another piece of property next door – 2351 Lafayette in St Louis City. I found out later the previous owner had purchased it for $150,000 and had a lawsuit pending. The Co$ could have purchased it for what she owed – about $150,000. She was in bad shape and desperate. But no – they told her who they were and she demanded $500,000 and they paid it…from our savings, credit cards, checking accounts, 2nd mortgages, loans from others, loans to others….a financially ruining ordeal for many members in St Louis.
The members had to put the boards on the windows and clean it out. No assistance or financial help from the Co$.
Then the fund raising shenanigans – the amount of money they said they needed changed every year. That made no sense. Isn't there a "tech" to construction costs per square foot or something like that? I mean – to start out at $ 1 Million and then after a decade be asking for well over $12,000,000 – is absurd and criminal.
Now – we heard they are selling the Ideal Org building and staying in the current location.
I believe it is correct information because the few staff that are left (Chad Lane and Matt Hanses) moved closer to the 6901 Delmar location recently.
Here is an update with some of the St Louis members and staff over the past 5 years.
I think these people are still on staff:
Amy Hanses — formerly Kathrein and sister to Jeffrey Michael Kathrein who was nanny to John Travolta and his alleged lover – photos of them kissing on the airplane stairs were plastered all over the papers.
Chad Lane
Matt Hanses
Stephanie Lane
Christine LoGrasso
Brent James
Jill James (formerly Kathrein and sister to John Travolta's nanny – Jeffrey Michael Kathrein)
Carla Teagarden – divorced from OT 8 – Roger Teagarden
Kerry Andrews
Eve Hanses – divorced from the DSA – Ellen Maher Forney's son – Kevin Forney. Engaged to Ollie Rodriguiz
Pam Chipman
Susan Heft (LoGrasso)
Adam Heft (divorced Joelle Adney)
Joan Spencer (divorced Paul Spencer)
Steve Forney – married to DSA Ellen Maher Forney
Alvah Levine – (Wife Jackie Levine dropped dead at 57 years old)
Jill Baell Casto
John Lyman
Susan Mattingly
Fran Turner – OT
Cole Schaller
Carrie Spencer
Bill Newby – OT – married to Fran Turner. Not sure if he is still with her and in St Louis – may have moved back to Clearwater.
[This is a pretty small number for a  Day and Foundation org]
Those who have left staff in the past 5 or so years :
Barry Coziahr – divorced from his 1st wife – Kathy Chris – former Clear and alcoholic. Married South African Claire Lotz. They met on line and decided to get married before meeting in person. Recently moved to Clearwater.
Katy Jenne (Chipman) – just moved to Clearwater
Myndi Spencer (just divorced from Jackson Spencer) – just moved to Clearwater
Amy Jones (formerly Spencer) – will be moving to Clearwater
Ronnie Jones aka Byron Jones – will be moving to Clearwater
Mike Jenne – moved to Clearwater
Kevin Forney – (DSA Ellen Maher Forney's son and former Ethics Officer) rumored to be out and in hiding.
Joel Adney Heft – divorced from Adam and moved to Clearwater
[Why so many moving to Clearwater? It seems the world of scientology is shrinking down to Clearwater, the outer zones are shriveling down to nothing — and even with this circling of the wagons, the numbers in Clewarwater are shrinking].
Public
Matt Drion – ex Sea Org and former SP – moved to Clearwater
"Money Bags" Tayler Drion – Matt met Tayler as he was doing his A-J and thought the tech works. He pulled in "money bags" Tayler – whose Mama has a ton of money which she gives a ton to Tayler – they both just moved to Clearwater. Mom is a psych case but the Co$ got millions out of her.
Michael Wegener – they got a million out of this poor soul. He was electric shocked and cannot get services. Inherited a million from his family. Matt Hanses regged most of it out of him when he was going through a nasty divorce and was vulnerable.
Leanne Trostel – just married Eric Fuchs
Jessica Casto – formerly Reel – formerly Erbschole
Scott Erbschloe
Jerry Elliot
John Blysma
Mark Blysma
Miriam Kindred
Lyndsay Carrol
Craig Carrol
Dusty Mattingly
Richard Brown
Linda Brown
Leslie Brock (formerly Hull) – OT8 – moved back to St Louis from Clearwater….and then divorced Rick Hull. They had refinanced house to become a humanitarian for Ideal Org – OT Committee I/C
Madison Baird
Kim Marino
Winsome Ward – husband Irving Ward died of cancer after coming back from Flag. The son – Matt – joined Sea Org at Flag.
Sara Wilmsmeyer – dating now newly divorced Jackson Spencer
Andy Magnus
Winnie Berberich – may be on staff still – not sure
Ryan Casto – may be on staff
Everette Mobley
Brian Mehl
Vaughn Prost
Monica Prost
Michaella Mattingly
Allie Lane
Tabitha Andrews
Salena Mikos – left staff
Joel Mikos
Emily Guthrie
Sheila Jindella – OT 7
Joe Jindella – OT on 7 last I heard
Karen Lee
Rudy Lee
Herb McKeown
Sharon Lyman
Ollie Rodriguez – engaged to Eve Hanses
Art Stump
Jason Lyman
Carol Riess
Dr Michael Horwitz
Jerry Ferguson
Carolyn Carter
Moritz Farstein
Cathy Conable
Sherri Ridenour
Chuck Ridenour
Teresa Hassler
Alison Bylsma
Casie Mena
Dr Eva Frick
Dr Ron Greif – recently divorced from wife over Scientology
Fernando Mena
Deaths in the past decade that we are aware of:
Rachel Wilkinson – suicide.
Robin Hanses – Cancer.
Mary Benope – cancer.
Irving Ward – Cancer.
Jackie Levine – dropped dead at 57.
Sandy Adair – went OT 8…lost home to foreclosure and dropped dead at 58.
Candice Kindred – Cancer