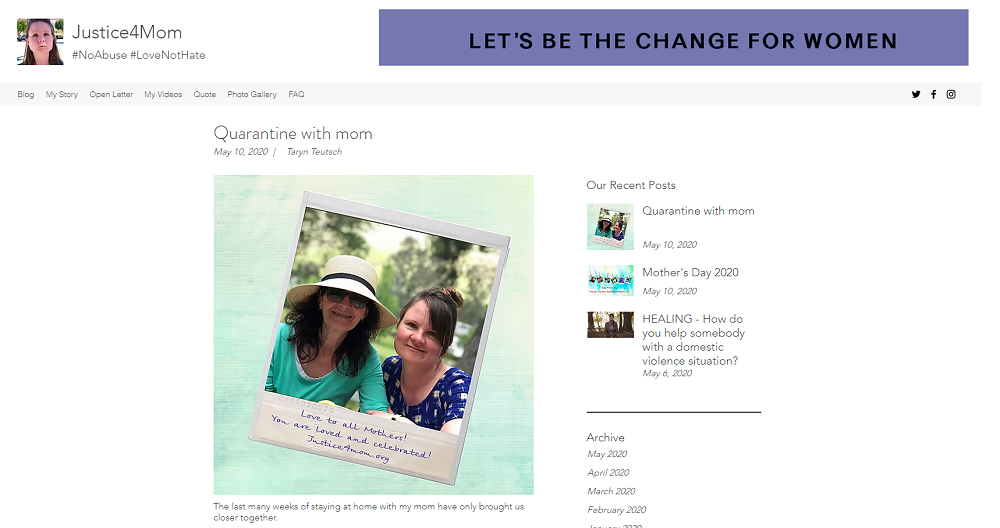 The scientology campaign to paint me as a monster has gone from dishonest, to ridiculous to utterly absurd.
I have chronicled the dishonesty and ridiculous claims of "abuse" plenty of times before, ("Justice4Mom" Advertising on Jezebel, Scientology's Latest Lie About Me,  We Did It!, and Mike Rinder: "Lady Killer") as have other blogs. This newest entry uses the "crippled for life" tag rather than "I could hear her bones breaking" and her "shoulder snapping" of earlier posts. But now it's just bizarre.
They come up with any excuse to write a blog post in Taryn's name and this one is supposedly a celebration of Mother's Day. I guess their supposition is anyone who reads this will not know Taryn and her mother are Sea Org members?
Taryn has never had a "home" other than the communal living facilities of scientology, whether a scientology nursery as an infant, a dormitory as child and unmarried teenager or a single room with her husband when she married. She has no clue what a home actually is.
And unless Cathy is posted as "gardener" somewhere, she has no "garden" or plants. Gardener is the LOWEST post in the Sea Org (along with garbageman) and every Sea Org member knows only the screw-ups and "Ethics particles" are assigned to "Grounds" to look after the plants because they cannot mess anything up there. It's as remote a job from "Clearing the Planet" as one can get.
The pretended familial bliss of home life is a total lie. Even the idea of "staying at home."
They are simply trying to sound normal.
And it's remarkable how strained this is — a paragraph about a flower that isn't even in bloom yet, in a blog that is supposed to be protecting people from domestic abuse. They have a quota of blog entries that must be done and they are hard pressed to come up with anything new to write. Because they don't actually have anything to say other than "My father Mike Rinder is a monster" over and over.
I assume this is some theory that if they do this often enough it will show up on search engines?
It's the reason I bother to comment on their ridiculous propaganda — so that my articles show up. Because scientology uses her name, it gives a veneer of credibility and some may be suckered into believing that the alleged physical abuse must have happened as no daughter would just write false stuff like that. Those would be people that don't know scientology's policy of Fair Game.