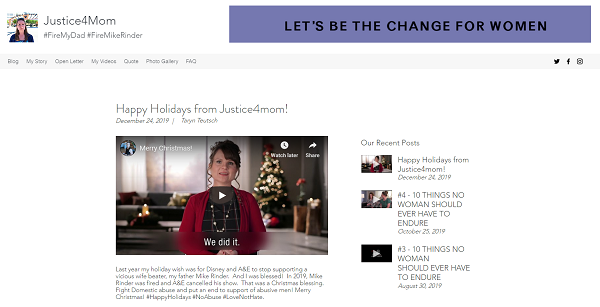 Ah, the pride of a false sense of accomplishment!
My daughter and her OSA handlers put out this happy message of Christmas Cheer. "We Did It! I got my father fired."
It is pretty incredible how blatantly they follow Hubbard's dictates to cost "enemies" their jobs. Such a cheery "holiday" message from the "church" that believes "there was no Jesus" and that those who believe in him are the victims of psychs who "implanted" them.
Scientology claims they cost me my job, and they are proud of this. It's not a true statement, but then again, most public utterances from scientology are not true. But it is remarkable how happy the thought of this makes them. Like everyone else in the world will agree that this is a "good thing" and a sterling accomplishment. Scientology lives in a bubble world of their own reality. Nothing pierces it.
To think that a daughter promoting "I got my father fired from his job" is something to announce to the world is hard to fathom. It's illogical — it has nothing to do with "being the change for women" or "justice for mom". They THINK it makes sense because what they are trying to do is prevent me from exposing abuses in scientology. It really has zero to do with getting "justice for mom" because that would entail a very different approach. If I was in fact a terrible abuser as she claims, then the thing to do would be a criminal prosecution. The Sheriff's Department were there and reviewed the events (I called them to the scene, not Taryn or my ex-wife who stalked me). The Sheriff's concluded there was "incidental contact" as I was trying to walk away from them and they pursued me. So much for a criminal prosecution…
And if they couldn't get law enforcement to act, then why not bring a civil suit? Scientology has all the money and lawyers in the world to sue me? And I am not hiding from process servers like Miscavige is.
The simple answer is because it is all just a sham. They are using this as a vehicle to "do what Ron says".  And he says to shut down "enemies" by costing them their job.
So, if Hubbard says it and you can even falsely claim you did it, that is then something to be proud of.
Below is exactly what Hubbard directed OSA to do. It is contained in a writing entitled COUNTER ATTACK TACTICS. 
Here are some pertinent sections where Hubbard lays out what he expects of the Intelligence Bureau (see: Ideal Scene), his direction on how to remove these enemies (Bright Idea) and his "laws" on the subject (Evolved Operating Principles) and then the steps to take (Plan). The objective is to cause attackers to lose their job so they will be "muzzled." Emphasis is mine:
IDEAL SCENE: (For Information Bureau) Attackers against Scientology located and removed from their positions of power so that Scientology can get on with it.  And any threat of attack restrained, leaving Scientology a clear field.
BRIGHT IDEA:
These persons can always lose their jobs.  These jobs, permitting them power to destroy, are valuable to them.  This is A POINT OF VULNERABILITY.
If the person's job is also not valuable to him or if he cannot be made to cost his job, something can be found which he is seeking to protect and it can be threatened.
EVOLVED OPERATING PRINCIPLES:
A. COUNTER ATTACK TO OBTAIN THE REMOVAL OF THE PERSON with a product of DISMISSED ATTACKER.
B. If on test, A is not feasible, SURVEY TO FIND WHAT THE PERSON CONSIDERS VALUABLE AND USE IT FOR RESTRAINT.
C. AVOID WHERE POSSIBLE THE COMMOTION AND WASTED ENERGY OF PARALLELING AN ATTACKER'S OWN EVIL PURPOSE OF DESTROYING HIS OWN GOVT, AGENCY OR INSTITUTION AND INSTEAD DISCOVER THE ATTACKER AND OPERATE TO COST HIM HIS JOB.
D. Where A and C fail, use B.
PLAN:
(a) Wherever an attack is in progress (and even when being held off by counter-propaganda from PR or actions from Legal) at once swiftly draw up a precise program using Intelligence principles and cross filing to isolate the attacker. 
(b) Identify the instigator.
(c) When identified or even suspected as the instigator, draw up a project which includes at least three channels to cost him his job.
(d) Draw up a second project at once to survey and discover what the person really is defending and threaten it effectively. 
(e) Execute the projects rapidly. 
(f) On achieving success inform PR so that PR can call off the PR counterattack and capitalize on any information gained if it does not expose Intelligence. 
(g) Inform legal so Legal can replan and utilize the information also gained to mop up.
NOTE: Intelligence in these regards is not feeding PR and Legal as the only fruit of its endeavors.  It is OPERATING INDEPENDENTLY of these two functions with ITS OWN PRODUCT: I.E.  A DISMISSED ATTACKER or its secondary product: a totally restrained and muzzled attacker.
It could not be clearer.
And they are announcing it to the world.
I have written more extensively on this line of attack. If you have not read these earlier posts, I think you will find them interesting:
I suspect the sense of accomplishment OSA feels is going to be short lived….