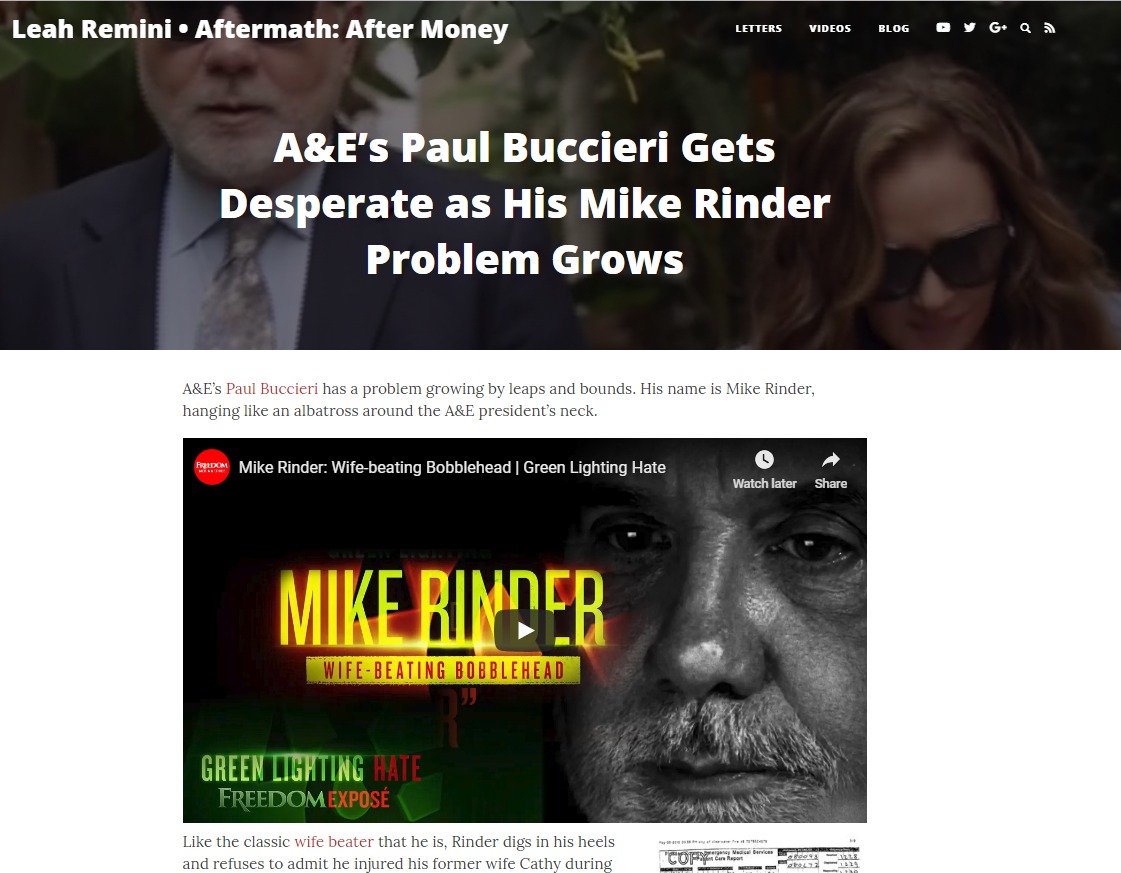 Scientology has come up with a new attack line — the "Mike Rinder Problem." It is quite an honor to be singled out so specifically, especially as I am according to them merely a "bobblehead" (though a "wife-beating" one so that is apparently a bigger deal).
They shifted their attacks from Nancy Dubuc to Paul Buccieri in a deft strategic move. Their clever PR maneuvers are a sight to behold.
According to scientology, the "Mike Rinder Problem" is this:
"Like the classic wife beater that he is, Rinder digs in his heels and refuses to admit he injured his former wife Cathy during an incident in 2010 even though her medical reports, eyewitnesses and a paramedic report all confirm she was injured in the encounter. And her surgeon stated she will never recover. Rinder doesn't care that she lives in pain every day due to the assault."
They keep repeating the same lies over and over — though all the evidence is to the contrary and has been dispelled with documents many times.
A quick refresher: My ex-wife, daughter, brother, Jenny Linson, Guillaume Lesevre, Dave Bloomberg, Sue Wilhere and 2 Private Investigators followed me to the secluded parking lot of a doctor's office in Clearwater (all those people live in California except my brother who lives in Australia so they all flew in for the occasion). As I was standing in the parking lot waiting for Christie, I happened to be talking on the phone with BBC reporter John Sweeney. As John Sweeney was recording my interview he recorded what happened when these 7 people ambushed me (the 2 PI's stood in the background).   As they approached me they began screaming in my face and surrounded me. I sought to walk away. I tried to walk back to my car to drive off. My ex-wife tried to prevent me from getting into the car and sought to stop the car door closing once I was in. Meanwhile my brother took the keys out of the ignition and threw them into the parking lot. John Sweeney and the doctor (who heard the commotion from inside her office) called 911.
Everyone except my ex-wife, daughter, brother and Sue Wilhere sped off in a hurry when they heard the Sheriff's Office was on their way (hardly the actions of people who think they have witnessed a "wife-beating" by public enemy number one). They did not call the Sheriff. I asked John Sweeney and the doctor to do so. Had this been me beating a woman THEY would have called the police. Had what they claimed happened they would have rolled out video long before now (it is a certainty the PI's and perhaps other undisclosed people in the 2 vehicles they came in were video'ing the entire incident so Miscavige could see what happened).
The Sheriffs interviewed me and the 4 remaining scientologists (if this was all about my assault, why did Linson, Bloomberg, Lesevre and the 2 PI's disappear?). They concluded the graze on my ex-wife's arm was "incidental contact" that occurred when I was trying to leave. The paramedics were called to attend to my ex-wife's grazed arm. She claimed the pain was a 2 on a scale of 1-10 and refused to be taken to hospital. They saw no other damage than the abrasion.
Scientology now claims "her bones could be heard cracking" that "blood was spurting" and that she suffered "permanent neurological damage" and had to have "surgery from which she will never recover." It's amazing how this all materialized AFTER the incident and any INDEPENDENT evidence. And remarkable how this was NOT mentioned until I appeared in Going Clear many years later.
This has been documented at length — several times on the Scientology Money Project  also on this blog (Mike Rinder "Lady Killer").
They go on:
Rinder shows his hatred toward women by publicly trashing Cathy and their daughter, Taryn, who has courageously stood up for her mother and turned her passion into a larger crusade against domestic violence at justice4mom.org.
Apart from pointing out their lies, and expressing regret that I put my daughter into this position, I have never publicly (or privately) trashed either her or her mother. I understand the position they were and are in. It is sad to watch them being used.
Rather than apologize like a man with character would, Rinder instead arrogantly claims Cathy wasn't hurt that badly, showing he believes there is an acceptable level of violence he should be permitted to inflict on a woman.
I have never said there was any acceptable level of violence to inflict on a woman, I simply pointed to the fact the over-the-top claims are not supported by the evidence.
But they take it another step, to claim "Rinder rides to the rescue of others in the closely-knit club of female abusers." This because I have noted the policies of Hubbard and the uncanny timing of the accusations leveled against Paul Haggis. They conveniently forget the efforts I have made to get justice for the victims of Danny Masterson.
I wonder if Masterson is part of their "closely-knit club" (they really are SO absurd with their Shermanspeak) of female abusers? There is far more credible evidence supporting the allegations about him — and even an ongoing criminal investigation. They say not word one about him.
Apparently scientology is more worried about the legal resources available to Paul Buccieri, so they are more circumspect in their defamation of him, posing it as "questions": "Perhaps it's because Buccieri is too much of a coward and desperate to hang on to his job. Perhaps it's because Buccieri's own past includes involvement with a stunningly inappropriate "Jackass" episode at a high school in which male genitals were exposed to the crowd. Or maybe it's because Buccieri hired two men to produce Rinder and Leah Remini's show, Eli Holzman and Aaron Saidman, who mentored at the feet of Harvey Weinstein, considered by many to be the worst abuser of women ever in Hollywood." Of course, scientology HATES guilt by association when it comes to them. They fight like crazy that Hubbard "mentored at the feet of Alesiter Crowley and Jack Parsons" or that "Charles Manson was a scientologist" but are happy to imply that Eli Holzman and Aaron Saidman are sexual predators because they worked in a firm with Harvey Weinstein at one time. Well, John Travolta starred in one of Weinstein's big hits, Pulp Fiction, so that proves…? Actually, just like the claims about Eli and Aaron it proves absolutely fuck nothing.  Earlier I did a  blog post about Harvey Weinstein following Hubbard's playbook Harvey Weinstein and Scientology — Separated at Birth?).
They even dragged out Marty Rathbun in his brown jacket again to claim that everything I say is "absolute unadulterated bullshit" because "I told him so." Yeah, right. That's exactly what I told him.
Funny about Marty — scientology still says he is a liar when anyone uses any of his numerous negative statements about Miscavige and scientology, but when he says something they like, they promote it like crazy? Which is it – liar or reliable source?
Wonder what happened to the Marty that wrote this back in the day? 
     "Mike Rinder is perhaps the strongest man I know.
     "Mike Rinder was and is a better man than I."
It's still there on his blog in a post he titled Mike Rinder: The Antithesis of David Miscavige.
Make sense out of that?
Their video features the Mike Rinder "bobblehead" quite prominently — it is not a bad likeness, but the outfit isn't too accurate (like they put my head on someone else's body).
I think there are artisans who may be able to do a better job, we shall see: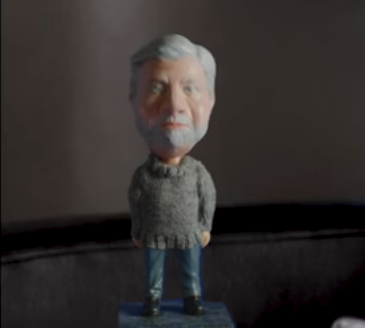 As for the two most recent contributors to the show, it's same old same old.
Paul Burkhardt is described as "a failed draftsman whose work was so bad he cost the Church $400,000," and he "had to be removed from his position" because he was "perennially dishonest, sloppy and untrustworthy"  and "could not be trusted with any job in the Church." Isn't it amazing that everyone is always a total incompetent, though he was on the job for a decade or more, and now outside of scientology he has an incredibly successful business designing green buildings. And as with everyone else they claim they "got rid of", in fact he left of his own volition and they even sent someone from Gold to try to persuade him NOT to leave…
They brazenly use information from his confessionals: Burkhart's history showed that he learned his unethical behavior at an early age. As a teenager he shot cars using BB guns, took countless illegal drugs, ran over a dog with a car and became involved with an underaged girl. 
Wow — that's all they could come up with? A veritable saint compared to L. Ron Hubbard. Or how about the whale Tom Cummins — much lauded in scientology circles and he was CONVICTED of drug dealing?
As for Bert Schippers "a failed litigant still bitter at having been shot down in court in an unsuccessful attempt to sue the Church."  True, his suit DID fail — scientology admitted they took all his money, but claimed his only recourse was to submit to scientology "justice procedures" to get his money back and the court ruled in their favor. Bert didn't want to spend more money appealing forever. In fact, his lawsuit confirms everything he said on the show.
They also make the following statement:
In 2012, Schippers was pursuing with Rinder a bizarre billion-dollar plan that Rinder hoped would bankrupt the Church.
This is an interesting admission that scientology believes they have at least $1 billion dollars in money that people could demand be returned to them. The "scheme" was discussion with some lawyers about bringing a class-action lawsuit for return of funds to those who have been swindled by scientology. The class-action lawsuit was never filed for various reasons. I gave no money to scientology, just my life, so I would never have been part of this "scheme."
As always, scientology deals in fiction, innuendo and half-truths.
Increasingly, the world sees them for what they are.