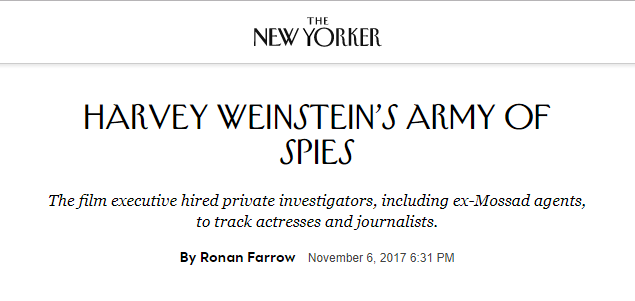 This New Yorker article is an extremely detailed and well-documented peek behind the curtain of a dirtbag with a lot of money hiring big-name, reputable lawyers and private investigators to conduct a concerted campaign to intimidate and silence victims of and witnesses to his abuse.
Scientology has been doing this for years. Decades actually. They wrote the book, literally, on this sort of intimidation tactics.  Everyone else is a pretender to the throne of corrupt power abusing the less powerful with impunity.
The big difference between Harvey Weinstein and scientology is the money spent by scientology on intimidation is TAX FREE. Put another way, the American taxpayer is subsidizing this sort of behavior when it comes to scientology. And believe me, scientology has been hard at work on this sort of thing since L. Ron Hubbard first laid out in his unalterable dictates in the 1950's. In fact in one of his first treatises on the subject, The Manual of Justice (full copy here: HCO Manual of Justice ), he says the following:
When we need somebody haunted we investigate.
…usually mere investigation damps out the trouble even when we discover no really pertinent facts.
…Investigation to us in Scientology is a fine art.
This is the second major difference between scientology and Weinstein — scientology has WRITTEN directives from L. Ron Hubbard, the "source" of all things in scientology. His words are to be taken seriously and literally. They may never be questioned.  He wrote a great deal more on the subject of hiring private investigators, "case officers," "covert operations" and "ruining them utterly" — far too much to include here. I wrote an earlier blog post that describes this and quotes from his writings: Dealing with Critics of Scientology – The L. Ron Hubbard Playbook. It is sometimes hard to fathom that this brazen, shocking material is available for all to see.
In Tony Ortega's excellent book The Unbreakable Miss Lovely he documents the concerted campaign of harassment, intimidation and outright frame-ups concocted and carried out by scientology against a journalist they thought was writing negatively about them. This was in the 1970's. The pattern of behavior has not changed to this day.
Scientology has targeted Federal Court Judges, film-makers, lawyers, plaintiffs, witnesses, journalists, politicians — in short anyone they don't like. It is also interesting to note the similarity in tactics — scientology has often sent PI's pretending to be journalists or film-makers to try to gather intelligence on people. But they have also ventured well beyond mere "data collection." They have embedded PI's in the personal lives of their critics. But these sorts of thing are merely the appetizers on the scientology menu. They have set up elaborate "operations" to engage whistleblowers in other activities, to move them out of the country. They staged at least one fake hit and run against a politician. Planted false documents to use for bigamist allegations. Set up stings to get people arrested for drug trafficking with "anonymous tips." Intimidated family members. Arranged "surprise confrontations" in airports after illegally obtaining travel itineraries. Anonymously reported "crimes" resulting in innocent people being arrested. And on and on…
Over the decades, scientology has spent hundreds of millions of dollars on campaigns of intimidation.  Just two recent examples reported in the media give some idea of the obscene amounts of money involved:
From the Tampa Bay Times:
Nearly 25 years ago, the Church of Scientology hired two former California cops to do a job.
Spy on Patrick D. Broeker.
Follow Broeker, they said. Watch him every minute. Report back frequently.
The private eyes did. Beginning in 1988 and continuing for a quarter of a century, Paul Marrick and Greg Arnold tracked Broeker from a California apartment to a cowboy town in Wyoming and even to the Czech Republic.
They spied on his girlfriends, rifled through his garbage and listened to his phone calls.
… the church paid them between $10 million and $12 million. In addition to Broeker, they followed several other church targets, including a drug company executive who now is governor of Indiana — Mitch Daniels.
According to police records obtained by the LA Times:
For 18 months private detectives tracked every move made by the father of David Miscavige, leader of the Church of Scientology, as they eavesdropped, spied on his emails and planted a GPS unit on his car, according to police records.
The church paid the two detectives $10,000 a week through an intermediary, the records indicate, all because Miscavige feared that his father would divulge too much about the organization's activities.
These are two examples.  There are, over 60 years, hundreds of "operations" run by scientology. All subsidized by US taxpayers.
And still, scientology carries on, apparently immune from the consequences of their blatant abuse of the rights of individuals and the system.