I recently finished reading Catch and Kill: Lies, Spies and a Conspiracy to Protect Predators by Ronan Farrow.
It was an excellent, if horrifying read. Being familiar with the tactics scientology uses against victims of sexual abuse or "enemies" I didn't learn any new techniques or methods used by the unscrupulous to protect their crimes. But I was struck again at the similarities between Harvey Weinsten and scientology. I wrote about this in an earlier post Harvey Weinstein & Scientology — Separated at Birth?
All the tactics are described in this book:
Hiring high powered lawyers to barrage the media with threats
Hiring armies of private investigators
Sending in plants to gather information
Overt following with PIs tailing victims and reporters
Setting up phony "allies", pretending to be reporters
Setting up phony front groups offering opportunities/money to derail potential victims or witnesses
Secret recordings
Contacting friends and family to bring pressure on victims and witnesses not to talk
Threatening victims and witnesses with dire consequences for speaking due to Non Disclosure Agreements they had signed
Pinging phones for constant location updates on targets
Threats of retribution
Gathering blackmail information on people in positions of influence
Using friendly media outlets to approach victims to "tell their stories" and in fact burying them.
Farrow persisted. He did not cave in or give up. Weinstein managed to get the story squashed at NBC where Farrow had been putting together the story, but fortunately the New Yorker (also publisher of Larry Wright's brilliant piece about Paul Haggis which ultimately led to Going Clear) picked up the cudgel and published the initial story (which is what prompted my earlier post above). Ronan Farrow then completed the fuller story in this book detailing how the campaign against him and the victims was carried out in much greater detail.
It was just announced that Weinstein has reached a tentative settlement with the more than 30 victims who had sued him civilly. This is far less than had been expected because the Weinstein Company was put into bankruptcy.  A lawsuit by actress Ashley Judd, who has said she intends to take Weinstein to trial, would not be part of this deal.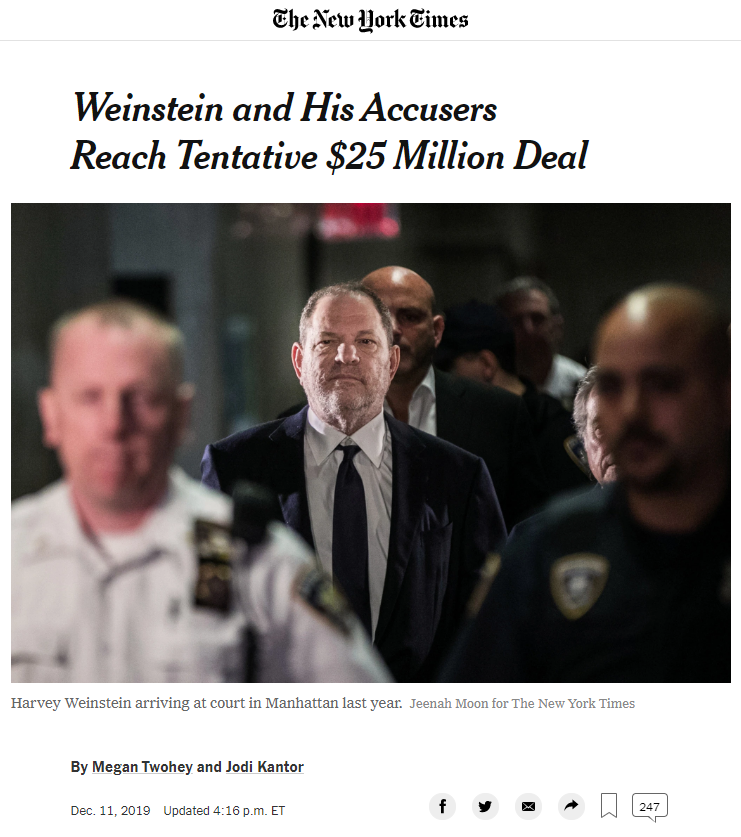 But this is not the end of the problems for Weinstein. He is still scheduled to be tried in in early January on charges of sexual assault involving two women. He recently had his bail raised to $5 million after prosecutors accused him of mishandling his ankle monitor.
If you have seen pictures of Weinstein going to court, you will see he looks terrible. He now uses a walker.
It is always encouraging when someone who has abused his power for so long, and seemed to get away with murder, is finally getting what he so justly deserves.
The lesson is to never give up. He got away with this grotesque behavior for decades, similar to Bill Cosby. In the end, when people refuse to be silenced, justice comes to even the most powerful.