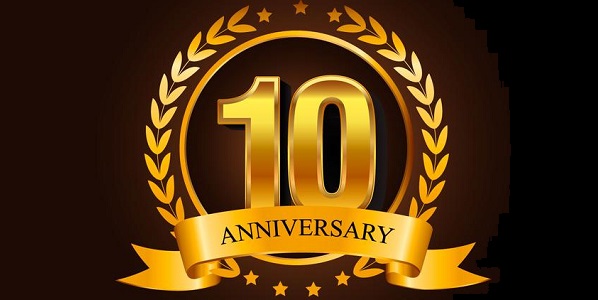 The first blog post on mikerindersblog.org was on 5 November 2009.
It's been 10 years but it sure doesn't seem that long!
It's been a lot of fun along the way. I have met many wonderful people here (and quite a number subsequently IRL which has been especially gratifying).  Hopefully I have opened a window to discovering the truth about scientology for many.
This blog would not have been possible without the support of many who have helped. While it is a labor of love (or perhaps passion) it IS labor and first my thanks to the many contributors who have provided content and given me a break for a day.  None have been more reliable, thought-provoking and prolific than Regraded Being. Someone who has become a valued friend IRL that I would otherwise have never known.
And thanks also to Terra Cognita who has provided more articles that have generated more comments than any other guest writer here.
And also Brian Lambert and Lois and Gary Reisdorf who have contributed enormously.
There are many others, but these stand out for repeated contributions. If I forgot anyone, my sincerest apologies.
I also admit that I am not very computer savvy, and I have relied on various Tech/Admins who have helped along the way — most recently Shel Goldberg, but also Nathan Rich, Don McClintock and others who shall remain nameless.
We have a large and diverse community of commenters. A lot have come and gone over time but there is a core of stalwarts who keep coming back year after year. In a decade I have only asked 2 people to stop commenting — one for refusing to decry abuses against children at the hands of scientology and another for endlessly attempted to provoke others which ultimately became tiresome.
I also want to take a moment to thank the other warriors in the battle to end the abuses of scientology. Those who work tirelessly to make the truth known. My partner in crime, Leah Remini. The indefatigable Tony Ortega, who has no dog in this fight but has been exposing the abuses of scientology since before I escaped the organization and continues to do so every day. Others who devote time and effort on social media platforms: Aaron Smith-Levin, Jeffrey Augustine, Chris Shelton, Karen De La Carriere, Ron Miscavige Snr, Christi Gordon, Tory Christman (I'm sure I am forgetting some) and also to those who have taken a stand and spoken out in the media, have written books and also the journalists and filmmakers who have bravely told stories to the world. Thank you to you all — you make the battle winnable. There is strength in numbers, and being united with others in a common purpose is very powerful.
And finally I want to thank the people who have supported this blog with their hard earned dollars. I try to thank each person who has done so personally, and I shall not name them as they have not asked to be identified. You know who you are. It takes time AND money to keep a blog like this going — to cover hosting, defending against the attacks of scientology,  sometimes getting materials and other sundry expenses. Your support in the form of real money sets you all on a pedestal and I appreciate you more than you will ever know.
Some Statistics:
In these 10 years there have been:
2,591 posts — this is more than the number of square feet of Italian marble laid in the lobby of all Ideal Orgs combined (if you don't understand this reference it is an inside joke about the statistics provided at scientology events by David Miscavige).
255,976 comments — laid end to end these would stretch to the moon and back 27 times and is just slightly shy of the total number of ex-scientologists on earth.
There have been a total of 2,574,306 visitors to the site. (Note: Google analytics only tracks back to 2013 so some of these figures are not encompassing the full 10 years).
The single largest day of traffic was 15 August 2019 when Aftermath Announcement was posted with 81,117 page views and 61,394 visitors. (This is about 3 times the total number of visitors as there are active scientologists, or equal to the total words of meaningless Shermanspeak Miscavige has spouted at IAS events worldwide).
The most commented upon post was The Danger of Niacin of 19 Sept 2015 with 644 comments, followed by Marty Rathbun's Meltdown posted on 25 June 2017 with 603.
Favorite Postings:
A lot of topics have been covered over the years. Some topics are of course recurring. I have selected some of the most significant in my view, though of course this list could be longer and I have probably missed some. Looking back over 10 years and more than 2,500 posts gives a wide field from which to select.
But these ones have stood the test of time and are a useful body of information on the subject. Sort of a mini-Wiki of the worst of scientology.
David Miscavige:
David Miscavige: The Chosen One?
Is David Miscavige a Religious Leader?
The End of the Road for David Miscavige
David Miscavige Cowed and Ill Associates
Scientology Fair Game tactics:
Dealing with Critics of Scientology — the L. Ron Hubbard Playbook
Framing Whistleblowers — the Scientology Playbook
More on Scientology Fair Game — Black Propaganda
Harvey Weinstein & Scientology – Separated at Birth?
What happened to Shelly Miscavige?
Shelly Miscavige Guarded by Armed PIs
Leah Remini, Shelly Miscavige and Tom Cruise
How big is scientology?
How Big is Scientology? Lies Exposed
Disconnection:
Disconnection: the PR and the Truth
What is the deal with Ideal Orgs?
The Purification Program and Niacin:
Super Power:
Scientology Homophobia:
Scientology and Other Religions:
Can Scientologists be Christians or Jews Too?
Ex-SO Members Afraid to Speak:
Aftermath Announcements:
A Message from Leah Remini to Scientology Operatives
I plan to continue this blog until the abuses of scientology are ended.
I continue making postings, even if they are repetitive, to keep the news current and keep the flame burning to stop the abuses and restore familial relationships that have been destroyed by scientology (including with my own children and siblings).
I hope it doesn't require another 10 years.
I don't believe it will.
NOTE: Apparently for some odd reason there is a problem being able to comment on this post. Trying to resolve it.
UPDATE: Now fixed. Fire away….