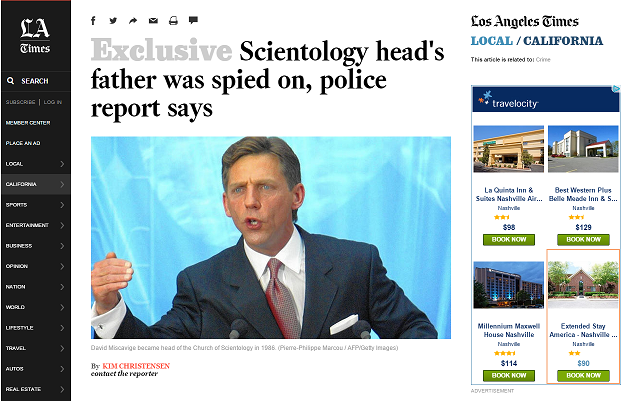 This front page article in tomorrow's Los Angeles Times is the end of Miscavige as we know it.
Paying PI's $10Gs a WEEK to spy on his own father.
And those PI's according to THEM were told by David Miscavige to let his own father die and not call Emergency Services when they thought he was having a heart attack.
And many more sordid details.
This proves everything that has been said about how Miscavige and Co. "respond to critics" are lies. No private investigators. No spying. No intimidation tactics. No smears.
These are not "claims from bitter disgruntled apostates" who "have an axe to grind" or are "making money." These are COURT documents from police interviewing the PI's they caught spying on Ron Miscavige Snr while carrying silenced rifles, handguns and thousands of rounds of ammunition.
And even in the face of this Miscavige STILL lies and has his attorney mouthpieces claim he has no involvement.
The difference between him and his "critics" is that we may have lied on behalf of scientology in earlier times — he continues to lie on behalf of himself to this very second.
The church always claims "Where are the police reports?"
Here is the answer.
Even the most ardent koolaid drinker has to think twice about these facts being laid bare.
And to this day Ron Miscavige Snr has said NOTHING about his son or scientology publicly. So his sociopathic son cannot claim that he is a "church attacker" and "trying to destroy our religion." No, it's clear for all to see that David Miscavige is driven purely by fear and vindictiveness.
The shitstorm isnt over. It's just beginning.