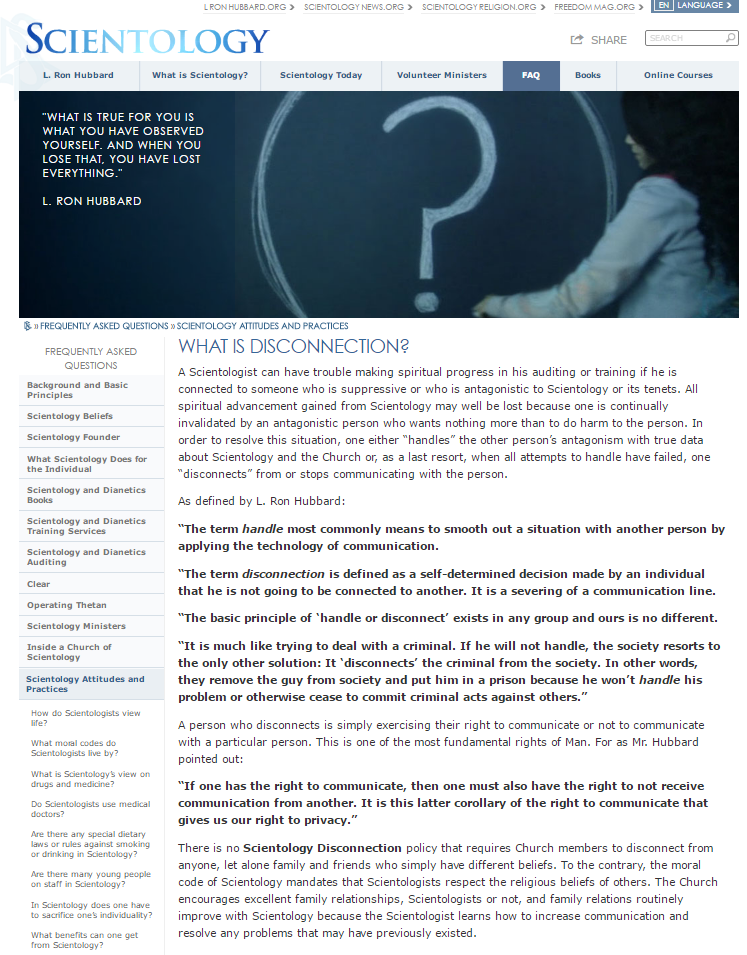 The above is what scientology has to say about the practice of disconnection on their official website. It mirrors the statements they make to the media about this controversial and abusive practice.
Of course, it contains numerous half-truths, omitted information and outright lies. If you take this statement at face value (and many people won't know what is NOT being disclosed) it all sounds reasonable enough. Who could disagree with this…
My earlier post about Fair Game which laid out the ACTUAL policy of the church on the treatment of critics/enemies/suppressives generated a lot of interest. I thought it might be enlightening to follow a similar pattern with respect to disconnection.
The truth is that disconnection IS enforced. In many cases the so-called choice is between disconnecting from one family member of another. Literally there is no choice WHETHER to disconnect, it is simply a "choice" of WHO to disconnect from. But for sure it is going to be someone (for a heartbreaking story that lays it out in detail, see "Sara's Choice" by Joe Childs in the Tampa Bay Times).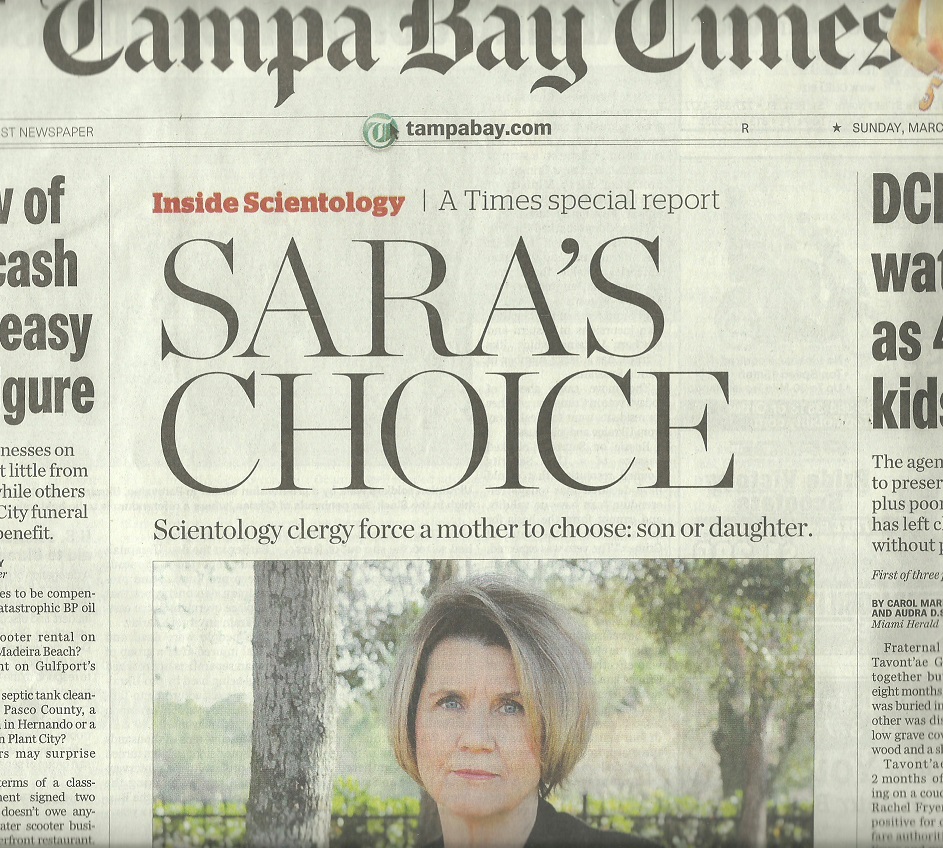 But let's start at the beginning of the dissembling reprinted above from scientology.org and break it down piece by piece.
A Scientologist can have trouble making spiritual progress in his auditing or training if he is connected to someone who is suppressive or who is antagonistic to Scientology or its tenets.
From a scientology perspective, this is an article of faith. Come in contact with an SP or anyone who is critical and you will lose the gains you have paid a great deal of money and invested a lot of time to achieve. It establishes a premise to justify disconnection. Putting aside the question about how this works when everyone is required to do the PTS/SP Detection, Routing and Handling Course (or "How to Shatter Suppression") that supposedly teaches them how to deal with such SPs, and putting aside how frail the wins and gains of scientology apparently are that they can vanish in the blink of an eye — this is a deliberately misleading statement. It is intended to create the false impression that the only people who will be using the "technology" of disconnection are those who are actively on auditing or training services because it is only those concerned about their spiritual progress that disconnection is relevant to. This is absolutely untrue. It is common practice for the church to order people to disconnect who have been nowhere near auditing or training for years or decades. Even going as far as ordering NON-SCIENTOLOGISTS to disconnect "or else" (they will be harassed, other family members will be put under the gun etc).
This may be a true statement from the perspective of scientology technology, but it is a false foundation on which to build the story of disconnection.
In order to resolve this situation, one either "handles" the other person's antagonism with true data about Scientology and the Church or, as a last resort, when all attempts to handle have failed, one "disconnects" from or stops communicating with the person.
Again, this benign sounding statement does not present the truth.
Scientologists are ordered to disconnect from those who are declared suppressive persons — it is a HIGH CRIME in scientology to fail to disconnect from anyone the church has deemed to be suppressive. Scientologists are NOT in any way permitted to "handle" those declared SP by the church. They may be given special approval to harass them (a la "Squirrelbusters") but this is only with permission beforehand. Otherwise, there is only ONE person a declared SP may communicate with in any fashion — the  "International Justice Chief" (IJC).  And the only thing the IJC may communicate about is the SP "recanting" and "making amends" to try and return to the fold of scientology. There are NO EXCEPTIONS to this rule.
"The basic principle of 'handle or disconnect' exists in any group and ours is no different.
Well, as we have shown above, it is very different. Scientology tells non-scientologists to disconnect from family members. People are ordered to disconnect from people because they have friends on Facebook the church finds unacceptable. And it extends to extremes like someone's mother dying and scientology family members not even informing her SP declared son.
"It is much like trying to deal with a criminal. If he will not handle, the society resorts to the only other solution: It 'disconnects' the criminal from the society. In other words, they remove the guy from society and put him in a prison because he won't handle his problem or otherwise cease to commit criminal acts against others."
Interesting they use this example. It is apt. Because scientology believes they have the god-given right to declare people "criminals" and prevent them from committing criminal acts against others. They ARE the law. "Wogs" have no clue what they are doing and only scientology can mete out appropriate justice.
There is no Scientology Disconnection policy that requires Church members to disconnect from anyone, let alone family and friends who simply have different beliefs. To the contrary, the moral code of Scientology mandates that Scientologists respect the religious beliefs of others. The Church encourages excellent family relationships, Scientologists or not, and family relations routinely improve with Scientology because the Scientologist learns how to increase communication and resolve any problems that may have previously existed.
The idea that Scientology "respect the religious beliefs of others" may generally hold true (the word "tolerate" is more accurate than "respect" as scientologists are fundamentalists – they believe everyone who is not a scientologist is to be pitied for they are doomed to lose their eternity if they do not become scientologists) for those of other religions with some specific exceptions:
1. Anyone who was previously involved in scientology but chose to no longer participate (no matter whether they choose to participate in any other faith). There is one "religion" that is afforded absolutely NO rights — former scientologists. Their religious beliefs are not only not respected, they are not even tolerated, they are overtly hated and scientologists seek to destroy them.
2. Anyone from any other religion that is critical of scientology.
But here is what really exposes the lie of scientology's claims about disconnection.
The following are unalterable "scripture," and are classified in scientology as "HIGH CRIMES" or "Suppressive Acts." They can be found in their published books, including Introduction to Scientology Ethics the bible of scientology morality:
Continued adherence to a person or group pronounced a Suppressive Person or Group by HCO;
Failure to handle or disavow and disconnect from a person demonstrably guilty of Suppressive Acts;
And this is an issue which puts it in no uncertain terms: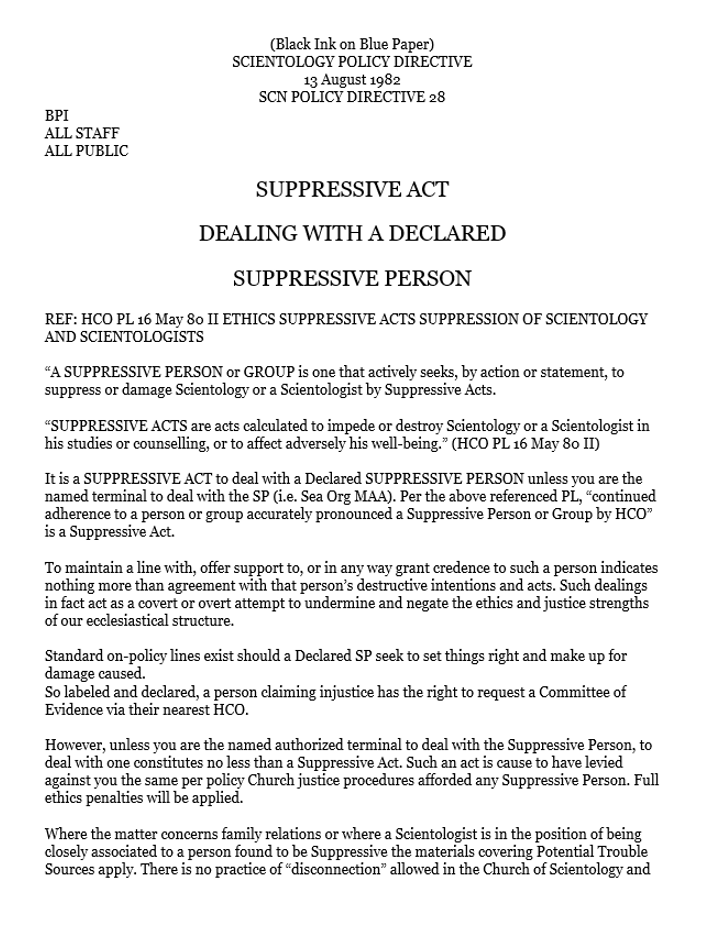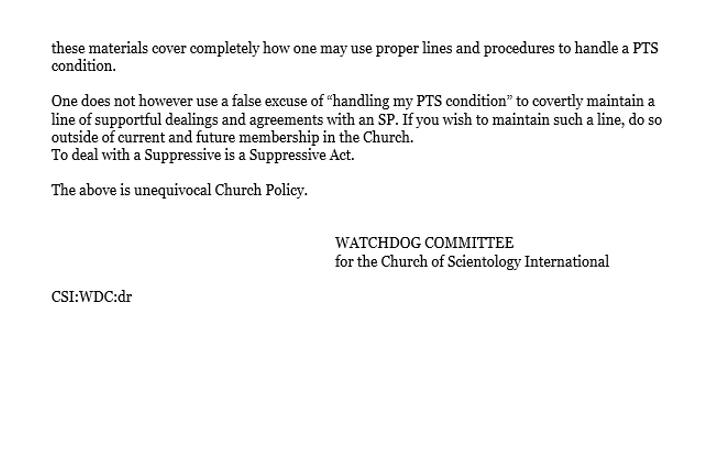 Disconnection is not "optional."  Any more than being asked "Hanging or firing squad" makes execution "a person's choice."
Disconnection is one of the most corrosive practices of scientology. It tears families apart. It causes enormous pain and upset.
In fact it is so horrendous scientology will NOT own up to their actual beliefs. They don't put out the truth and stand behind their actual practices because the world would be reviled. Instead they try to persuade the world they are kindly, loving and just like everyone else.  And yet they will VERY self-righteously proclaim they are completely sincere in their "religious beliefs" and the need to maintain the purity of their "scriptures" when it suits them.  If these are such universal truths that are part of the ONLY path to spiritual freedom, why don't they stand behind their practices and honestly say "Yes, we do this. It is our religion. You don't like it, don't be part of it."  Obviously, because you couldn't convince anyone to get involved if they understood the whole picture before they got involved. It's like an axe murderer pretending to be the neighborhood ice cream man – if he disclosed the truth, he not only isn't going to sell any ice creams, he is going to be picked up by law enforcement.